Kayla Robinson Hall was bringing her three sons to the church in Charleston, South Carolina where nine people were shot and killed last week in a devastating attack when she came upon a man struggling to push his car to the gas station.
Though Hall was worried about bringing her young children to the scene of the tragedy, she decided that she needed to show her children "how good people can be and how united we can be even when things are very scary."
"While I was pumping gas I was looking around me. It was almost like the day after 9/11, when you just wanted to hug everybody you saw," she explained on The Glenn Beck Program Monday. "I went into the gas station and I kept trying to make eye contact with people and it just wasn't happening. And I went out; I was done pumping my gas and I just hear this gentleman say, 'Young lady!'"
The man had one eye and one leg, and "without even a thought of his age, his race, [or] the hat he was wearing," Hall said she ran to help the man push his car.
"He said, 'No ma'am,'" Hall continued. "And I said, 'I can push it! I'm strong! I want to help.' And he just said, 'I might have one eye and one leg ... but I can push this car. I just need you to move your car.'"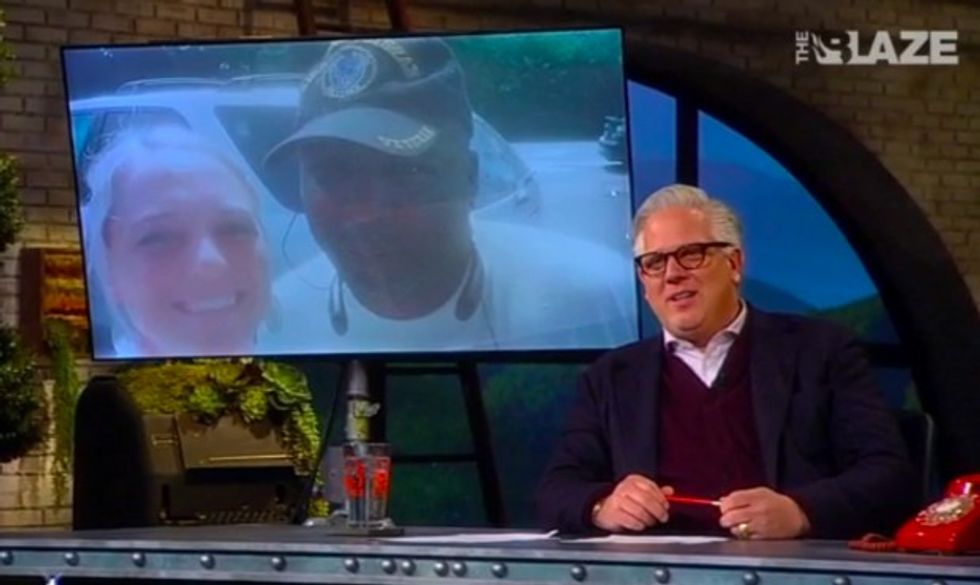 Glenn Beck speaks on his television program June 22, 2015. (Photo: TheBlaze TV)
Hall said she asked the man how he lost his eye and his leg, and he responded: "Serving my country in Desert Storm."
"He said, 'I'm on my way downtown to go to Mother Emanuel and the church.' And I said, 'So am I.' And we just hugged," Hall recalled.
The man said he just needed $6 to get downtown, but Hall was concerned about how he would get home after making it to the church.
"So I ran and got my wallet, and as I'm pumping I get to $6 and he said, 'That's good! That's good!' And I just waved him off and said, 'I know how much it costs to get downtown and I want you to get back,'" Hall said. "And so I kept going and then we hugged again and I asked him, 'Can I take a picture with you? I never want to forget your face.'
"I sat in the car and I just posted [the picture] because there was so much negativity outside, and sadness," Hall concluded. "And I thought, 'If I can post this, maybe people will realize that we love each other and we want to help.'"
Hall posted the image to Facebook on Friday, and it has more than 55,000 likes. Beck shared and commented on the post, writing: "This is how we are blessed by serving others. This is how God takes evil and turns it into something wonderful!"
[mlbvideo content_id=189147283]
The full episode of The Glenn Beck Program, along with many other live-streaming shows and thousands of hours of on-demand content, is available on just about any digital device. Click here to watch every Glenn Beck episode from the past 30 days for just $1!