Echoing the sentiments of Charleston's leaders on Monday, South Carolina's governor called for the Confederate flag to come down from the state Capitol grounds.
Gov. Nikki Haley (R) called for the removal of the flag, which flies above a Confederate war memorial on the Capitol grounds, during a press conference Monday afternoon. The old debate over the controversial flag reignited in the Palmetto State after 21-year-old Dylann Roof allegedly attempted to start a race war by fatally shooting nine members of Emanuel African Methodist Episcopal Church last week in Charleston.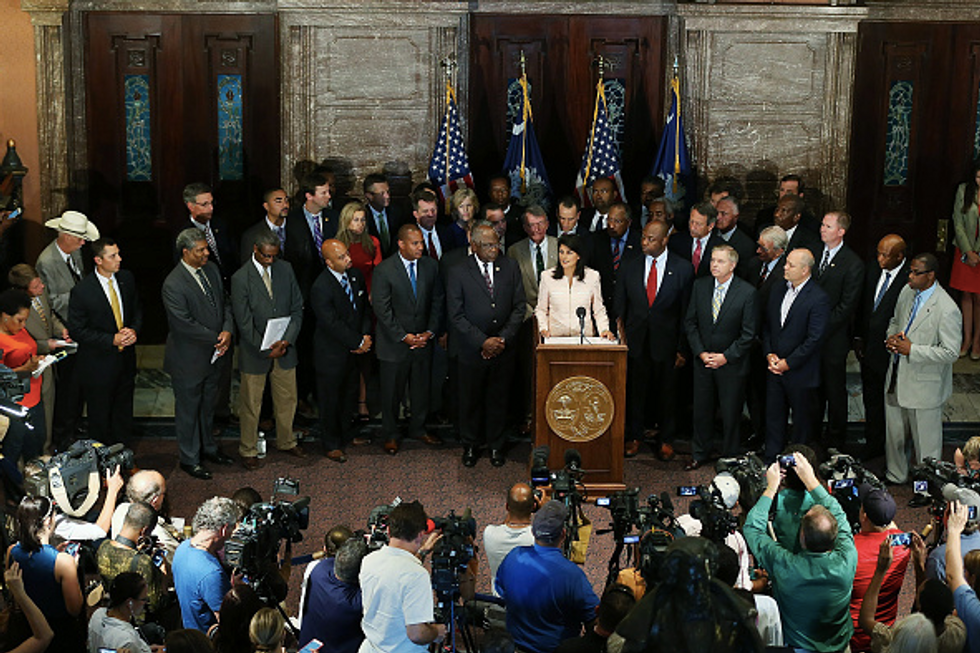 South Carolina Gov. Nikki Haley, surrounded by lawmakers and activists, speaks to the media asking that the Confederate flag be removed from the state Capitol grounds, June 22, 2015 in Columbia, S.C. Renewed debate over the flag kicked off after nine people were shot and killed during a prayer meeting at the Emanuel African Methodist Episcopal Church in Charleston. (Getty Images/Joe Raedle)
"Today we are here in a moment of unity in our state, without ill will, to say it's time to move the flag from the Capitol grounds," Haley said to applause.
Haley praised the people of South Carolina for coming together after last week's massacre and the fatal shooting of Walter Scott, an unarmed black man who was shot as he ran away from a police officer at a traffic stop in April. She said South Carolinians responded to both horrific incidents by talking to one another instead of "with rioting and violence like other places had."
"My hope is that by removing a symbol that divides us, we can move forward in harmony and honor the nine blessed souls that are now in heaven," she said.
Haley firmly distanced Roof, whom she called a "hate-filled murderer" with a "sick and twisted view of the flag," from those who are supporters of the Confederate flag. She declared that Roof in no way represents the people of South Carolina or those who choose to fly the Confederate flag. She said the focus should be on that of the nine victims instead of on the flag.
South Carolina senator and 2016 Republican presidential candidate Lindsey Graham joined Haley at the conference in her call for it to come down, as did black Republican Sen. Tim Scott. Also standing behind Haley was Rep. Mark Sanford (R) who hugged the governor after her remarks.
Earlier Monday in North Charleston, a group of bipartisan political and religious leaders gathered to call for the removal of the flag and promote a rally in the state's capital city on Tuesday.
"When the flag comes down, then and only then will it be a great day in South Carolina," South Carolina state Rep. Wendell Gilliard said.
According to South Carolina law, any changes to how the Confederate flag is flown must be approved by a two-thirds majority vote from the state's General Assembly. In 2000, the flag was moved from the top of the Statehouse to its current location in a compromise between NAACP members and flag supporters.
Haley said Monday if the General Assembly does not take up the issue tomorrow, she will use her authority to call the state's lawmakers back into an emergency session.
Following Haley's remarks, Republican National Committee Chairman Reince Priebus echoed her call for the flag's removal.
"This flag has become too divisive and too hurtful for too many of our fellow Americans," Priebus said in a statement. "While some say it represents different things to different people, there is no denying that it also represents serious divisions that must be mended in our society. For South Carolina, taking down this Confederate flag is a step in mending those divisions. Our future must be better than our past. We are not meant to be a country divided by racial tensions; we are meant to be a country that stands united."
Afterward, a chorus of GOP presidential candidates also virtually applauded Haley on social media.
Kudos to @nikkihaley and all the SC leaders standing with her for doing the right thing https://t.co/CUOgnh3plT

— Jeb Bush (@JebBush) June 22, 2015
I am glad @nikkihaley is calling for the Confederate flag to come down. I support her decision - SKW

— Scott Walker (@ScottWalker) June 22, 2015
I hope that, by removing the flag, we can take another step towards healing & moving South Carolina forward.

— Lindsey Graham (@LindseyGrahamSC) June 22, 2015
Removing the flag is an act of healing & unity. @NikkiHaley's leadership honors the victims & the people of SC. http://t.co/NQAfj5PmVV

— Rick Perry (@GovernorPerry) June 22, 2015
.@nikkihaley is right 2 call for removal of a symbol of hate in SC. As I've said for years, taking down Confederate flag is long overdue. –H

— Hillary Clinton (@HillaryClinton) June 22, 2015
Until recently, Haley had adamantly opposed the removal of the flag from Capitol grounds. In 2011, she denied the request of NAACP officials to have the flag removed, and in a 2014 she said that the flag was fine to stay as it had not prevented any companies from moving into the state.
State Sen. Clementa Pinckney was among those gunned down in the church last week. His casket will lie in state for four hours Wednesday afternoon in the Capitol rotunda.