Religious and political leaders of Charleston, South Carolina, came together Monday afternoon to call for the removal of the Confederate flag from the state Capitol grounds.
During a joint news conference in North Charleston, the bipartisan group of leaders echoed one another in saying "the time has come" for the removal of the flag that flies over a Confederate war memorial next to the Columbia Capitol and urged South Carolinians to join them in a rally on Tuesday.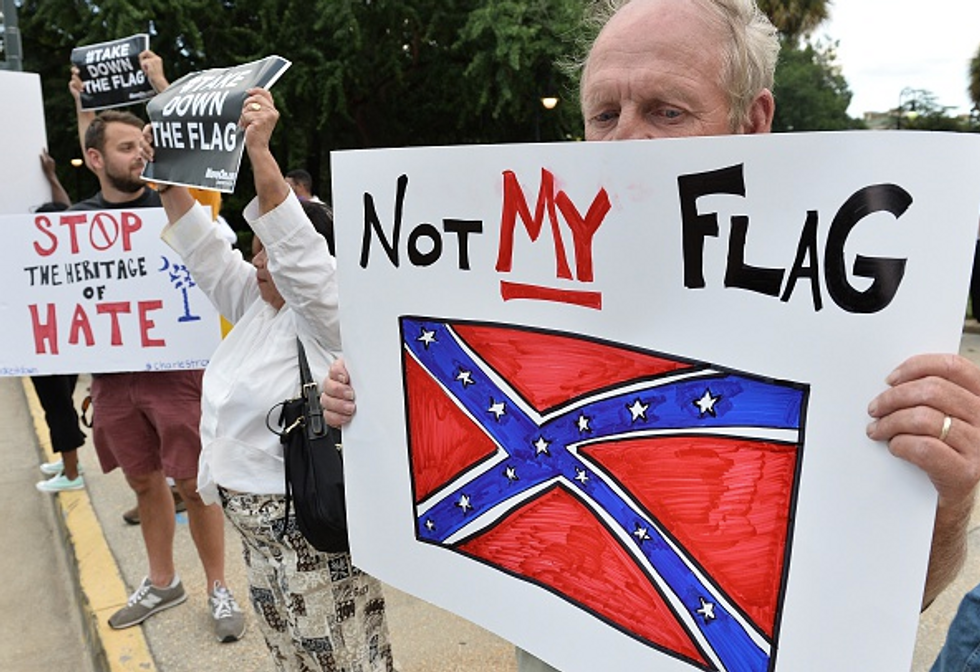 A man holds a sign up during a protest rally against the Confederate flag in Columbia, S.C., on June 20, 2015. (MLADEN ANTONOV/AFP/Getty Images)
Gov. Nikki Haley (R) is also expected to call for the flag's removal during a separate press conference later Monday afternoon, along with U.S. Sen. Lindsey Graham (R-S.C.).
"It's a historical flag, a piece of history, and it belongs in a history museum," Charleston Mayor Joseph P. Riley Jr. (D) said.
"Grounds of the state Capitol belong to every citizen of South Carolina," the 72-year-old said.
Charleston Councilman Alfred Victor Rawl said he is "tired of being controlled by fear" and partially blamed the first two amendments to the Constitution for Wednesday's massacre that left nine members of Emanuel African Methodist Episcopal Church dead. Police say Dylann Roof, 21, wanted to start a race war when he opened fire in one of the oldest historically black churches in the South.
"Hate speech, under the First Amendment, and gun rights, under the Second, in combination, make these kinds of events occur," Rawl, who unsuccessfully attempted to run for U. S. Senate in 2010, said.
"We're led to believe we should be afraid of ISIS," Rawl said, claiming that 90 people die in America every day due to gun violence.
Councilman Elliott Summey (R), Sen. Marlon Kimpson (D), North Charleston Mayor Keith Summey (R) and NAACP officials also called for the flag's removal during the conference.
"When the flag comes down, then and only then will it be a great day in South Carolina," South Carolina state Rep. Wendell Gilliard said.
The law that dictates how the flag is flown says that any changes must be approved by a two-thirds majority vote from the state's General Assembly.