New video emerging from Lebanon shows prison guards repeatedly striking and humiliating bound, shirtless prisoners.
The video, which was posted online Saturday, has caused an uproar in Lebanon, where the country's interior minister said two of the guards seen in the tape had been arrested.
"The criminals will be punished," Justice Minister Ashraf Rifi said, according to Al Arabiya. "I pledge to pursue the investigation until the last perpetrator is in custody."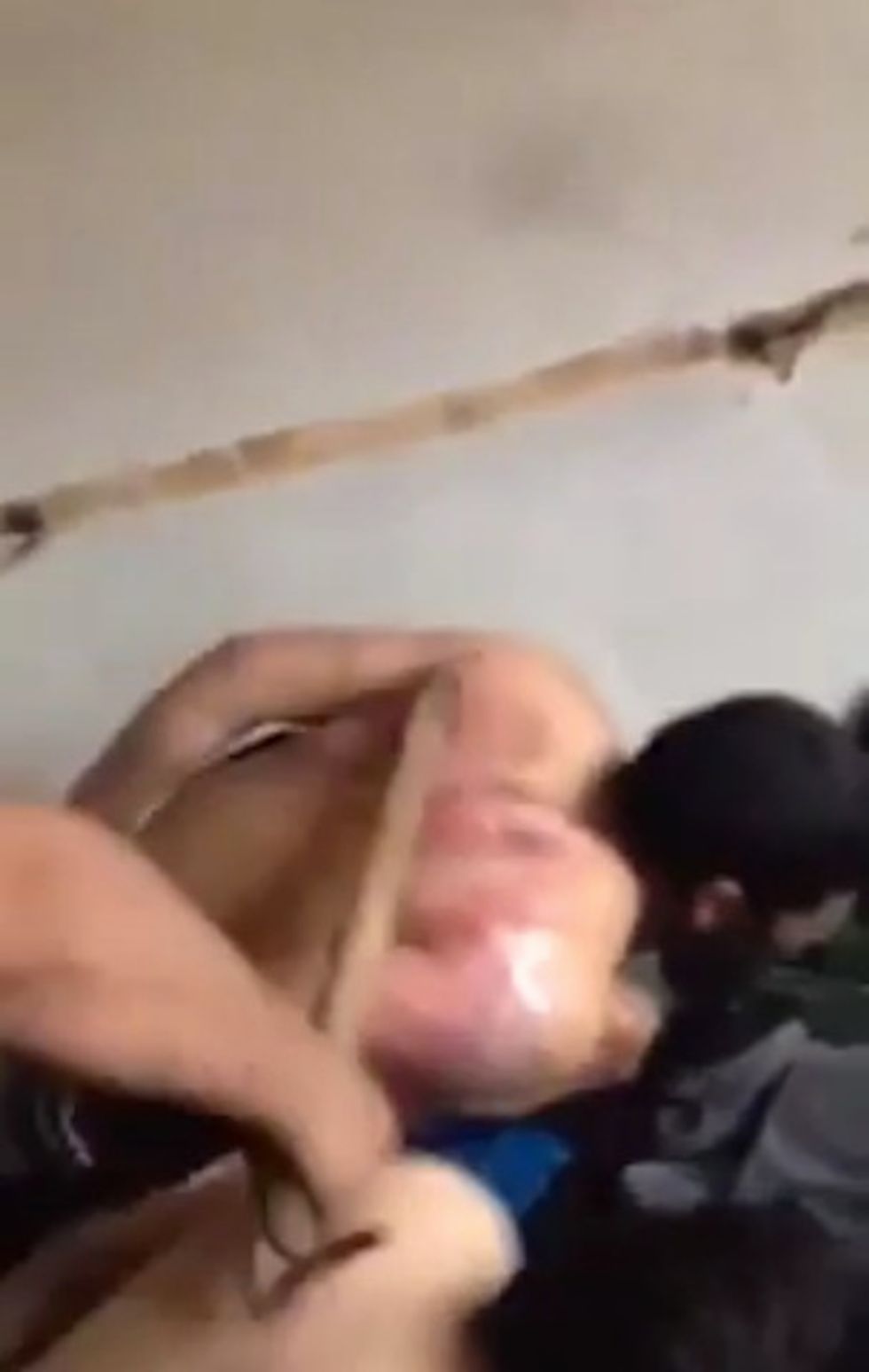 The prisoners were repeatedly and verbally insulted. (Image source: YouTube)
In the video, guards can be seen repeatedly striking shirtless prisoners seated on the floor with their hands bound behind their backs. Some had been stripped down to their underwear.
A particularly disturbing excerpt of the video showed one of the guards approach an overweight prisoner from behind, smack him on his already welt-covered back with what appears to be a green hose, then lean over to yank a handful of loose skin on his chest.
Warning — graphic content:
The Associated Press reported that one of the guards yelled "keep quiet" at a detainee who was screaming while he was being beaten. The AP described the scene:
Another clip shows a second guard taunting and insulting a bearded detainee while hitting him. The detainee begs for mercy and later a voice, presumably of another guard, is heard ordering the inmate to kiss the man beating him. He is kicked in the face when he attempts it.
The incident occurred at Beirut's Roumieh prison, from which Islamist militants have been previously accused of directing terrorist attacks.
Al Arabiya quoted a statement from the prisoners' families who said that the injuries resulting from the beating included blindness, broken bones and dislocated shoulders.
Interior Minister Nouhad Machnouk said, "I condemn these violations and will not cease to pursue the case for one second."
Al Arabiya reported that the incident occurred in April following a prisoners' riot.
According to the AP, Roumieh prison's Block B has in the past been a meeting point for militants where attacks have been plotted. The interior minister earlier this year said that the twin suicide bombing in Tripoli, Lebanon in January claimed by a Sunni terrorist group was directed from Block B.