Severe weather that pounded the Midwest, spawning tornadoes Monday and Tuesday, moved on to the East Coast, where tornado warnings were issued in several states and rainstorms were strong enough to stop train service, knock out power and cause flooding.
And while all this was happening on the ground, a solar storm in space sent electromagnetic waves toward Earth's atmosphere creating a stunning Northern Light show in areas that rarely get to see the celestial sight.
The National Weather Service issued a tornado watch for much of southern New England, and strong thunderstorms in Connecticut caused widespread power outages. Storms moving into Philadelphia on Tuesday evening blackened the sky and temporarily halted commuter trains beginning at rush hour. Amtrak suspended its Northeast Corridor and Keystone services from Washington through Philadelphia and on to Harrisburg, Pennsylvania, but restored service about two hours later.
Clouds after a tornado warning provided a colorful sunset over Fenway Park during a game http://t.co/kfXa9uXdbp pic.twitter.com/qV30xIVuOz

— The Boston Globe (@BostonGlobe) June 24, 2015
Lightning hit in Hoboken, New Jersey during yesterday's storm. pic.twitter.com/t696xw7i1Q

— Anthony Quintano (@AnthonyQuintano) June 24, 2015
Lightning and a partial rainbow over @Reagan_Airport. #DCwx #iPhone6 @capitalweather pic.twitter.com/pAi7UKVxjI

— Joseph Gruber (@JosephGruber) June 24, 2015
Lightning show in full effect from Pentagon City rooftop pic.twitter.com/ZZEKOJVCKM

— Arlington News (@ARLnowDOTcom) June 24, 2015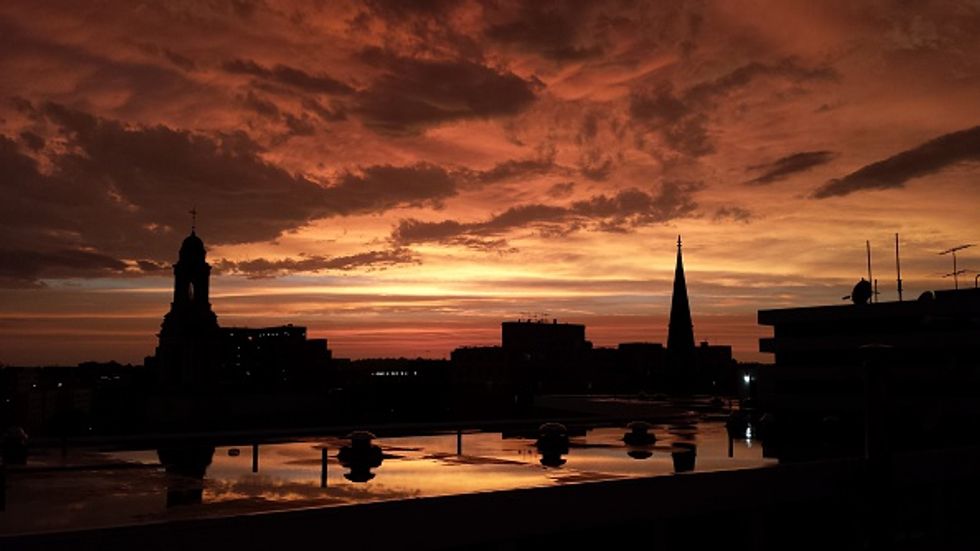 The sun sets over Washington, DC after a heavy thunderstorm on June 23, 2015. (MLADEN ANTONOV/AFP/Getty Images)
Here's a video to give you a taste of lightning and thunder experienced in the Northeast Tuesday night:
Strong storms that swept across northern Illinois spawned at least nine tornadoes, severely damaged homes and forced first responders to pull survivors from basements, officials said Tuesday.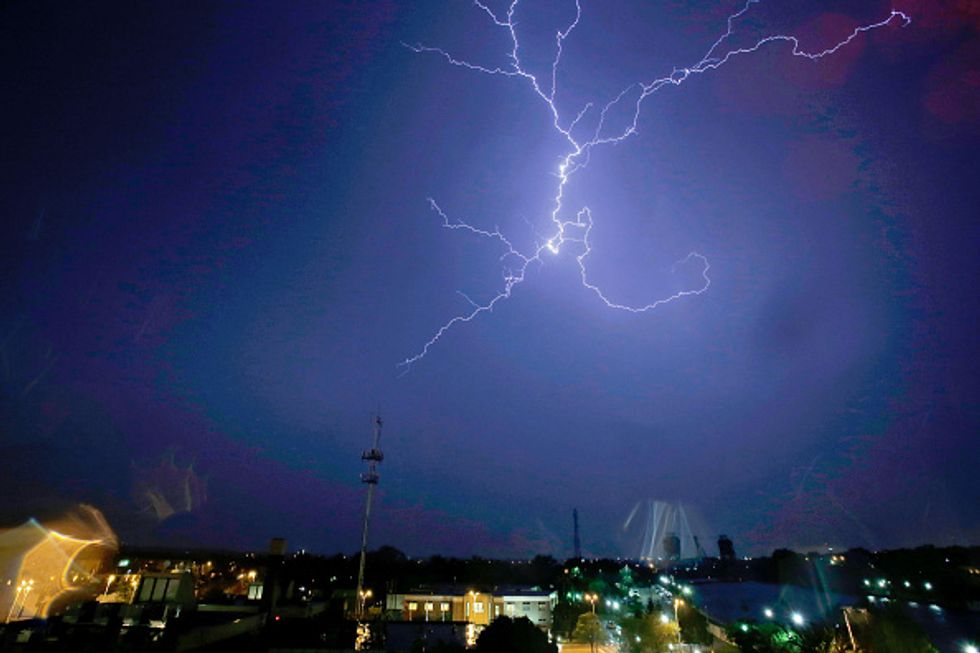 Lighting strikes outside of Joliet, Illinois from a tornadic supercell that produced a tornado that struck Coral City on June 22, 2015 in Joliet, Illinois. (Jon Durr/Getty Images)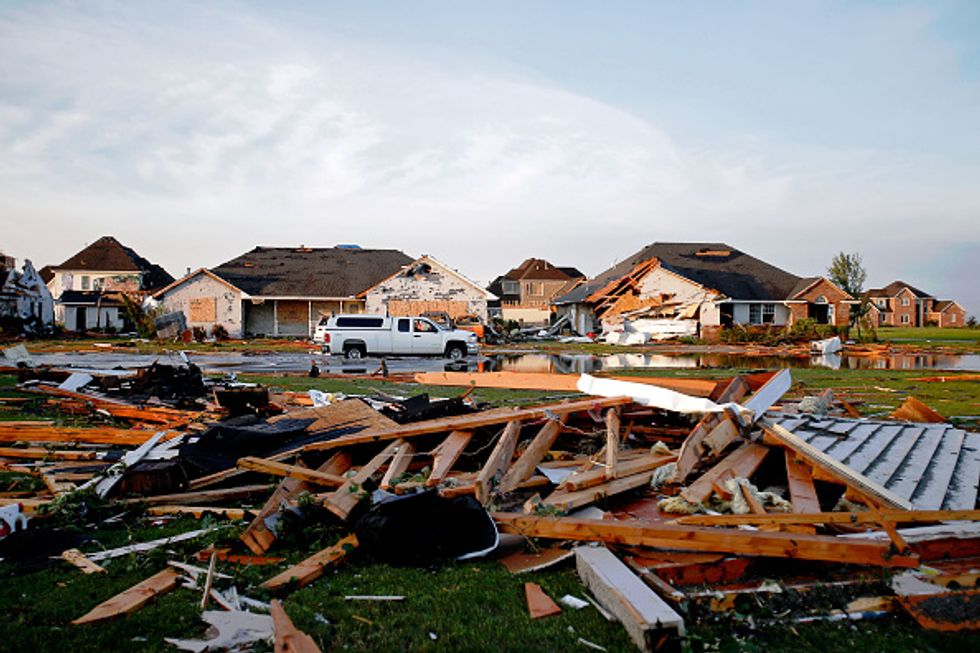 A pickup truck drives through a flooded roadway on W Daisy Place after a tornado struck the previous day on June 23, 2015 in Coal City, Illinois. (Jon Durr/Getty Images)
Here's some footage of the aftermath:
At least five tornadoes also hit parts of Michigan late Monday into early Tuesday, while possible tornadoes went through northern Indiana and Iowa. The storms knocked out power to thousands of people, but by Tuesday morning the skies had cleared and the rain had moved east, leaving much of the Midwest clear to see the aurora borealis above.
The severe solar storm slammed Earth on Monday afternoon pushing shimmering polar auroras to places where more people could see them.
Federal forecasters said the Northern Lights could be seen Tuesday night as far south as Iowa and Pennsylvania.
The most intense photos I got from tonight's #Aurora! #northernlights near Billings, Montana USA! @TamithaSkov pic.twitter.com/oQ3k0qI6Hg

— Ben Ch ⚜ (@CampBenCh) June 23, 2015
WOW! Northern Lights seen Monday night from Memominee, Michigan. Photo credit: Sandie Blair. #Aurora #NorthernLights pic.twitter.com/HXqhA4N6Pd

— Mark Tarello (@mark_tarello) June 23, 2015
Northern lights over Cape Cod, Massachusetts Credit: C. Cook http://t.co/WzYC2pj9qQ #aurora #northernlights pic.twitter.com/KNXbk76zIf

— Observing Space (@ObservingSpace) June 23, 2015
This video shows the glowing green sky above the Sleeping Bear Dunes in Michigan:
Here's footage from the St. Paul-Minneapolis region:
And in the appropriately named Aurora, Colorado:
NASA astronaut Scott Kelly also posted pictures and video of his own view of the lights as seen from his post on the International Space Station.
#Aurora I don't think I will ever see another quite like you again. #YearInSpace pic.twitter.com/NVywx2JH3r

— Scott Kelly (@StationCDRKelly) June 23, 2015
Yesterday's #aurora was an impressive show from 250 miles up. Good morning from @space_station! #YearInSpace https://t.co/wZJOxrD0EQ

— Scott Kelly (@StationCDRKelly) June 23, 2015
The National Oceanic and Atmospheric Administration said a potent blast of magnetic plasma shot out of the sun on Sunday, travelling faster than usual, hitting Earth with the biggest solar storm since March, maybe since September 2005.
NOAA space weather physicist Doug Biesecker said the storm could last a day or longer, and the weather service put out another forecast for a solar storm Wednesday and Thursday night as well.
—
The Associated Press contributed to this report.