Demonstrators — both for and against the Confederate flag — converged outside the South Carolina Statehouse in Columbia on Monday and it appeared the area was close to possibly plunging into chaos.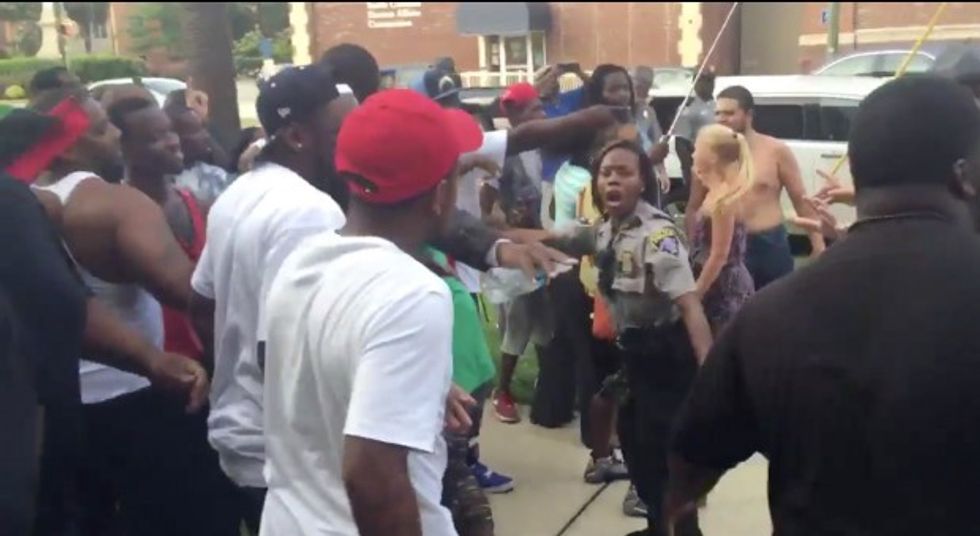 Screengrab via Twitter video
As crowds protested the Confederate flag hanging outside the statehouse, others reportedly circled the state government building in their cars with Confederate flags flying. Scuffles and "fights" were also reported on Monday night.
A group is preparing to drive from Irmo to Columbia to circle the State House with confederate flags. @WLTXpic.twitter.com/ZIYY72Kd4T

— Savannah Levins (@LevinsReports) June 29, 2015
@TaylahhKane someone ripped a confederate flag off a truck. Truck driver stopped the car in the road and punches were thrown

— Savannah Levins (@LevinsReports) June 29, 2015
Reporter Savannah Levins, of WLTX-TV, posted several videos from the scene showing the swelling tension between the dueling protests (Warning: Strong language):
There they go.... Most in the group are between the ages of 14 & 18. pic.twitter.com/q0RkizdIiK

— Savannah Levins (@LevinsReports) June 29, 2015
Things just got violent at the state house. Law enforcement rolling in pic.twitter.com/3dQBBOdvUo

— Savannah Levins (@LevinsReports) June 29, 2015
Fights breaking out. (Explicit language) @WLTXpic.twitter.com/x4aGIAvKke

— Savannah Levins (@LevinsReports) June 29, 2015
"Hold that line. Do not show aggression." pic.twitter.com/7Jw4AZcczg

— Savannah Levins (@LevinsReports) June 29, 2015
Some getting aggressive with law enforcement pic.twitter.com/O8s4QCRbH1

— Savannah Levins (@LevinsReports) June 29, 2015
However, there was also at least one inspiring moment where both sides were able to come together in prayer:
Both sides of debate join in prayer pic.twitter.com/usHEgZUkXB

— Savannah Levins (@LevinsReports) June 30, 2015
---