In what could mark a dramatic shift in the Syrian civil war, Turkey and Jordan may be planning to invade Syria to set up buffer zones, according to various media reports.
Turkish media have reported that among the steps being considered are for Turkey to troops into Syria to create a buffer for refugees and to prevent the possibility that the Kurds could declare their own state in territories of the war-torn country given their recent military gains against jihadist rebels near the Syrian border.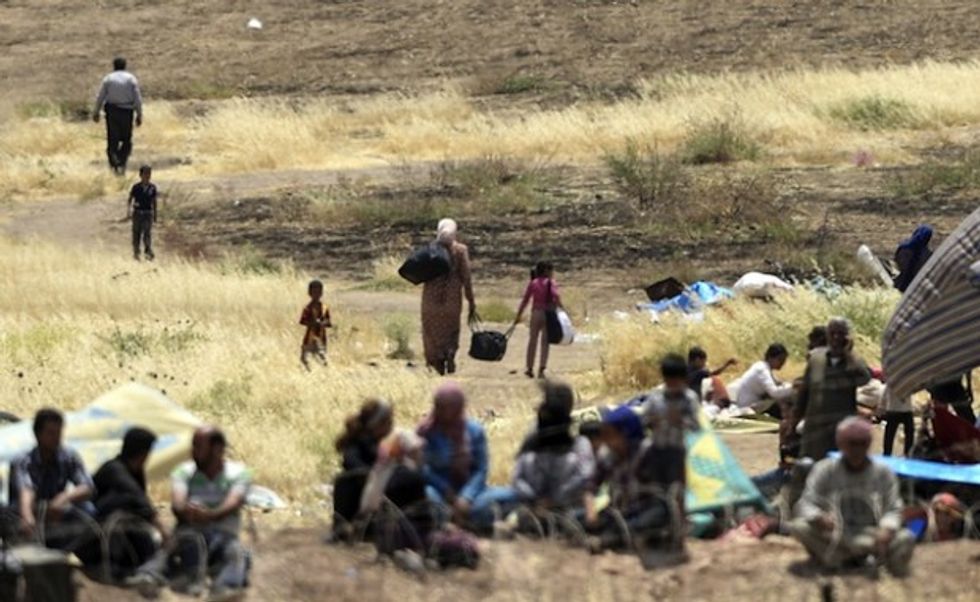 A picture taken in Suruc in Turkey's Sanliurfa province near the border with Syria shows Syrian Kurds returning to Kobane, also known as Ain al-Arab, after clashes in the city, on June 27, 2015. Kurdish forces drove Islamic State group fighters from the flashpoint Syrian border town of Kobane on Saturday after a killing spree by the jihadists left more than 200 civilians dead. (Bulent Kilic/AFP/Getty Images)
Britain's Telegraph observed that such a move could turn "the civil war into an international conflict on Europe's borders":
President Recep Tayyip Erdogan has authorized a change in the rules of engagement agreed by the Turkish parliament to allow the army to strike at Islamic State of Iraq and the Levant (Isil), as well as the Assad regime, according to local newspapers.

The aim is to establish a buffer zone for refugees and against Isil, but Mr Erdogan has also suggested that the main target of the intervention, if it goes ahead, will be to prevent the emergence of a Kurdish state on Turkey's doorstep.
"We will never allow the establishment of a state in Syria's north and our south," Erdogan said in a speech Friday. "We will continue our fight in this regard no matter what it costs."
Meanwhile, according to other news reports, Jordan was also making plans to set up its own buffer inside southern Syria both as a humanitarian territory for refugees and to prevent the Islamic State group from taking control of the area adjacent to the Jordanian border.
Asked about possible Turkish and Jordanian military moves, State Department spokesman Mark Toner said Monday he didn't have "solid evidence."
"We don't have any ground truth on any of these plans so far. All we've seen, frankly, are press reports. So there's really no solid evidence of what – which way either Turkey or Jordan is leaning at this point," Toner said.
He also warned of the difficulty of setting up buffer zones.
"There's serious logistical challenges creating that kind of buffer zone, including whether you have boots on the ground," Toner said.
Turkish media reported that the possible military cross-border advance could include 18,000 Turkish troops.