While Iran's foreign minister returned to the negotiating table Tuesday saying he had a "mandate" to reach a final nuclear deal with the U.S. and five world powers, Israeli Prime Minister Benjamin Netanyahu warned that the proposed agreement would give Iran "a definite pathway" to not only one nuclear weapon, but multiple bombs.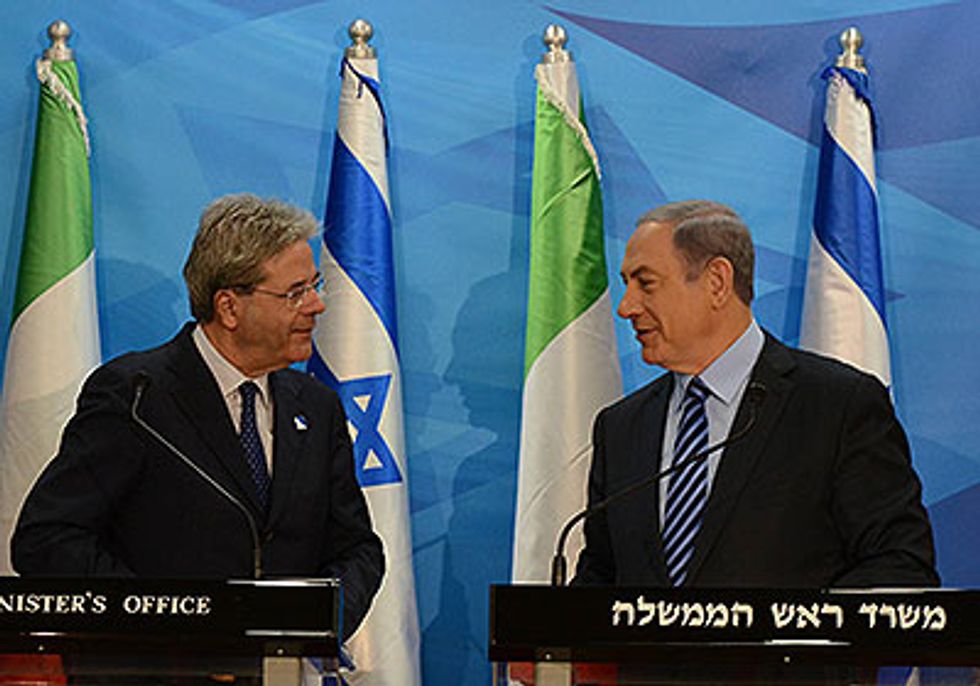 Israeli Prime Minister Benjamin Netanyahu warned that a deal with Iran will give the "Islamic State of Iran" a direct path to nuclear weapons. Netanyahu met Tuesday in Jerusalem with Italian Foreign Minister Paolo Gentiloni. (Photo: Haim Zah/Israel Government Press Office)
The Israeli leader likened Iran's continued sponsorship of international terrorism — documented in a State Department report issued last week — to the notorious jihadi group in Iraq, Syria and elsewhere.
"No one would dream of allowing the Islamic State of ISIS to have nuclear weapons," Netanyahu said. "Why would anyone consider giving the Islamic State of Iran, which is a lot more powerful than ISIS and acts with much greater power than ISIS, to have additional power of nuclear weapons?"
Contrary to the Obama administration, which insists the negotiated agreement will prevent Iran from developing nuclear weapons, Netanyahu said the deal will move Iran closer to a doomsday weapon. Though Iran insists its nuclear program is for peaceful purposes, Iranian officials have said Israel should be wiped off the map.
"We believe that it is a fundamental mistake to enable such a terrorist regime to get to nuclear weapons, which is what the proposed agreement will give them," Netanyahu said. "It will give them a definite pathway to nuclear bombs — not a bomb, but nuclear bombs."
Iranian Foreign Minister Mohammad Javad Zarif returned to Vienna Tuesday where negotiators were expected to hold talks beyond the original self-imposed deadline for a deal of June 30.
According to the Associated Press, Zarif said that diplomacy had reached a "very sensitive stage."
When a reporter asked the foreign minister about his meetings in Tehran, Zarif said, "I already had a mandate to negotiate and I am here to get a final deal and I think we can."
Secretary of State John Kerry held another meeting with Zarif on Tuesday.
The Israeli prime minister expressed concern that lifting of sanctions which would be part of any negotiated agreement will allow Iran to "replenish their coffers with many billions, actually perhaps up to hundreds of billions of dollars" which could then be directed to its terrorist proxies.
"This is something that is wrong. It is dangerous. It is dangerous for Israel, for Italy, for Europe, for the United States, for the world," Netanyahu said as he was meeting with Italian Foreign Minister Paolo Gentiloni. "The Islamic State of Iran, the foremost sponsor of international terrorism, should not have access to nuclear weapons."
Netanyahu repeated the call he's issued in recent weeks for improved terms for a finalized agreement.
"We need a better deal. This deal should not pass," Netanyahu said.