In a nation that only declared itself as Ebola free almost two months ago, the news that a third person is confirmed to have the disease in Liberia, following two other cases, is raising fears that another outbreak could start.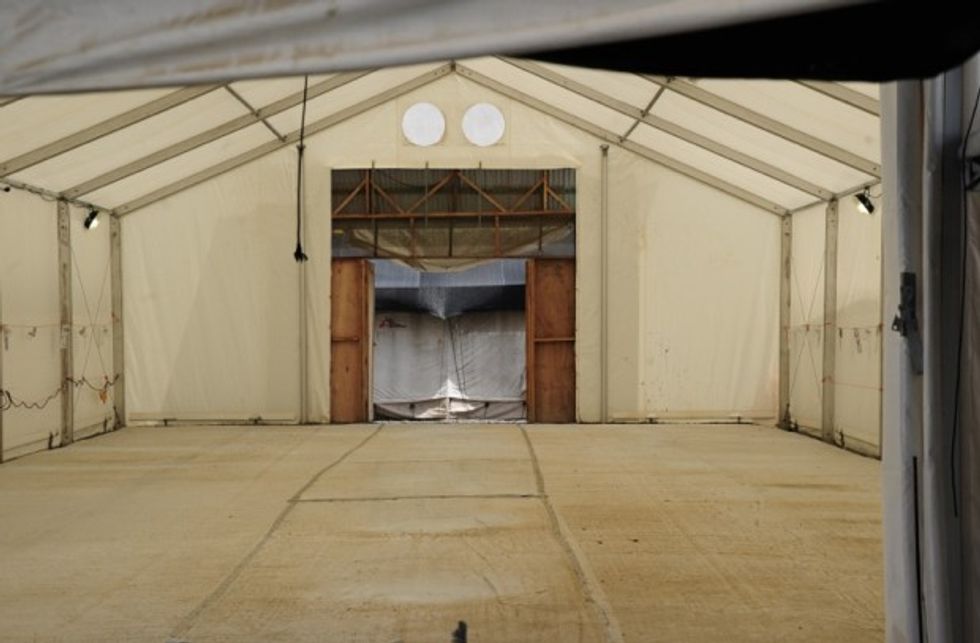 A photo shows a dismantled shelter in an Ebola treatment center closed by the charity Medecins Sans Frontiers (MSF - Doctors without Borders) in the Paynes Ville neighbourhood in Monrovia on March 25, 2015. A Liberian woman who last week became the country's first Ebola patient in more than one month has not passed on the infection to anyone else, a senior official said on March 25. (ZOOM DOSSO/AFP/Getty Images)
It is also turning some researchers onto the possibility of animal transmission in these cases.
Dr. Moses Massaquoi with Liberia's Ebola task force told Reuters that the three people in Margibi County all ate dog meat, a common food item in the country. Researchers are considering this means of transmission — Ebola is contracted through contact with infected bodily fluids — because none of these victims traveled to a country where the disease is still present. Another possibility is that there are "hidden pockets of the virus," as Reuters put it, still in the country.
"The new outbreak in Liberia is probably a rare reactivation that we are only seeing because there are so many Ebola survivors living in one place," Reading University virologist Ben Neuman told Reuters.
The first person to be diagnosed among these new cases was a 17-year-old male who became sick on June 21 and died on June 28, according to the World Health Organization. On July 1, the second case was confirmed.
Those tracking the case have identified 102 contacts, although that number is expected to increase as investigations continue, WHO said.
Experts warn that Ebola remains a threat to West Africa until it is eradicated from Guinea and Sierra Leone where it stubbornly hangs on.
Liberia was the hardest hit in the region, with 4,800 deaths, before it contained transmission. Overall, the West African outbreak of Ebola is the worst ever recorded, killing more than 11,200 people.
There are no Ebola vaccines but a couple of possibilities are in the evaluation process. The symptoms of the disease can only be treated, and its fatality rate is about 50 percent, according to WHO.
—
The Associated Press contributed to this report.
—
Front page image via Shutterstock.