© 2023 Blaze Media LLC. All rights reserved.
"Fondness for certain things."
German police searched a Heikendorf villa just off the Baltic Sea in Germany and discovered a cache of historic military items, including a WWII-era tank in the elderly man's basement.
According to the German newspaper Der Spiegel (translated via Google Translate), the man had previously been investigated for Nazi art. This time though, authorities found a 45-ton Panther tank, flak cannon, torpedo and other WWII military weapons on the 78-year-old man's property.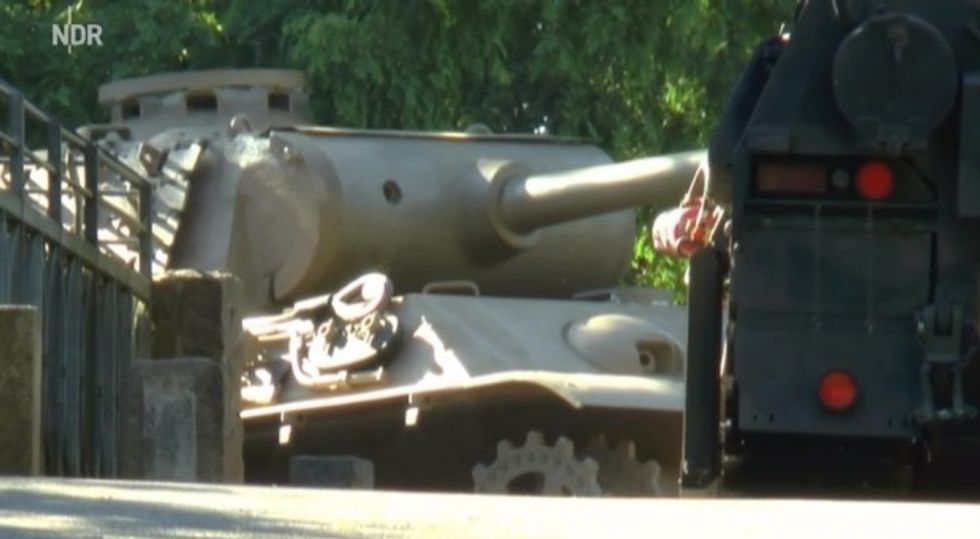 Authorities worked for hours to remove the tank found in a 78-year-old man's basement Thursday. (Image source: NDR video)
Kiel prosecutor Birgit Hess said the collector, whose name she would not release for privacy reasons, is being investigated for possibly violating German weapons laws but at this time remains free while the probe is ongoing.
The man's attorney Peter Gramsch told Der Spiegel that the weapons were demilitarized and could not fire, thus they should not be considered a violation of the War Weapons Control Act.
Hess said that she did not know whether the main gun on the tank could fire, but it didn't appear to be properly registered and an independent expert said it wasn't properly demilitarized.
A torpedo and other WWII-era items were found on the man's property as well. (Image source: NDR video)
During the earlier investigation into Nazi-era art in May, authorities found two massive bronze horse statues that once stood in front of Adolf Hitler's chancellery. Those were in the possession of another man, who maintains he is the rightful owner.
The tank owner has made no secret of his collection, openly talking about the Panther and other items in media reports following the May revelation of the art investigation.
The town's mayor noted that the owner even drove the tank around decades ago. His neighbor Kristin Schroeder told the local Kieler Nachrichten newspaper a similar story, saying that in the 1970s he used it to help plow snow.
"It was well known, at least to all the older Kitzebergers, that he had a tank," Schroeder said.
NDR (translated via Google Translate) reported that the man's property is rather reclusive, located off a private road with a concrete wall and barbed wire protecting it from beach access.
According to the news website, it took about nine hours for a crew to remove the tank from the property Thursday. Watch video of the tanks removal on NDR's website here.
"He has a certain fondness for certain things," mayor Alexander Orth told Der Spiegel of the man's unusual collection.
—
The Associated Press contributed to this report.
Want to leave a tip?
We answer to you. Help keep our content free of advertisers and big tech censorship by leaving a tip today.
more stories
Sign up for the Blaze newsletter
By signing up, you agree to our
Privacy Policy
and
Terms of Use
, and agree to receive content that may sometimes include advertisements. You may opt out at any time.