Before Richard Matt escaped from a New York maximum security prison in early June he sent a letter. Three days after he and David Sweat were found missing, sparking a three-week manhunt, Matt's daughter opened her mail.
"I always promised you I would see you on the outside. I'm a man of my word," 49-year-old Matt, who was fatally shot by authorities on June 26, wrote to his daughter, according to the Buffalo News.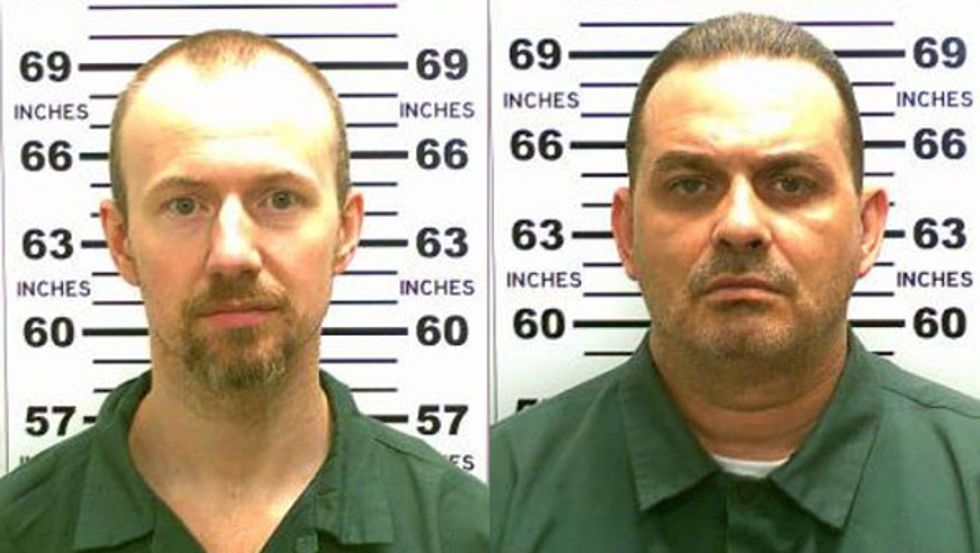 In this handout from New York State Police, convicted murderers David Sweat (L) and Richard Matt are shown in this composite image. Matt, 48, and Sweat, 34, escaped from a maximum security prison June 6, 2015 using power tools and going through a manhole. (Photo by New York State Police via Getty Images)
Both Matt and Sweat were serving sentences for murder in Clinton Correctional Facility in Dannemora, New York, and escaped on June 6 allegedly with the aid of workers inside the prison. Sweat was shot and hospitalized on June 28, two days after Matt was killed by law enforcement, after 23 days on the run.
Authorities told the Buffalo News that Matt's daughter, whose identity and address were protected by the newspaper, did not know of her father's plan to escape and during the manhunt, she requested protection, fearing he might visit her. The newspaper reported that she never got that protection.
"Richard Matt was a sociopath, and [his family] were all afraid of him," a law enforcement official told the news.
The Buffalo News also reported that Joyce Mitchell, who worked in the prison's tailor shop and befriended the prisoners, made contact with Matt's daughter on his behalf as well.
"Mitchell called the daughter a couple of times, but most of the communications were through text messages from Mitchell," the law enforcement official told the newspaper. "She would pass along tidbits on how Matt was doing. He had a bad back, and Mitchell gave medical updates. Matt asked that she provide his daughter with the updates. There was nothing suspicious in those exchanges. Nothing about the planned escape was mentioned."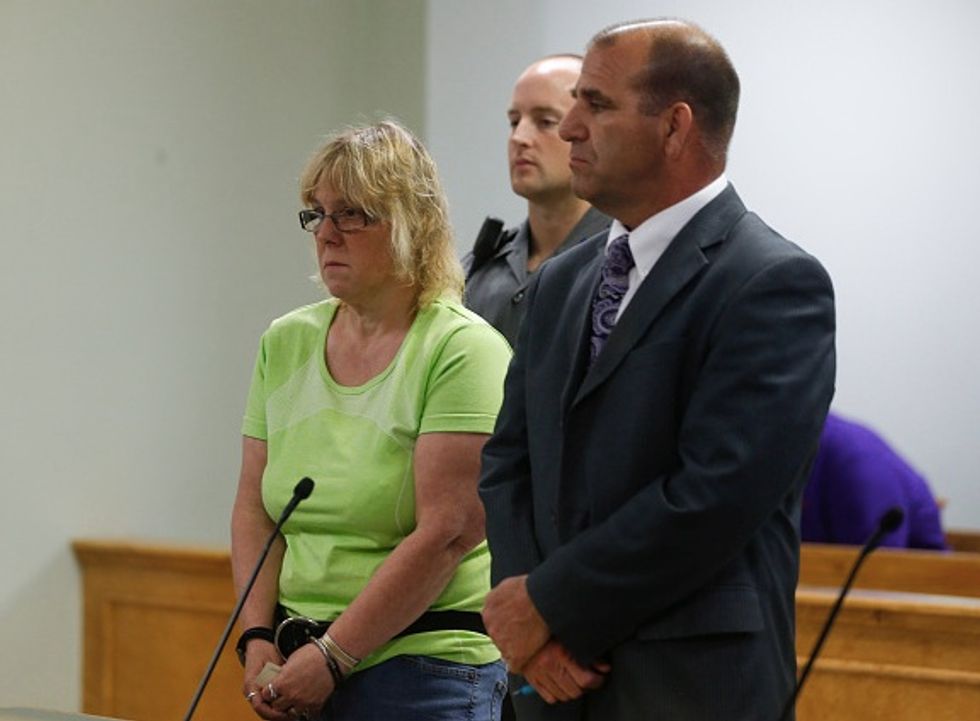 Joyce Mitchell stands with her attorney Keith Bruno during her arraignment in City Court June 12, 2015 in Plattsburgh, New York. (Image source: Mike Groll-Pool/Getty Images)
Mitchell is accused of slipping chisels, a screwdriver bit and hacksaw blades to Matt and Sweat, with the blades concealed in frozen hamburger meat, according to prosecutors. They had planned on Mitchell serving as their getaway driver, the murderers would kill her husband and the three would run away to Mexico, a prosecutor and the governor said. Mitchell has pleaded not guilty to prison-contraband and criminal facilitation charges.
"How can it happen?" Lyle Mitchell asked his wife, he later told NBC's "Today" show.
She explained that she had been unsure of his, Lyle's, love and was flattered by attention from Matt, who had tried to kiss her a few times, Lyle Mitchell said. But he said her fondness turned into fear when she told Matt she'd changed her mind about being their driver and he threatened to have her husband killed.
"I got over my head, and I was scared," she said, according to her husband.
Proscutors also say Matt and Sweat got cooperation from veteran guard Gene Palmer.
The day of the breakout, Palmer told a neighbor to lock her doors, warning that the escapees were bad men. Yet he had developed so close a rapport with them that Matt gave him paintings and information on inmate wrongdoing.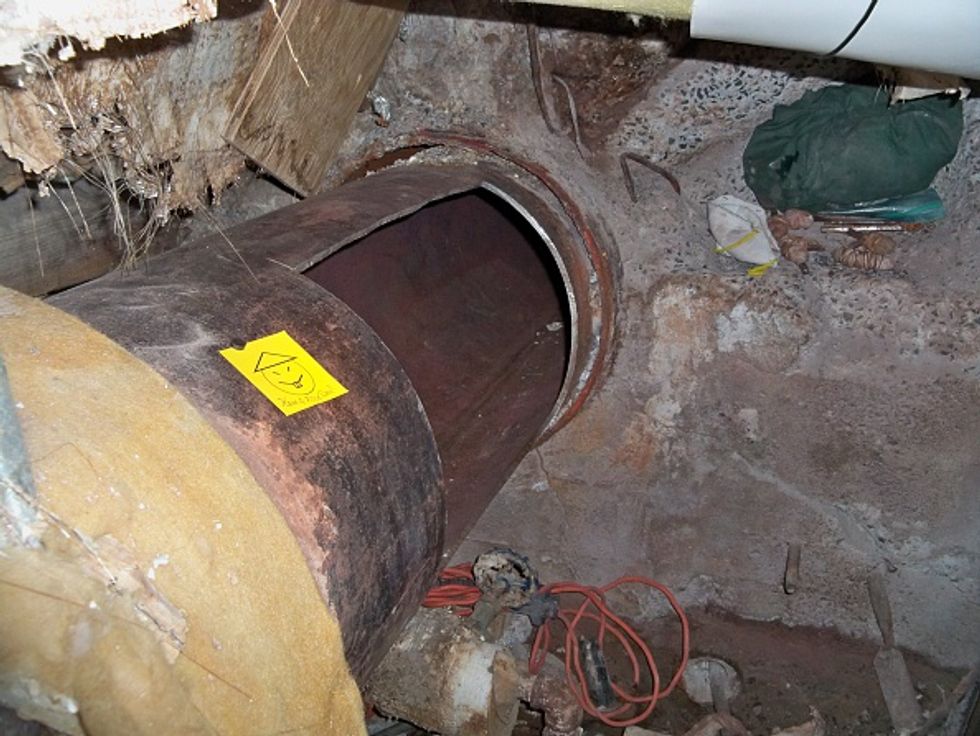 In this handout from the New York State Governor's Office, shows where two convicted murderers used power tools to cut through steel pipes at the Clinton Correctional Facility June 6, 2014 in Dannemora, New York. Richard Matt, 48, and David Sweat, 34, escaped from the maximum security prison June 6, 2015 using power tools and going through a manhole. (Darren McGee/New York State Governor's Office via Getty Images)
Palmer, in turn, gave Matt art supplies, then pliers, a screwdriver and another questionable favor: access to a catwalk so Sweat could adjust electrical boxes to enhance inmates' cooking in their cells, Palmer said. The catwalk would be part of the escape route, and it led Matt and Sweat to tunnels where they found a contractor's toolbox and mined it for some of the tools they used to escape, Gov. Andrew Cuomo said.
Finally, on May 30, Palmer brought Mitchell's blade-laden ground beef to Matt - unaware, the 57-year-old guard said, of the hidden hacksaw parts. He plans to plead not guilty to prison contraband and other charges.
"I did not realize at the time" what the inmates had in mind, he said.
—
The Associated Press contributed to this report.