Israeli Prime Minister Benjamin Netanyahu on Sunday said the emerging deal between Iran, the U.S. and five world powers was worse than a deal former President Bill Clinton negotiated two decades ago with North Korea before Pyongyang became a nuclear power.
"This is a bad deal. It is not less bad – in my opinion it is worse – than the deal with North Korea that led to a nuclear arsenal in North Korea," Netanyahu said at his weekly cabinet meeting. "But this is both a non-conventional threat, and a very large conventional threat, against Israel, the countries of the region and the world."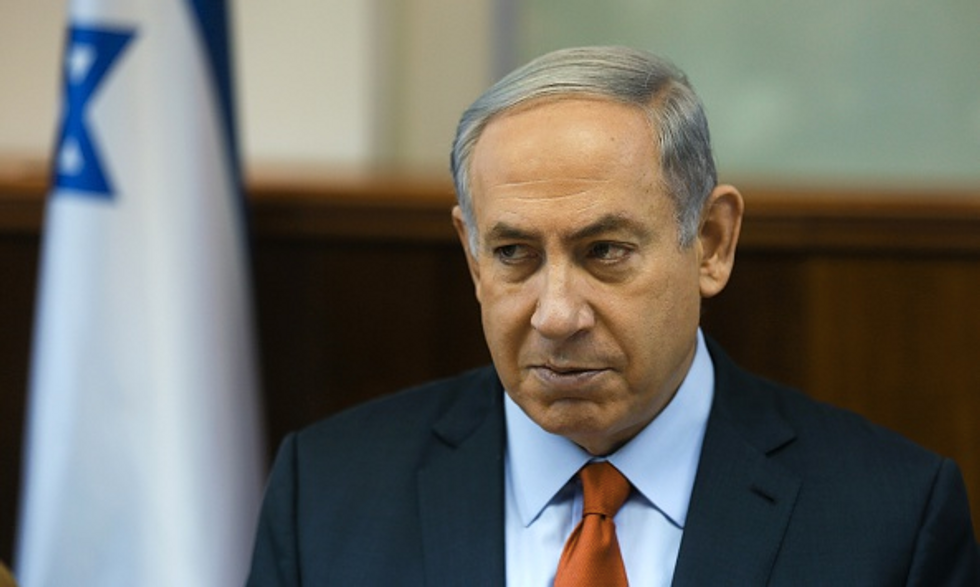 Israeli Prime Minister Benjamin Netanyahu chairs the weekly cabinet meeting at his Jerusalem office on June 28, 2015. (Atef Safadi/AFP/Getty Images)
The Israeli leader characterized the progress reported at talks in Vienna over the weekend not as a "breakthrough" but as a "collapse."
"It seems that the nuclear talks in Iran have yielded a collapse, not a breakthrough," Netanyahu said, once again accusing the "major powers," including the U.S., of caving on their principles.
"The major powers' concessions are increasing," he said.
Netanyahu repeated his criticism of the terms of the emerging agreement, suggesting it would move Iran closer to nuclear weapons while the lifting of sanctions will offer it a windfall to fund its terrorist proxies like Hezbollah.
"The deal being formulated will pave Iran's path to the production of very many atomic bombs and it will also channel to Iran hundreds of billions of dollars that will serve its aggression and terrorism campaigns in our region and around the world," Netanyahu added.
In 1994, the U.S. and North Korea signed the Agreed Framework in an effort to thwart the Asian country's pursuit of nuclear weapons. Twelve years later, North Korea tested its first nuclear weapon.
Critics of the emerging Iran agreement have previously highlighted the historical chronology of North Korea obtaining a nuclear weapons capability when years before the U.S. had offered concessions to try to block its atomic weapons pursuit.