Israeli Prime Minister Benjamin Netanyahu on Sunday accused world leaders of retreating from red lines they previously set for an agreement over Iran's nuclear program and said it was not too late to secure a better deal, in place of the one he believed was "getting worse every day."
"We are seeing a clear retreat from red lines that the world powers set recently and publicly," Netanyahu told his cabinet ministers. "There is no reason to rush to sign this bad agreement which is getting worse every day."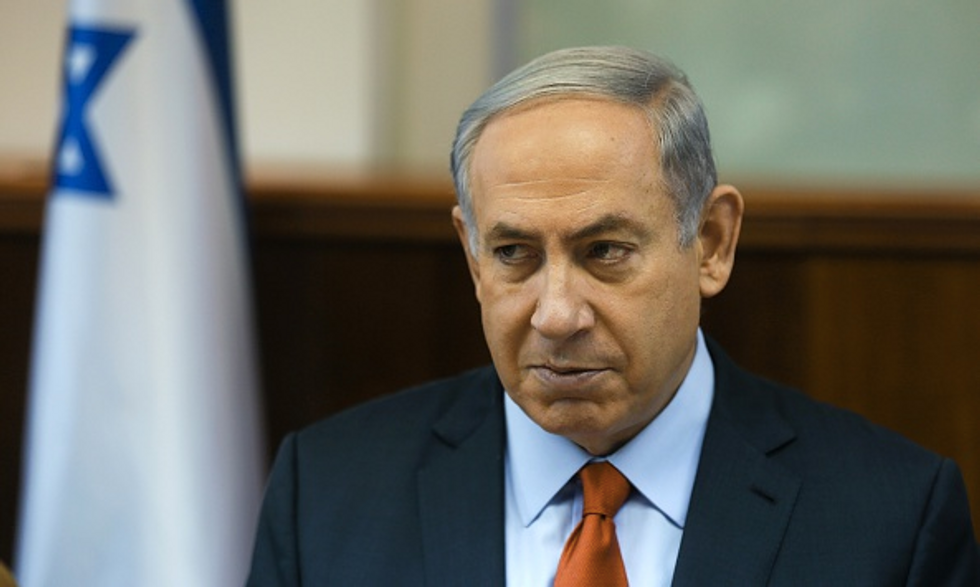 Israeli Prime Minister Benjamin Netanyahu chairs the weekly cabinet meeting at his Jerusalem office on June 28, 2015. AFP PHOTO / POOL / ATEF SAFADI (Getty Images)
With two days to go before the self-imposed expiry date for nuclear negotiations, Netanyahu indicated the current deal being formulated will not prevent Iran from acquiring a nuclear weapons capability, but that it was not too late to change course.
"It is still not too late to go back and stick to the demands that will actually prevent Iran from acquiring nuclear weapons, and to prevent it from getting a fortune to finance its aggression, expansion and the terrorist attacks it launches worldwide," Netanyahu said.
Secretary of State John Kerry was in Vienna over the weekend for meetings with Iranian Foreign Minister Mohammad Javad Zarif.
Netanyahu noted two State Department reports issued in the past two weeks which concluded that Iran continued to sponsor terrorism around the world and continued to be a leading human rights violator.
Netanyahu accused the U.S., without naming President Barack Obama or Kerry by name, of ignoring its own reports.
"Two days before the expiry date for talks to reach an agreement between the [world] powers and Iran, all these things are being shoved aside. [They are] ignoring all this," Netanyahu said Sunday.
"There is no demand for Iran to change its behavior and there's a total disregard of all of its violations, all of its extreme demands and the concessions to Iran are increasing," the Israeli leader added.
In its human rights report released Thursday, the State Department concluded that Iran continues to restrict civil liberties and is one of the world's leaders in executing its citizens.
"I can't say that we have seen any meaningful improvement in the human rights situation in Iran," Tom Malinowski, assistant secretary of state for human rights, said last week.
"All claims made within the international community about how [Iranian President Hassan] Rouhani's election changed the character of the Iranian regime are firmly answered by this report," Netanyahu said Sunday, referring to State Department's annual worldwide human rights report.
Last week, the State Department issued its 2014 report on international terrorism which concluded that Iran's sponsorship of terrorism worldwide, including support of groups like Hezbollah and Hamas "remained undiminished" in 2014.