Israeli Prime Minister Benjamin Netanyahu Sunday called the State Department's new international terrorism report "a wake-up call"
 on Iranian "subversion and aggression."
Netanyahu also asserted that the deal currently being negotiated on Iran's nuclear program will only enrich the Islamic Republic -- allowing it to increase its terrorism sponsorship.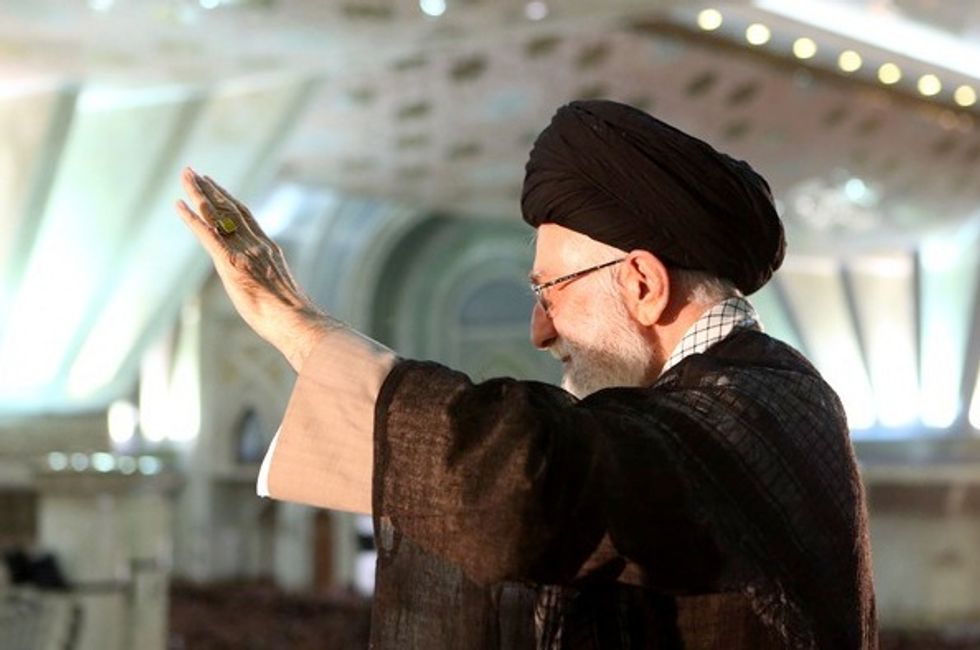 Iranian Supreme Leader Ayatollah Ali Khamenei (Photo: Office of the Iranian Supreme Leader)
"The U.S. State Department report on Iranian involvement in terrorism needs to be a wake-up call for anyone who does not understand the magnitude of Iranian subversion and aggression both within and beyond the Middle East," Netanyahu said at his weekly cabinet meeting.
The Israeli leader noted that under the agreement being discussed, Iran would receive "both a certain path to nuclear bombs, in the wake of violations and oversight that has been full of holes, and billions of dollars, which will enable them to increase both the terrorist efforts I have described, their regional aggression and the accelerated arming of their proxies – Hezbollah, Islamic Jihad, Hamas and others."
"Therefore, this is not a good agreement. This agreement endangers the State of Israel, the Middle East and – in my opinion – the peace of the entire world," Netanyahu said.
National Infrastructure, Energy and Water Minister Yuval Steinitz told Israeli media outlets Saturday that the State Department report "dealt a death knell" to "the American delusion, according to which an easing of sanctions as part of an interim nuclear treaty would lead to a moderation of its position."
Iran, by contrast, dismissed the U.S. conclusion that it continues to sponsor international terrorism, instead calling Iran a victim of terrorism.
Iranian Foreign Ministry spokeswoman Marzieh Afkham Saturday called the accusations in the report "worthless."
"For three decades, Iran has been the great victim of terrorism and considers international cooperation to combat terrorism a priority," she said, according to Agence France-Presse.
On Friday, the State Department issued its 2014 report on international terrorism in which it concluded that, "Iran's state sponsorship of terrorism worldwide remained undiminished" in 2014.
"Iran continued to sponsor terrorist groups around the world, principally through its Islamic Revolutionary Guard Corps-Quds Force, the IRGC-QF – Quds," including Lebanese Hezbollah, Iraqi Shiite militant groups, Hamas, and Palestinian Islamic Jihad, State Department counterterrorism envoy Tina Kaidanow told reporters Friday.
"[W]e continue to be very, very concerned about IRGC activity as well as proxies that act on behalf of Iran," she said.
At the same time, Kaidanow said of the nuclear talks: "We think it's essential that we pursue those negotiations. But that said, none of that implies that we would be, again, in any way taking our eye off the ball with respect to what Iran is doing as a supporter of terrorism."
She added that sanctions against Iran targeted to the terrorism issue were "not going to change."
The report was issued just two weeks before a June 30 deadline negotiators from the U.S., five world powers and Iran have set to complete a permanent agreement in which Iran would curb its nuclear development in exchange for lifting of sanctions.
Netanyahu has repeatedly called attention to Iran's support of international terrorism as he has tried to make the case the framework agreement is a "bad deal."