Speaking on the eve of another deadline for nuclear negotiations, Iran's former president said he is sure the state of Israel would "be erased soon."
Former President Hashemi Rafsanjani, often described in the media as a "moderate," is just the latest Iranian official to threaten the destruction of the Jewish state, one of the foundations for Israel's fear of Iran one day becoming a nuclear power.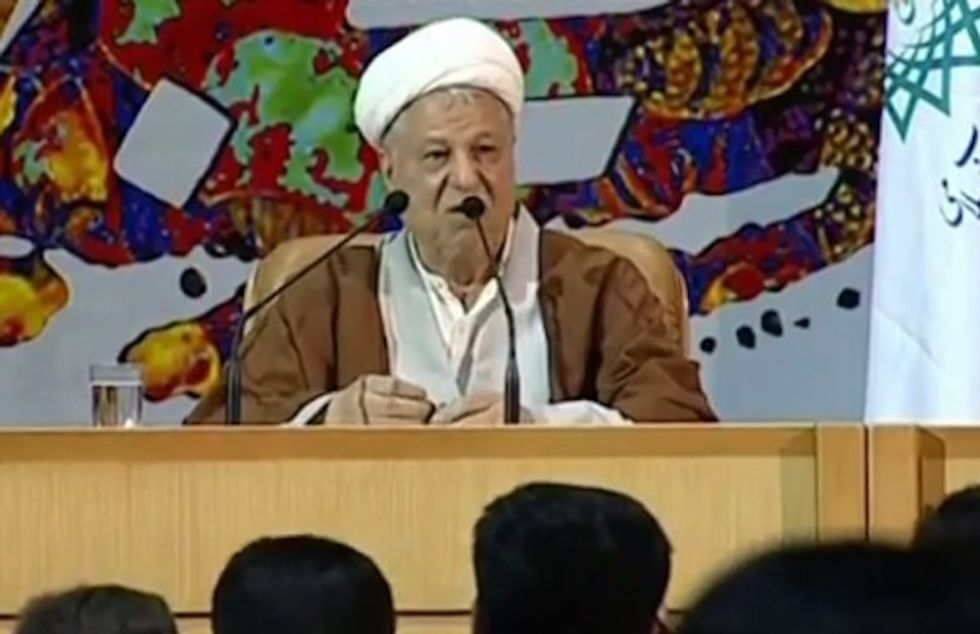 Former Iranian President Hashemi Rafsanjani said he believes Israel will "be erased soon." (Image source: YouTube)
The Iranian state news agency IRNA on Tuesday quoted Rafsanjani saying a day earlier, "Israel is a fake temporary state. It's a foreign object in the body of a nation and it will be erased soon," according to a Reuters translation.
Rafsanjani's quote came as U.S. Secretary of State John Kerry was in Vienna touting the "genuine progress" that has been made in the nuclear talks.
On its English-language website, IRNA reported that the former president made his comment in an interview with the Hezbollah-affiliated Al Ahd website.
When asked about a future Palestinian state, Rafsanjani said that while he was confident Israel would one day be wiped off the map, he wasn't sure when that might happen.
"Now when, and how that will happen, depends on the conditions which are rapidly changing. Those conditions can be provided very soon if the usefulness period of Israel will expire," he said, according to IRNA. "It might as well take very long, as both Israel and its supporters are trying their best to extend its existence period till a very remote future."
Rafsanjani contended that the West backs Israel in order to make military arms sales.
"Of course they spend a lot for protecting Israel, but they are still gaining greater benefits from its existence. One way to be benefitted from Israel is that the West is selling arms to the Arab world on that pretext very easily and pretending it is doing them a great favor," the former president asserted.
Israeli Prime Minister Benjamin Netanyahu has repeatedly warned against the emerging agreement between Iran, the U.S. and five world powers which would ease sanctions in exchange for an Iranian commitment not to develop nuclear weapons.
Netanyahu has likened Iran to the Islamic State jihadist group and warned that the agreement would offer the terrorism-sponsoring regime a direct path to nuclear weapons.
"Better no deal than this very bad deal," Netanyahu said Monday during a meeting with Greece's foreign minister.
Rafsanjani's threatening statement coming during the climax of negotiations gave the Israeli public one more reason to be worried.
"If hard choices get made in the next couple of days and made quickly, we could get agreement this week," Kerry told reporters over the weekend, but warned that the U.S. was willing to walk away "if we don't have a deal and there is absolute intransigence and unwillingness to move on the things that are important."