For 20 years of his life, Dan Horkey tried to hide his amputated leg, which he lost in a motorcycle accident. He spent several years learning how to walk without a cane on his prosthetic and then tried to cover up the fact that he had a prosthetic further.
"The first three to five years were the most difficult for me," he told TheBlaze. "I guess even after that five year mark when I was able to throw away the cane, stand on my own two feet, put full weight bearing on my prosthetic, that's when I felt good and somewhat normal."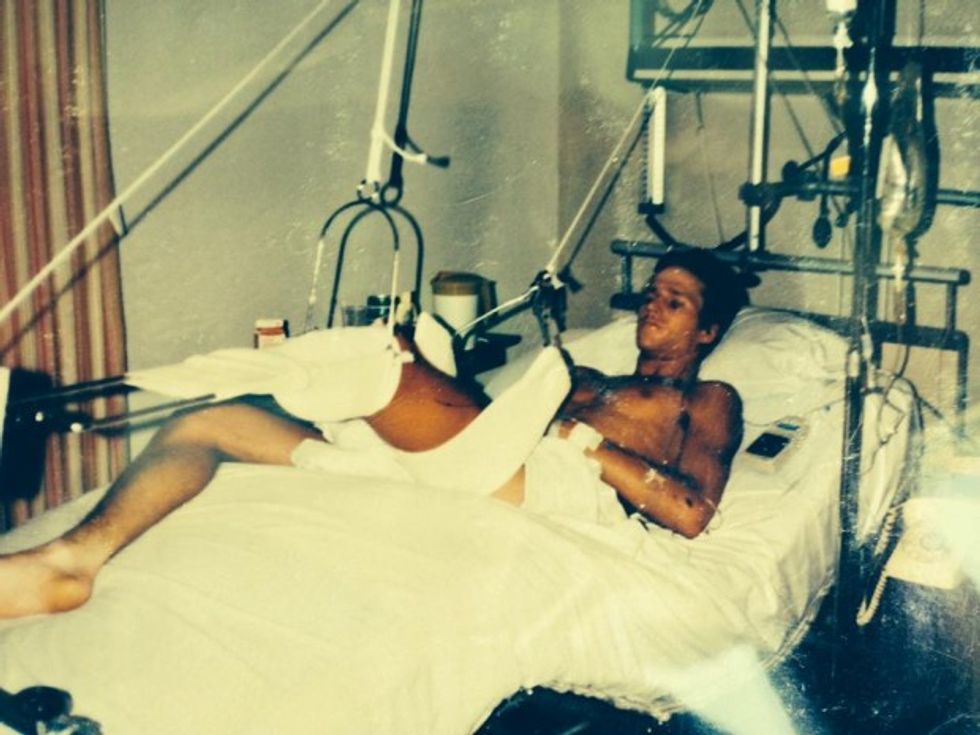 Dan Horkey in the hospital after his motorcycle accident in 1985. (Image source: Prosthetic INK/Facebook)
But it would be another decade or so before Horkey openly would show his prosthetic, and when he did, he said "it was the best thing that ever happened."
"This was the time I was going to tear off the 'skin' and wear it 'bear bones,' wear it openly and be proud of it," Horkey said after he accepted a position at a company that made prosthetic limbs in 2004.
"I put that socket on and I felt instantly charged," he added of his first decorated prosthetic, which featured flames.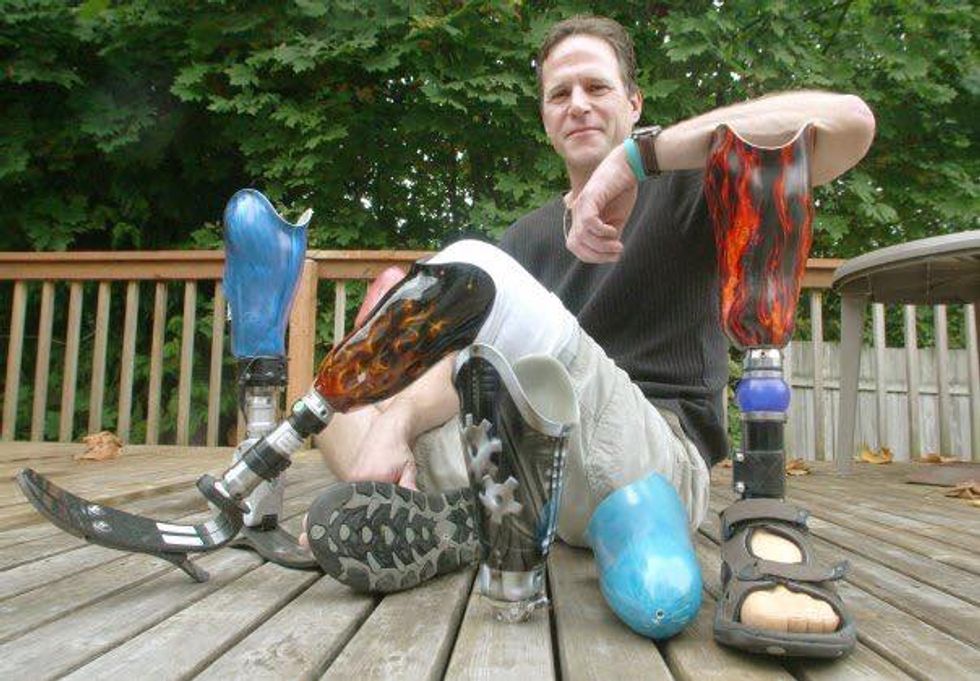 Image source: Prosthetic INK/Facebook
From that moment, Horkey said strangers met him with a compliment instead of a question.
"[They used to say] 'How'd you lose your leg? I'm sorry,'" Horkey recalled. "We get tired of the pity and the questions. That's why I chose to cover mine up [in the first place]."
When Horkey decided to were a prosthetic that featured that "tattooed" flames, he said "people didn't avoid eye contact with me as they were approaching. They'd compliment me and that just boosted my pride even more. I stood tall again, my shoulders straight back."
It was then that Horkey knew he wanted to share this confidence-booster with other amputees, freeing them from the "Band-Aid" and "babydoll" skin colors that cover many prosthetics in an attempt to make them look more real.
Horkey said he spent several years researching and by 2008 he started Prosthetic Ink.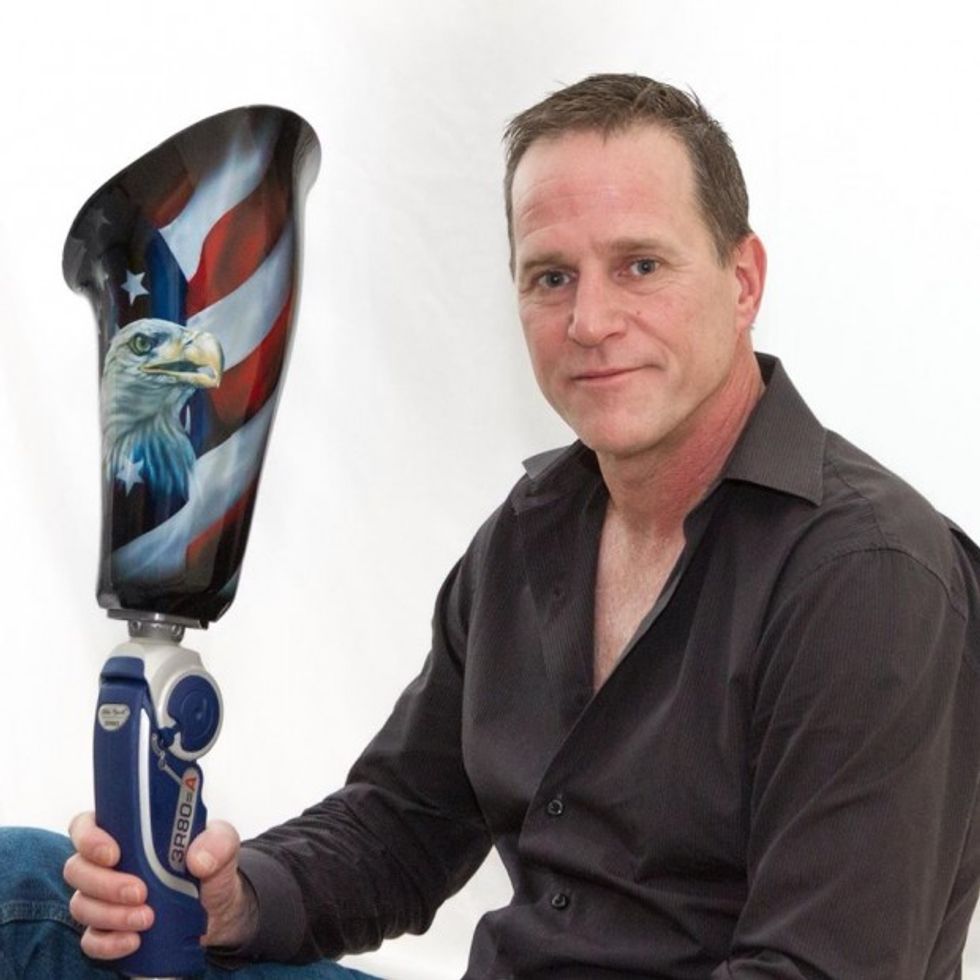 Another one of Horkey's designs. (Image source: Prosthetic INK/Facebook)
Horkey said his work was initially well received by the Department of Veterans Affairs, which agreed to allow veterans to have their prosthetics inked by him. Horkey said he thinks this small feature is something that could help improve veterans' mental health, as he saw it do the same for himself.
Eventually though, the VA looked further into the legality of its health care funds going toward this service and decided that by law it could not be covered.
Right now, Horkey said Prosthetic Ink has a backlog of vets who would like to get inked and he offers the opportunity for others to sponsor them. The designs cost between $300 to $700 depending on the level of artwork and take between three and seven days to complete.
Bob Sampson, a retired Airborne Ranger who served in Vietnam, said in a testimonial on Horkey's website that he never work shorts in the 40 years after becoming an amputee. After getting his prosthetic tattooed with the image of his Ranger badge and a phoenix though, he said, "I just went out a bought two pair."
The first veteran served by Prosthetic Ink, a man who was also a bone cancer survivor, said on the website that people can be "a little hesitant when they see someone wearing a prosthetic, but when people see my flame design, it's an automatic icebreaker."
Watch the reaction upon delivery of one of Prosthetic Ink's designs:
"What I want to try to do [with my art] is tell people, 'I'm doing fine. I'm proud to have this prosthetic. I'm making it my own. It's apart me now,'" he said. "We stand out to people. If we're going to stand out, might as have it look, I don't know, kickass."