In a city that wants to keeps its energy use low as part of a sustainability plan, Denver is finding that growing green (a.k.a. marijuana) is making it harder for the city to stay green.
According to the Denver Post, the city has seen a 1.2 percent rise in its energy rate, 45 percent of which it attributes to growing marijuana. In 2013, there were 354 growing facilities that used about 121 million kilowatt-hours of electricity, the newspaper reported.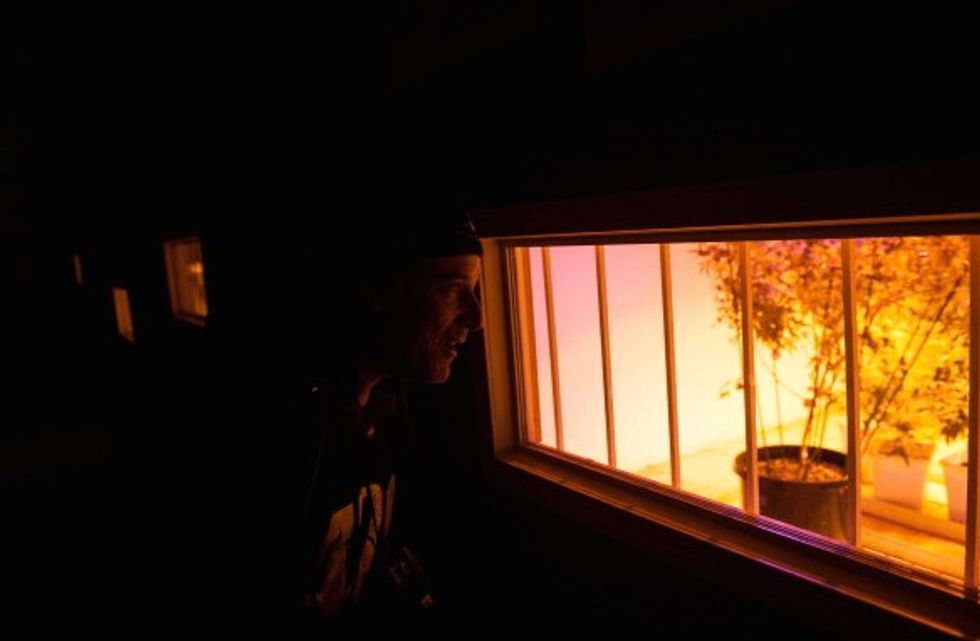 Louis Zerobnick of Denver, Colorado examines the grow room at the 3-D Denver Discrete Dispensary on January 1, 2014 in Denver, Colorado. (Theo Stroomer/Getty Images)
On a national scale, a few years ago a report found that growing cannabis composed about 1 percent of all energy consumption in the country. The annual greenhouse gas emissions from the electricity used in the industry were equivalent to that of about 3 million cars, a report said. From an individual standpoint, this report equated one marijuana joint with about 10 pounds of CO2 emissions, which it said was like running a   100-watt light bulb for 75 hours.
Lights, air-conditioners and dehumidifiers are all electrical drains used in the process of growing weed.
In Colorado Springs, it's not just larger growers that are a drain on the system, but residential pot growers as well. The Colorado Springs Gazette reported that within the last three years there have been about two dozen transformers that have blown thanks to the latter. And that's a safety issue.
"There are so many [home growers] now, even small electricians like me are getting calls," electrician Sam Masias, who spoke at a Colorado Springs Utilities board meeting about the issue, said, according to the Gazette. "My intent is to get a handle on it and make sure families are safe."
Because most of the energy use comes from lighting needed to grow the plants, both newspapers reported that LED bulbs are being researched as a potential energy-saving switch. These bulbs also don't emit heat, which reduces the energy need to keep a facility cool as well.
Xcel Energy even started a rebate program for marijuana growers to make the switch to more efficient bulbs. According to the Gazette, the more efficient lights for this purpose can cost $500 to $800 more than traditional sodium vapor bulbs, but they last five years compared to only six months.
Watch the Denver Post's report about the increase of energy use in the city due to marijuana growers:
(H/T: Gizmodo)