Singer Ariana Grande apologized Wednesday for saying she hates America, adding that her comments stemmed from her concern Americans aren't eating healthy enough.
The Grammy-nominated artist, who has partnered with Pepsi in the past, insisted she is "EXTREMELY proud to be an American."
"What I said in a private moment with my friend, who was buying the donuts, was taken out of context and I am sorry for not using more discretion with my choice of words," Grande said. "As an advocate for healthy eating, food is very important to me and I sometimes get upset by how freely we as Americans eat and consume things without giving any thought to the consequences that it has on our health and society as a whole."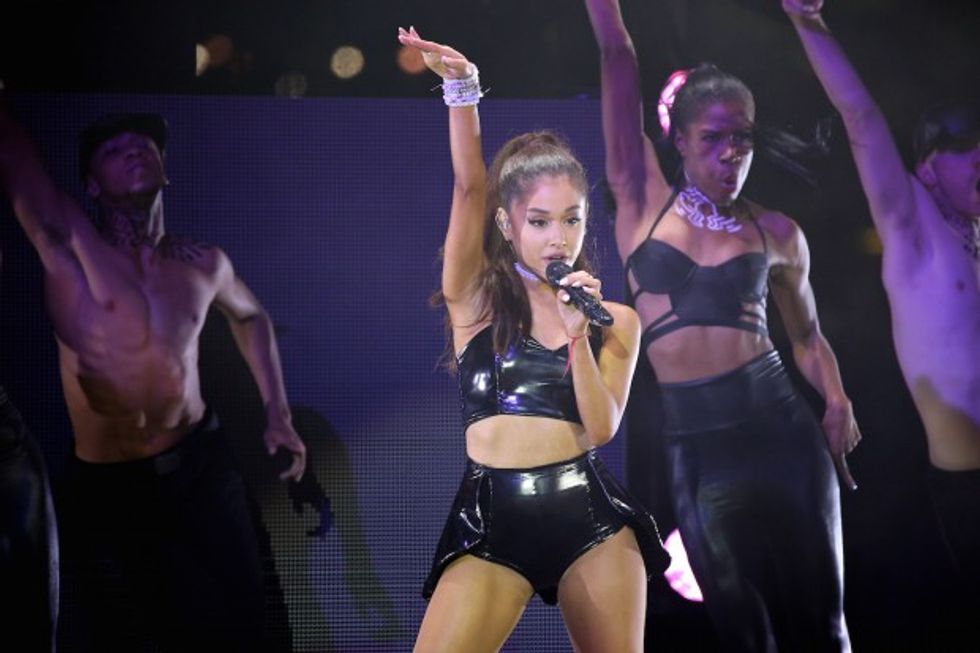 Ariana Grande performs on stage during the 29th annual NYC Pride: Dance On The Pier at Pier 26 on June 28, 2015 in New York City. (Photo by Neilson Barnard/Getty Images)
"The fact that the United States has the highest child obesity rate in the world frustrates me. We need to do more to educate ourselves and our children about the dangers of overeating and the poison we put in our bodies," she continued. "We need to demand more from our food industry."
Grande concluded saying she "should have known better in how I expressed myself; and with my new responsibility to others as a public figure I will strive to be better."
Video captured by a surveillance camera over the Fourth of July weekend captured the pop star licking donuts and blasting the U.S. "I hate Americans. I hate America," she said, seemingly unaware she was on camera.
Grande's statement did not include an apology for contaminating the donuts with her saliva.
After TMZ published video of the incident, Grande pulled out of an upcoming performance this weekend at the MLB All-Star Game. However, the singer said the cancellation was not related to the incident.
"As for why I cannot be at the MLB show, I have had emergency oral surgery and due to recover I cannot attend the show. I hope to make it up to all those fans soon," she said.
—
Follow the author of this story on Facebook, Twitter and Instagram: