UPDATE: Actress Candace Cameron Bure tells TheBlaze why she is defending the Christian bakers who were fined $135,000 after refusing to bake a cake for a same-sex couple. Listen here.
--
When actress Candace Cameron Bure defended the Christian owners of an Oregon bakery who refused to make a cake for a gay wedding on "The View" Tuesday, an apparent audible gasp from one of the co-hosts immediately followed.
Discussing the divisive case, the former "Full House" star revealed she doesn't think what the bakery did amounts to "discrimination." It quickly became clear she was outnumbered on the issue.
"This is about freedom of association, it's about constitutional rights, it's about First Amendment rights," she added. "We do have the right to still choose who we associate with."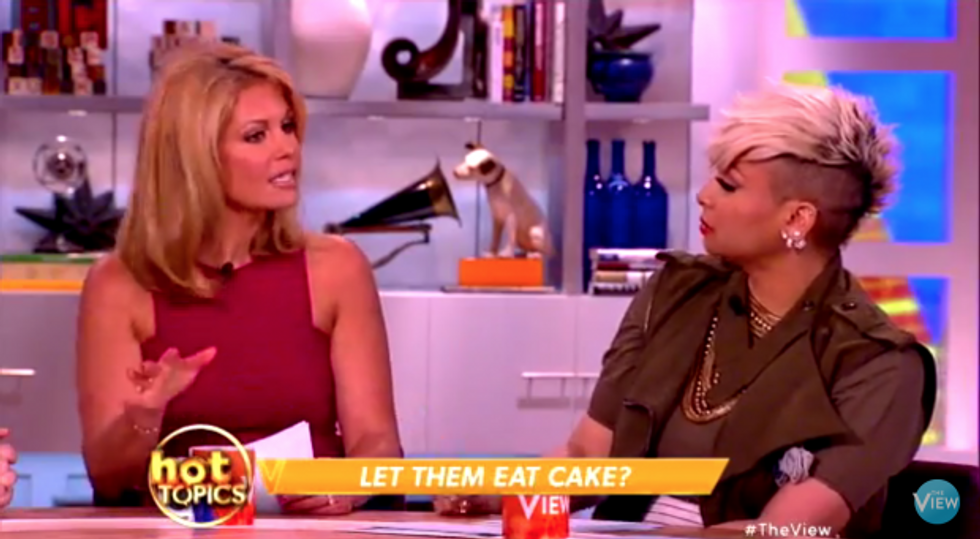 ABC
Bure argued the owners of Sweet Cakes By Melissa didn't refuse to bake the cake simply because the customers were lesbians. In fact, she said, "they baked cakes for them previously."
"They had a problem with the actual ceremony because that, the ceremony, is what conflicted with their religious beliefs," Bure said.
Co-host Raven-Symone strong disagreed with the actress, claiming the bakery discriminated against the couple based on their "sexual orientation" and likened the case to past discrimination of black people. The bakery has been fined $135,000 and hit with a gag order for refusing to bake the cake.
Bure ended her argument by saying, "Here's the other thing that I really wish we could do as a society, as a culture, as a country, is to respect that we have opposing views."
Watch the rest of the exchange via "The View" on ABC below:
---