The cost of a gallon of milk is usually what has the dairy product making headlines, but this time it's the fact that thousands of gallons of it are being dumped. Why? Because dairy farms simply made too much of it and processing plants can't keep up.
Last month Agri-Mark Dairy Farms said it dumped thousands of gallons of unprocessed milk into manure pits. An article in MassLive noted that the Massachusetts-based processing plant for the farmer-owned cooperative dumped about a dozen trailers of skim milk, each trailer holding about 4,000 gallons.
Vermont-based St. Albans Co-Op Creamery also dumped excess skim milk in June.
"Milk is going up and your demand is going down," Tom Gates with the co-op told WCAX-TV.
In total, Bloomberg News noted that dairies in the northeastern United States "dumped 31 million pounds of milk in the first five months of 2015."
"The world needs less milk," Eric Meyer, president of HighGround Dairy, told Bloomberg.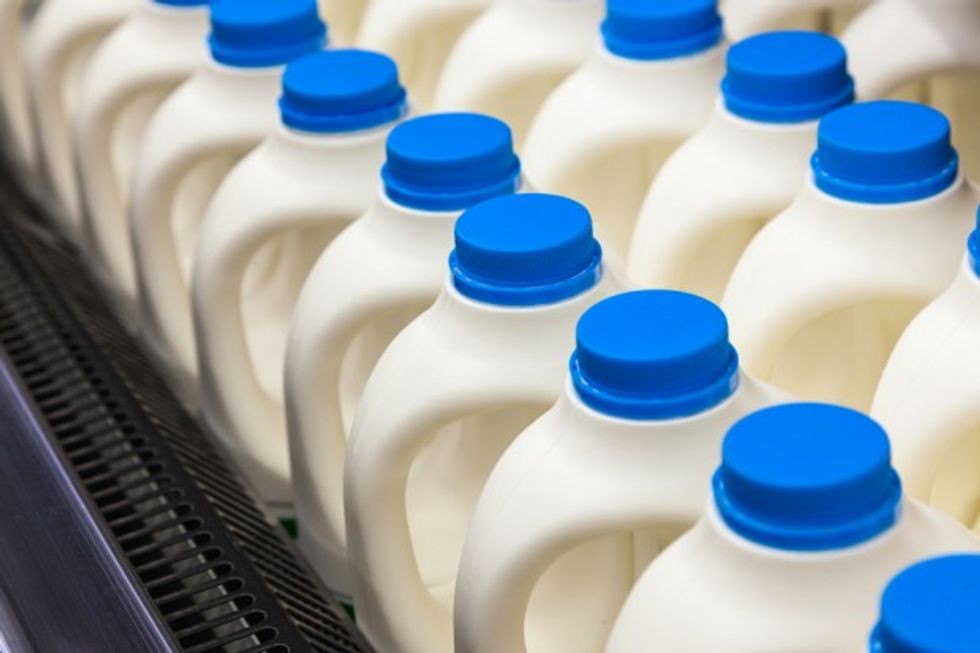 Photo credit: Shutterstock
Agri-Mark Director of Communications Douglas DiMento told MassLive that he wasn't sure how long excess milk would need to be dumped but that farmers expected cows to produce less in the coming months as summer gets under way.
"The 32 years I've been at the Co-op we've never had to dump milk before," DiMento told WCAX. " We've always had the processing capacity to handle that milk."
Watch WCAX-TV's report:
There are many factors that play into the surplus.
According to MassLive, when the cost of milk goes down because there's more on the market, many farmers produce more to maintain their income. This only exacerbates the issue, which goes back to demand overall.
At home, demand for milk and some dairy products like yogurt has fallen or stagnated over the years, MassLive reported. Abroad the stronger dollar has resulted less demand for U.S. dairy exports.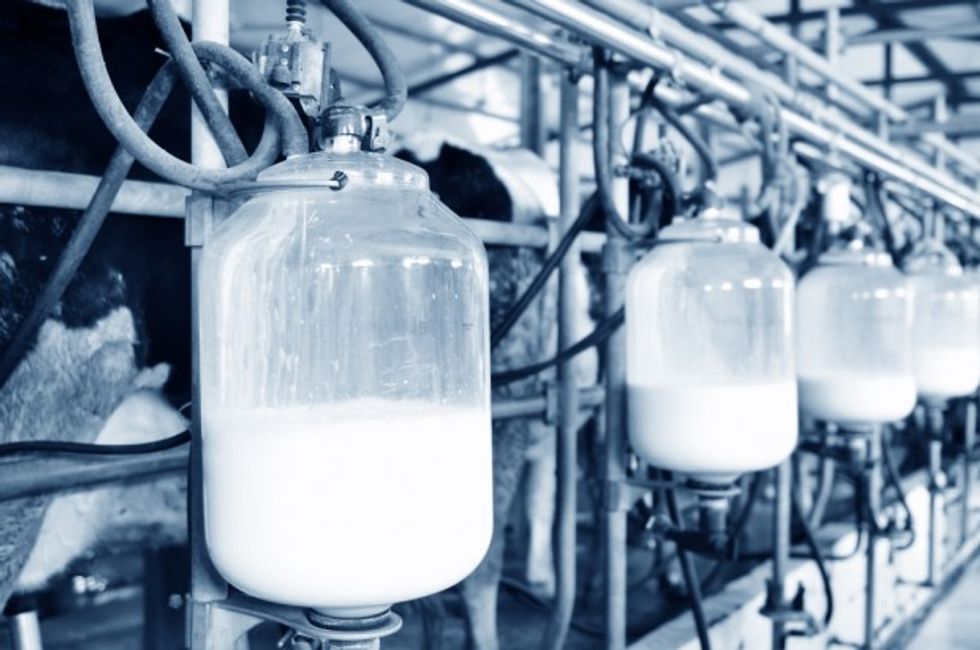 Photo credit: Shutterstock
Other options for excess milk are less available at the time as well:
In years past, milk not destined for humans could be used as animal feed for pigs or for veal calves.

"But those industries really don't exist in New England anymore," DiMento said. "In the past, many of our member farmers used to keep pigs. Most of them are only dairy farmers now."
Bloomberg in a feature over the holiday weekend noted that estimates from the U.S. Department of Agriculture found that a record 18.4 billion pounds of dairy products were produced in May, putting the country on track for reaching a record 208.7 billion pounds this year.
A legislative battle over the 2014 Farm Bill actually centered on a provision to limit production when milk supply was too high, the Milwaukee Journal Sentinel reported at the time when the bill was passed. The provision to manage the supply was taken out of the House version before it went to the Senate though, according to the newspaper.
Bloomberg reported other global factors that contributed to the U.S. surplus as well:
Globally, production will rise 2.1 percent to a record 582.52 million tons as top exporter New Zealand sells the most ever and the European Union ends limits on dairies that had been in place since 1984, the USDA said.

[...]

At the same time, the dollar's rally against most of the world's currencies helped to spur a 10 percent drop in U.S. milk exports in the first four months of 2015, while imports rose 12 percent, compounding the domestic surplus, government data show.
Though some areas of the country like the northeast might being seeing surplus in milk that processing plants can't get to it before it spoils, Bloomberg reported that there are fears of limited supply in other areas of the country. California, for example, in its historic drought might see less production from its dairy farms.
Watch Bloomberg's report:
In other industry-related news, the USDA announced it was beginning enrollment for a program that would provide financial assistance to dairy operations when the difference between the price of milk and the cost of feed falls below a certain level.
The Margin Protection Program, which was established under the 2014 Farm Bill and will begin in 2016, is considered a "safety net program," according to Agriculture Deputy Secretary Krysta Harden.
Under the voluntary program farmers select a coverage level and pay a $100 yearly administrative fee.
(H/T: io9)