Ben Carson doesn't have a problem with removing Confederate monuments from state or federal land, the Republican presidential-hopeful said Friday.
As reported by The Hayride, a conservative political site in Louisiana, Carson addressed New Orleans Mayor Mitch Landrieu's efforts to remove four statues that honor the Confederacy from public spaces.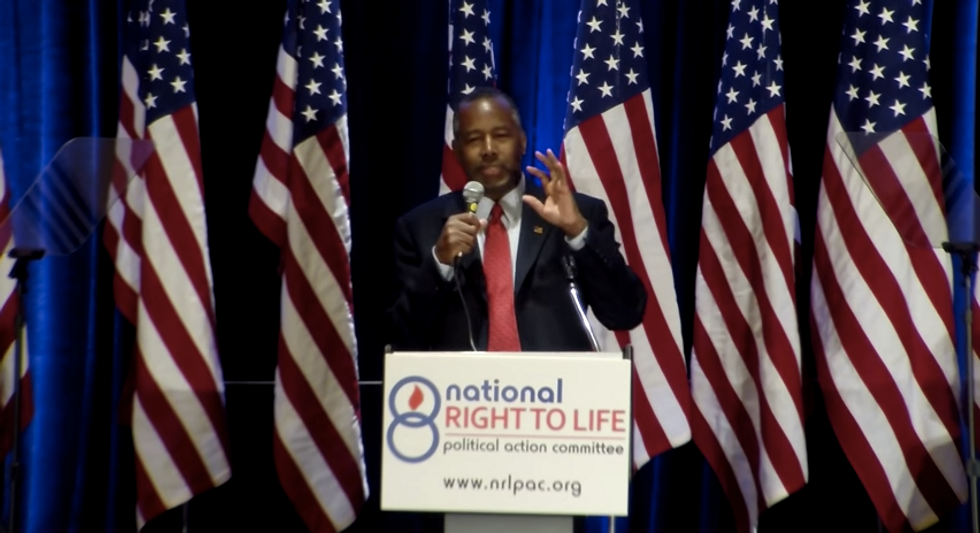 Ben Carson speaking at the National Right to Life Conference in New Orleans, Louisiana. (Image source: YouTube)
"If we're talking about things that are state or federal lands and properties and you're talking about something that is not an official symbol of the US and you're talking about something that offends a large portion of the public, I don't have any argument with him doing that," Carson, a retired neurosurgeon, said during a press conference at the National Right to Life convention.
A New Orlean's city ordinance allows for the local government to move structures, including statues, that it deems a "nuisance," according to WWL-TV. The contentious monuments that Landrieu is attempting to move honor the Battle of Liberty Place, Jefferson Davis, P.G.T. Beauregard and Robert E. Lee.
While speaking at the pro-life conference in New Orleans, Carson, the only African-American contender for president, called the political correctness that has propelled the Confederate flag into a national debate a "problem," according to The Hayride. And while he doesn't take issue with Landrieu removing symbols of the Confederacy from federal or state property, he said he would have a problem with the mayor banning citizens from displaying the Confederate flag on their own property.
Carson also said he took issue with companies such as Amazon and eBay removing Confederate merchandise from their online sites.
Previously, Carson has been outspoken about the controversial flag, claiming in a June interview with the Wall Street Journal that the imminent removal of the Confederate flag from South Carolina's Capitol grounds would not help to eradicate racism within the country, although he declined to say whether or not he believed it should be removed.
"The issue is not the flag so much as it is how people think," he told the Wall Street Journal. "What's in their heart? You can get rid of every Confederate flag in the world but if you're still being motivated by the wrong emotion it's not going to solve any problem."
Also in June, Carson spoke to CNN about a neighbor who began to fly the Confederate flag after Carson moved into his home in Maryland — "I guess as a message to us." He said when the rest of his neighbors all began to adorn their own houses with the American flag, the Confederate flag came down as that neighbor had been "shamed."
While at the National Right to Life convention, Carson took a moment to hang out with actor Kelsey Grammar.
Great to see @KelseyGrammer at #nrlc2015 today. #HealInspireRevive pic.twitter.com/oX7R8yUjKT

— Dr. Ben Carson (@RealBenCarson) July 10, 2015
Watch Carson's speech during the convention below: