Update 7/14/2015 11:50 a.m. ET: Detroit Police Department spokeswoman Cassandra Lewis issued a statement in response to a woman's video that shows her dog bleeding in one of the city's animal control shelter cages before he died, confirming that the dog did in fact have a deadly virus.
Lewis, however, noted that none of the other 179 dogs within animal control's care as of Friday exhibited symptoms of pavovirus, something animal welfare activists said the owner's dog most likely contracted at the shelter.
Lewis' statement doesn't reference any investigation into the treatment or conditions that might have lead the injuries that caused the dog to die.
The dog was in custody of the city's animal control in the first place because he had bitten two individuals. The dog was mistakenly released and then brought back into custody last week and died Sunday.
Original story as follows. 
—
A dog owner secretly filmed her walk inside a Detroit Animal Control shelter. When she reached her dog's cage, she saw blood pooled and dripping out of it onto the floor.
Now, with her dog dead, Veronica Seward and animal welfare activists are teaming up to call for changes to the city's treatment of animals.
According to MLive, Seward's pit bull mix, Major, was being held at the shelter during a quarantine after he bit someone.
"There was blood seeping out and down the ... drain," Seward told MLive. "If I can get a ticket for neglecting my dog, you should get a ticket for neglecting my dog, because that is what happened here."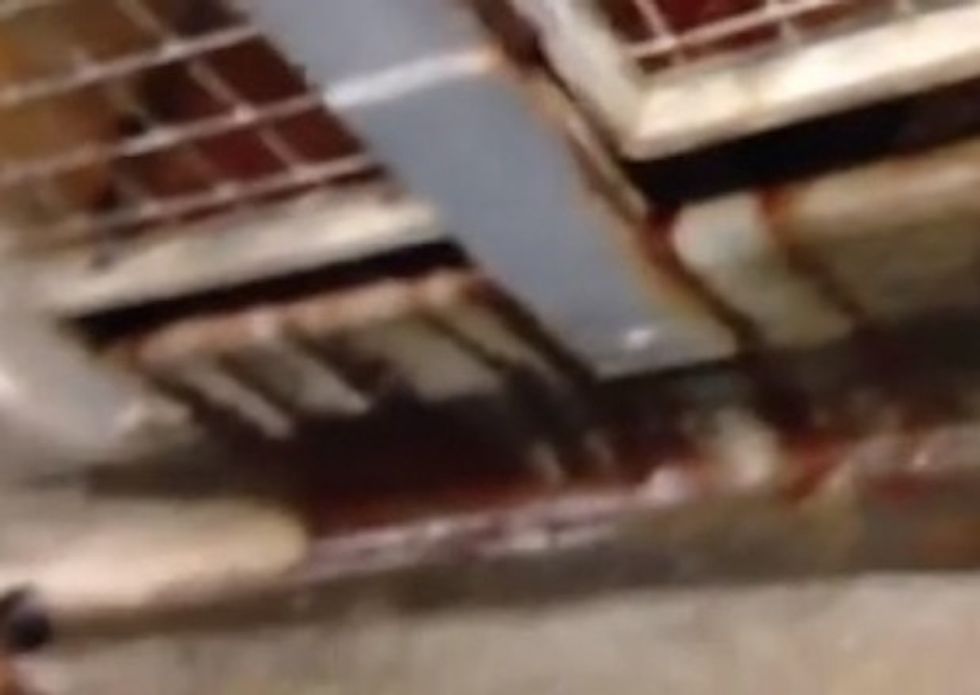 Major's owner filmed blood seeping from his cage at the Detroit animal shelter. (Image source: YouTube)
Watch Seward's video posted by the animal welfare group Dog Aide:
The news site reported that Seward said a veterinarian at the time agreed that her dog needed immediate treatment.
Dog Aide noted in a Facebook post that Seward said Major didn't have water in his cage and specified that while it was large enough for him to lay down, he couldn't stand up fully.
At an animal hospital, Dog Aide reported, Major was diagnosed with pavovirus, which it said is deadly and that he likely acquired at the shelter.
"He also has an abrasion on his scrotum from urine scald, as well as a pressure sore on his elbow," Dog Aide's post continued. "Because Major had been without any medical care, we authorized aggressive treatment: IV fluids, anti-emetics, antibiotics. At first we were cautiously optimistic about his treatment. Unfortunately even with the best care, he was not treated in time."
Major died Saturday.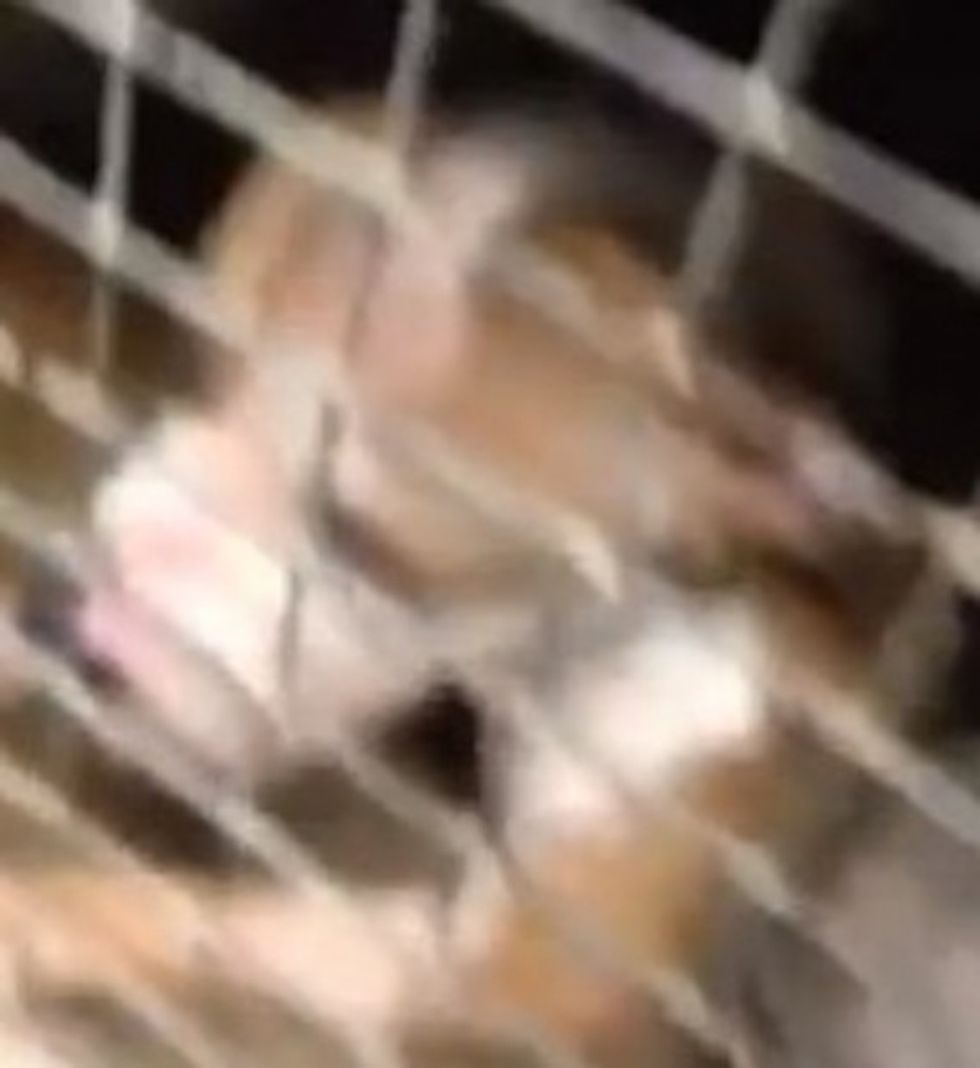 Major was kept at the shelter for a 10-day bite quarantine and then was taken back into custody to await a judge's release. (Image source: YouTube)
Dog Aide presented several concerns regarding Major's situation, but namely, that he was held "in a cage that is too small, with no walks, no interaction."
"All animals deserve to be housed humanely according to law," Dog Aide stated. "They should be able to stand, turn around, have a clean place to sleep, have access to clean water, and be fed daily. These are the minimal standards owners are held to. Our Animal Control should also be held to these standards of humane sheltering."
Dog Aide also criticized Detroit Animal Control for making it the owner's responsibility to initiate and find medical care for Major after he needed.
"We find it unconscionable that DAC does not have an MOU with a veterinary hospital for when owned animals are being held and in undeniable medical emergency," the group said.
MLive noted that within the last three years, Detroit Animal Control has euthanized more than 70 percent of the dogs within its shelters. It compared that to the rest of the state, which had an average kill rate of 27 percent.
According to MLive, the Detroit Animal Control shelters do not have an adoption program, but some animals are transferred to the local humane society, which does facilitate adoption.
The City of Detroit did not immediately respond to TheBlaze's request for comment from its animal control devision. A city spokesperson did tell WXYZ-TV that the police department was reviewing Major's case.
For now, Dog Aide said that it's in talks with the Detroit Police Department, which oversees the city's animal control, but it said the "wheels of government move slowly, but the animals in that facility cannot wait."
"We advise all owners who have a dog at DAC currently on impound to be advised that parvovirus is present in that shelter and decontamination protocols are not being followed. Your animal will not receive treatment or care. Please visit your animal every day and stay active in your animal's care," Dog Aide said on Facebook.