Anti-Semitic attacks in France increased by a shocking 84 percent during the first quarter of 2015 when compared to the same period last year, according to a nonprofit organization that monitors such occurrences.
Numbers released by the SPCJ, the Jewish Community Security Service, a group that aims to "protect Jewish life," found that there were 508 recorded anti-Semitic acts between January and May, an uptick from 276 during the same period in 2014. Of those 2014 incidents, 387 were death threats, the Jewish Telegraphic Agency reported.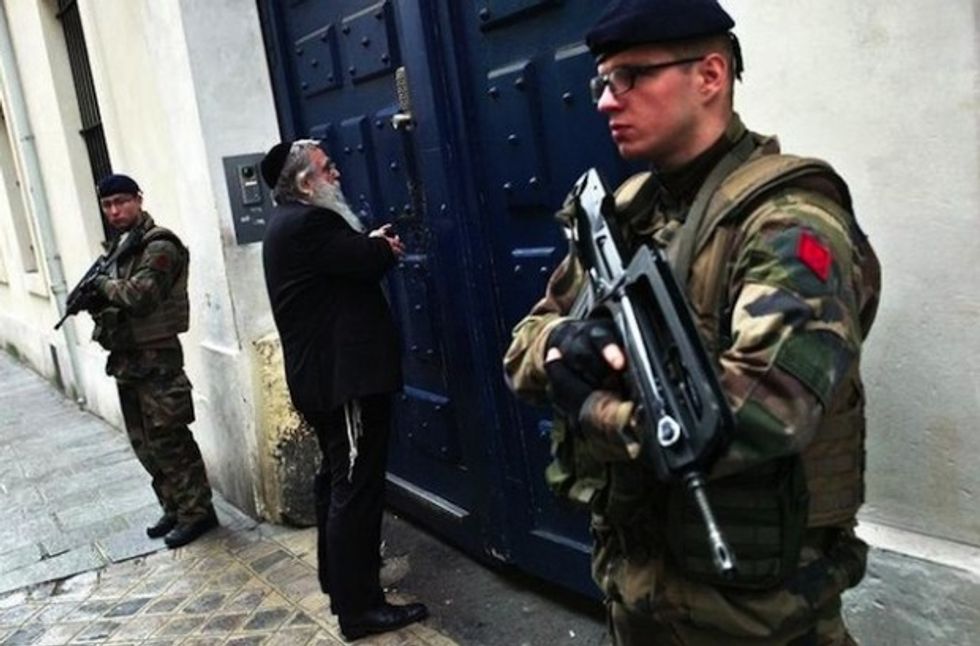 French soldiers secure the access to a Jewish school, in Paris, Tuesday, Jan. 13, 2015. France on Monday ordered 10,000 troops into the streets to protect sensitive sites after three days of bloodshed and terror. (AP Photo/Thibault Camus)
Of the attacks in the first quarter of 2015, 23 percent were classified as violent, with 27 percent falling under the same category in the beginning months of 2014.
When examining the overall numbers, there was an increase from 423 incidents in 2013 to 851 incidents in 2014, making 2014 the second most horrific year for anti-Semitism next to 2004, during which there were 974 incidents, according to the Jewish Telegraphic Agency.
As TheBlaze previously reported, the Charlie Hebdo terror attack in Paris earlier this year at the hands of Al Qaida-linked brothers carried with it a separate but related attack during which one of the attackers' associates killed four Jewish residents at a kosher supermarket; this violent assault was included in the SPCJ's 2015 numbers.
The latest numbers were released amid fears that anti-Semitism is on the rise in France, with a piece in the Atlantic asking earlier this year, "Is It Time For the Jews to Leave Europe?"
(H/T: Jewish Telegraphic Agency)