Questions continue to surround an activist group's undercover video that purports to show a Planned Parenthood physician admitting that her organization is involved in illegally selling fetal parts.
While activists have doubled down, Planned Parenthood responded on Tuesday by dismissing the allegation and claiming that its clinics simply help women who wish to donate the tissue of aborted fetuses to scientific research. On the other hand, Snopes.com, a fact-checking website, labeled the claim against Planned Parenthood by the Center for Medical Progress, a pro-life group, as "undetermined" based on the evidence.
Clearly, discussion and debate continue, though at least two bioethicists have expressed some concerns about what's observed in the footage.
Dr. Dennis Sullivan, director of the Center for Bioethics at Cedarville University Cedarville, Ohio, told TheBlaze on Wednesday that comments in the controversial video from Dr. Deborah Nucatola, Planned Parenthood Federation of America's senior director of medical services, do not definitively show that the organization is selling fetal parts, adding that the dynamic is a complicated one.
"The issue really settles around the legality of what can be done with the tissue [taken during] a legal procedure," Sullivan said. "What is legal is that human fetal tissue can be donated with the request of the woman who's undergoing the procedure."
See the Center for Medical Progress' original video that sparked controversy below:
From what's presented in the clip, the bioethicist said that it is difficult to tell whether there is a discussion of sales, or simply a reimbursement of expenses for transport and procurement, as Planned Parenthood indicated in its official response to the clip.
Sullivan, who is a pro-life Christian, said that theological and political opposition to Planned Parenthood shouldn't muddy the facts surrounding the case, which he admitted are still very unclear based on the video evidence.
"The fact that this is an organization [that] we love to hate does not mean necessarily that what they're doing is illegal," he said.
There are other problematic issues in the clip, though, that Sullivan said need to be addressed.
"Now, we go to the way [Nucatola] addresses the issue in her cynical, casual attitude about how we can get better baby parts and, 'Oh, if we arrange forceps differently.' 'Let's pinch here' — this is very, very bothersome to anyone who would watch the video," he said. "So, when you see the cynical, casual attitude of the speaker ... that's what I think is causing a lot of objection."
Sullivan also said that the way in which Nucatola allegedly described how some organs can be harvested creates questions about whether organ procurement is taking precedence over the abortion itself, which medical practitioners generally believe should be as safe and beneficial to the woman as possible.
Plainly stated: For those seeking an abortion, it's the procedure — and not organ donation — that should be on physicians' minds.
Art Caplan, a bioethicist at New York University in New York, New York, told CNN on Wednesday that he also had concerns with Nucatola's mention of ultrasound guidance being used to help doctors know where to grab the unborn baby with forceps, saying that any efforts to change an abortion procedure simply to procure tissue are problematic.
"In abortion the primary goal is to give the safest abortion possible. Your sole concern has to be the mother and her health," he said, comparing it to the example of doctors hypothetically changing the treatment of a patient in an effort to secure certain tissues after death for donation purposes. "That's a huge conflict of interest. ... If you modify how someone dies, that's unethical."
Then, there's also the discussion about partial-birth abortion that some have had since the video released.
"I delivered a lot of babies. I've done a lot of OB," Sullivan said. "The normal way that the fetus sits in the womb is head down."
But in a procedure called partial-birth abortion — which is now illegal in the United States — the exact opposite positioning was sometimes sought by abortion doctors who were terminating a pregnancy.
The U.S. Conference of Catholic Bishops explains the procedure (caution: graphic) in detail: "The doctor delivers a substantial portion of the living child outside his mother's body — the entire head in a head-first delivery or the trunk past the navel in a feet-first delivery — then kills the child by crushing his skull or removing his brain by suction."
That in mind, comments made by Nucatola in the footage have piqued some critics' interest, with the Center for Medical Progress assuming that she was speaking about partial-birth abortions. She reportedly said:
"So then you're just kind of cognizant of where you put your graspers, you try to intentionally go above and below the thorax, so that, you know, we've been very good at getting heart, lung, liver, because we know that, so I'm not gonna crush that part, I'm going to basically crush below, I'm gonna crush above, and I'm gonna see if I can get it all intact. And with the calvarium, in general, some people will actually try to change the presentation so that it's not vertex, because when it's vertex presentation, you never have enough dilation at the beginning of the case, unless you have real, huge amount of dilation to deliver an intact calvarium. So if you do it starting from the breech presentation, there's dilation that happens as the case goes on, and often, the last, you can evacuate an intact calvarium at the end."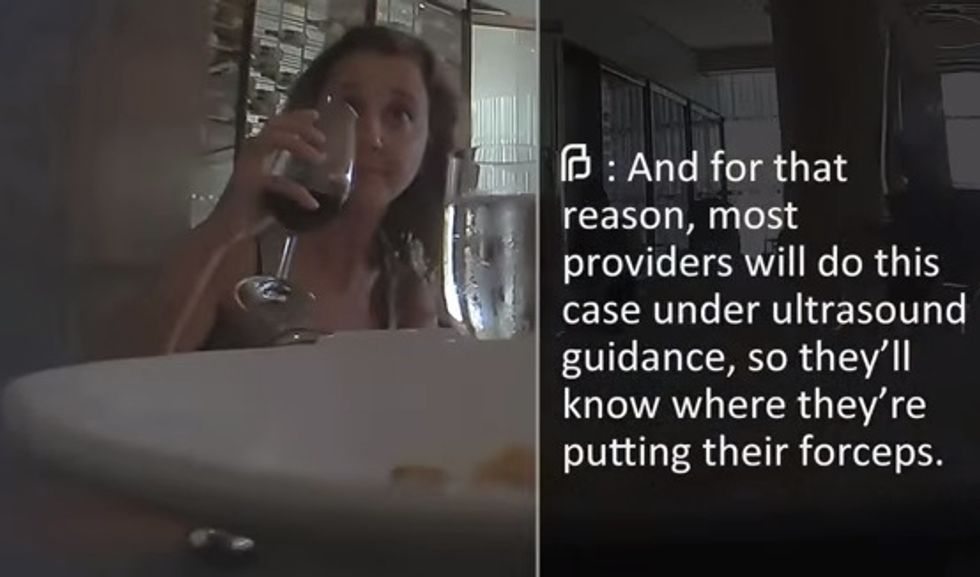 Screen shot via YouTube
This caught Sullivan's attention, as he said that — though one can't say for certain — the discussion about how the baby is positioned creates some questions.
"We've got this director who's saying, 'You know what? Sometimes for our convenience ... we're going to rotate the baby ... that might even help preserve the calvarium, so we can get some of the brain tissue in tact for use for fetal research," he said. "So, sounds awfully close to saying that 'We're willing to do an illegal procedure in order to provide this tissue.'"
While Sullivan said that he and Caplan sometimes disagree on the abortion issue, the two have common ground on at least one front.
"Dr. Kaplan and I agree [that it is wrong if] we're willing to change a procedure ... in order to accomplish our goal of having more tissue to sell for fetal research," he said.