Two bundlers for Democratic presidential candidate Hillary Clinton and one bundler for Republican presidential candidate Jeb Bush are registered as foreign lobbyists, BuzzFeed reported.
All three individuals work for the Washington law firm DLA Piper.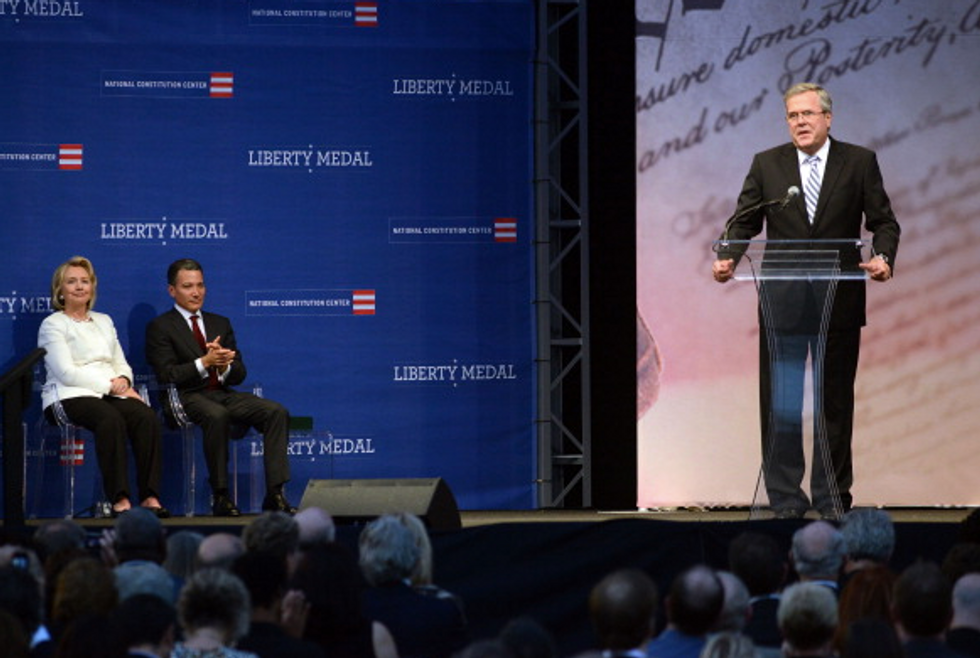 Former Secretary of State Hillary Rodham Clinton and Jeffrey Rosen, president and CEO of the National Constitution Center, listen as former Florida Gov. Jeb Bush speaks before the presentation of the 2013 Liberty Medal September 10, 2013 in Philadelphia, Pennsylvania. The Liberty Medal was established in 1988 to commemorate the bicentennial of the U.S. Constitution. Given annually, the medal aims to recognize leadership in the pursuit of freedom. (Photo by William Thomas Cain/Getty Images)
Matthew Bernstein bundled more than $45,000 for Clinton, a former secretary of state.
John Merrigan bundled more than $24,000 for Clinton.
Bernstein's Foreign Agent Registration Act documents show he has lobbied the United States on behalf of the United Arab Emirates and for the German State of Rheinland-Pfalz.
Merrigan's registration shows he lobbied for the UAE and for Saudi Arabia.
A 2008 report by Center for Investigative Reporting and ABC News said Merrigan and Bernstein bundled for Clinton in her previous presidential campaign and arranged a meeting with her and her senate colleagues while they lobbied for the UAE.
The Clinton campaign declined to comment to BuzzFeed.
As for Bush, it's a family connection.
Ignacio Sanchez was a Treasury Department official for President George W. Bush. He now works for same firm, DLA Piper.
The filings show he has lobbied for Saudi Arabia and for the UAE.
Sanchez has bundled $32,400 for Jeb Bush, a former Florida governor. He also donated $5,000 to Bush's Right to Rise PAC, and gave $2,700 to Bush's presidential campaign.
"Gov. Bush is focused on his own agenda and isn't influenced by special interests," a Bush campaign spokeswoman told BuzzFeed.