House Speaker John Boehner's health adviser – the sister of the founder of a company named in the probe of Planned Parenthood for the alleged selling of body parts – has advocated pro-life policies and worked closely with organizations opposing abortion, the speaker's office argues.
"Charlotte Ivancic is a dedicated public servant who enjoys the utmost respect among her peers and members of congress," Boehner spokeswoman Emily Schillinger said. "She has the speaker's complete trust and confidence in both her work and her character."
Ivancic, Boehner's health policy director, has previously worked for other House and Senate Republicans on health issues including former Senate Majority Leader Bill Frist of Tennessee, former Sen. Jim DeMint of South Carolina and Rep. Paul Ryan of Wisconsin.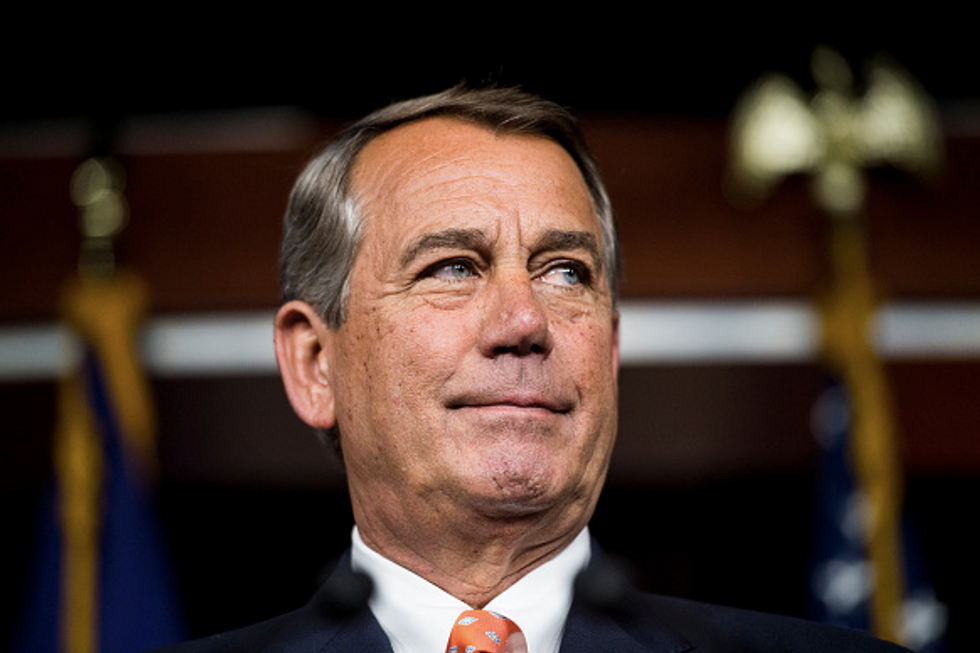 Speaker of the House John Boehner, R-Ohio, holds his weekly on camera media availability in the Capitol on Thursday, July 16, 2015. (Bill Clark/CQ Roll Call)
Ivancic is also the older sister of Cate Dyer, the founder and CEO of StemExpress, the company first identified by the Center for Medical Progress, a medical ethics and anti-abortion group that did an undercover video of a Planned Parenthood senior director talking about the sale of body parts of aborted unborn babies.
For his part, Boehner called for a congressional investigation into Planned Parenthood.
ForAmerica, a conservative group, first raised the connection between Boehner and the Planned Parenthood scandal on Thursday.
"It's one of the more peculiar revelations in this saga, to say the least," ForAmerica President David Bozell said in a statement.
A brochure from StemExpress quotes Planned Parenthood praising the company.
"Our partnership with StemExpress is beneficial in a number of ways," Dr. Dorothy Furgerson of Planned Parenthood is quoted as saying in the brochure. "First, it allows us to contribute to life-saving research. Second, StemExpress has a Plug-in solution that allows us to add additional clinics quickly. Lastly, I feel confident that our patients' anonymity is secure through their strict protocols and practices."
StemExpress describes itself on its website as "a multi-million dollar company that supplies human blood, tissue products, primary cells and other clinical specimens to biomedical researchers around the world to fuel regenerative medicine and translational research. Founded in 2010, we offer the largest variety of raw material in the industry, as well as fresh, fixed and cryopreserved human primary cells."
Defining "raw material" could be the key question as investigations into Planned Parenthood move forward. Beyond the House, five states -- Georgia, Indiana, Louisiana, Ohio and Texas -- are also investigating Planned Parenthood as a resulting of the video.
Louisiana Secretary of Health and Hospitals Kathy H. Kliebert, leading that state's investigation, sent 11 questions to Melaney Linton, head of the Planned Parenthood Gulf Coast, one of them about StemExpress.
"Will the New Orleans clinic for which you are planning to apply to DHH for a license have any business ties with StemExpress, or any other organizations in the business of selling or donating the remains of unborn babies?" the letter reads.
StemExpress issued a statement this week responding to what it vaguely called "recent media reports," without mentioning Planned Parenthood, and calling itself a "small life science company" in contrast to its description in the "about" section on the website as a "multimillion dollar company."
"StemExpress prides itself on complying with all laws. Written donor consent is required for any donation, including bone marrow, tissue of all types or blood," the company's statement says. "We are proud of the role we play in helping the global research community as they strive to achieve medical breakthroughs to stamp out global disease and improve quality of life. Everything we provide is solely at the request of the nation's and the world's great research institutions."
The statement continues, "We are hopeful the events of the last few days will not diminish our efforts to support the research community or hinder our partners from continuing their important work."
Planned Parenthood has also denied wrongdoing but issued an awkward apology for the senior officials conduct in the video.
Follow Fred Lucas (@FredLucasWH) on Twitter