While discussing the shooting in Chattanooga, Tennessee Thursday that took the lives of four Marines in a gun-free zone, Juan Williams accused Fox News Host Martha MacCallum of pandering to fear, anxiety and anger for believing that the Marines at the recruiting center should have been able to defend themselves.
Williams said on the Friday morning segment that he was "baffled" by the debate over whether or not those at the recruiting center should have been armed as the shooting took place at a strip mall, not a military base.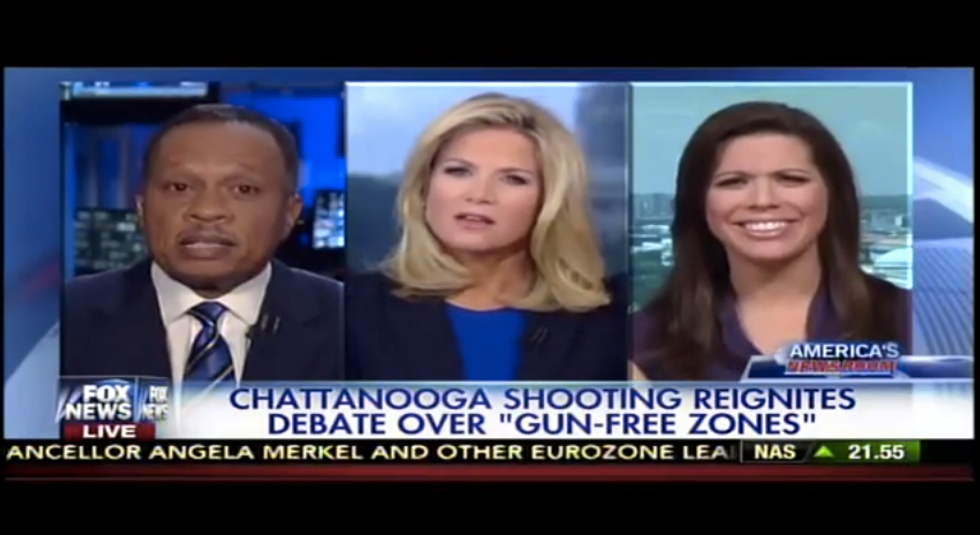 Image source: YouTube
"So what we're talking about here is a strip mall with stores and, you know, hamburger stands and all that, and I don't think you want people just walking around, everybody with a gun, everybody who gets into an argument from workplace violence to a dispute in the parking lot."
"What we're talking about, Martha, is you're saying you'd be in favor of sort of the 'Wild Wild West,' you know, everybody has a gun on them as they're walking around the mall," he said. "Not my mall, I don't want that."
"I don't think you heard a word I said, " MacCullum shot back. "We're talking about arming our U.S. military at recruiting centers. And why? Because there are hundreds of threats that exist against military families in this country, Juan. Hundreds. And you know what? This is going to happen again."
Police say 24-year-old Muhammad Youssef Abdulazeez launched the attack against military personnel Thursday that left four Marines dead and others wounded. Abdulazeez was fatally shot by police.
Ever since the image of the shattered doors to the recruiting center, riddled with bullet holes, with a sign banning guns surfaced on social media yesterday, a huge debate has sparked over whether or not the marines should have been armed.
"These are Marines, everyone of them a rifleman," Fox contributor Mary Katherine Ham said during Friday's segment. "They are trained to protect themselves, and they have volunteered to be our sheepdogs, protect the rest of us, and yet we take the means out of our hands to do that. And that just seems like a sin." 
Watch the heated exchange below: