Israeli Prime Minister Benjamin Netanyahu Sunday said those who think the Iranian nuclear agreement would change Iran's attitude toward the West and terrorism have already been proven wrong and that Iran is now set to develop a nuclear weapon "within a decade."
"If someone thought that the extraordinary concessions to Iran would lead to a change in its policy, they received an unequivocal answer over the weekend in Iranian ruler Khamenei's aggressive and contrary speech," Netanyahu told his cabinet ministers, referring to a fiery anti-American and anti-Israeli speech delivered Saturday by Iran's Supreme Leader Ayatollah Ali Khamenei.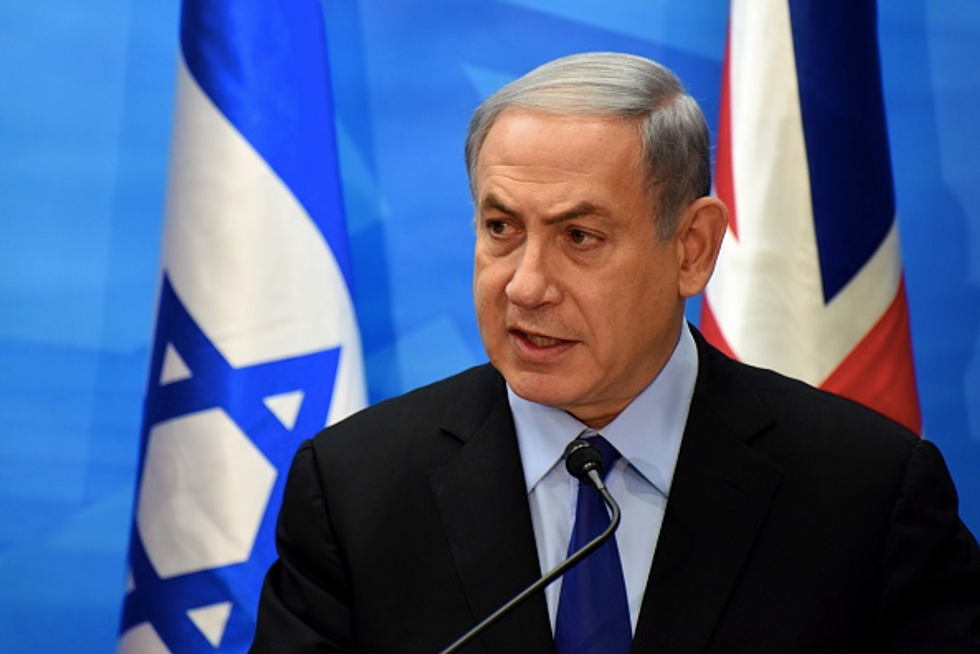 Israeli Prime Minister Benjamin Netanyahu holds a press conference with British Foreign Secretary Philip Hammond at his office in Jerusalem on July 16, 2015, following a meeting to discuss the recent nuclear deal between major powers and Iran. Hammond sought to reassure Israel over the nuclear deal, saying 'robust measures' were in place to ensure its success. (Getty Images/Debbie Hill)
"The Iranians aren't even trying to hide the fact that they will use the hundreds of billions that they will receive under this agreement in order to arm their terror machine and they are clearly saying that they will continue their struggle against the U.S. and its allies, first among them being Israel, of course," Netanyahu said.
On Saturday, just four days after the nuclear agreement was announced, Khamenei praised Iranians for chanting slogans at Al Quds Day holiday demonstrations the week before.
"You heard 'Death to Israel,' 'Death to the U.S.' You could hear it. The whole nation was shaken by these slogans. … So we ask Almighty God to accept these prayers by the people of Iran," Khamenei said.
Khamenei also said in the speech that was carried live on Iranian television that the country's "policy toward the arrogant U.S. government won't change at all."
Netanyahu suggested the nuclear agreement would one day allow Iran to arm its terrorist proxies with weapons "much deadlier" than missiles.
"Today Iran is arming terrorist organizations with missiles – tomorrow they will have the ability to arm them and themselves with much deadlier weapons," Netanyahu said. Iran is the main backer of the Lebanese terrorist group Hezbollah.
"The agreement that was signed paves Iran's way to arm itself with nuclear weapons within a decade, if Iran decides to honor the agreement, and before then if it decides to violate it, as it is usually does," the Israeli leader said.
Netanyahu suggested a path more certain to prevent an Iranian nuclear weapon would be strengthening sanctions on Iran and "conditioning the lifting of the restrictions on Iran's nuclear program, and the lifting of the pressure on Iran, only if it changes its policy."
"As long as the Iranian leadership is encouraging calls of 'Death to America' and 'Death to Israel,' there is no reason to make any concessions to them," Netanyahu added.