One week after Wisconsin Gov. Scott Walker formally announced his entry into the 2016 presidential race, he signed a bill banning abortions at 20 weeks in his state.
"At five months, that's the time when that unborn child can feel pain," Walker said when signing the bill at the Fox Valley Technical College in Oshkosh, Wisconsin, according to the Milwaukee Journal-Sentinel. "When an unborn child can feel pain, we should be protecting that child."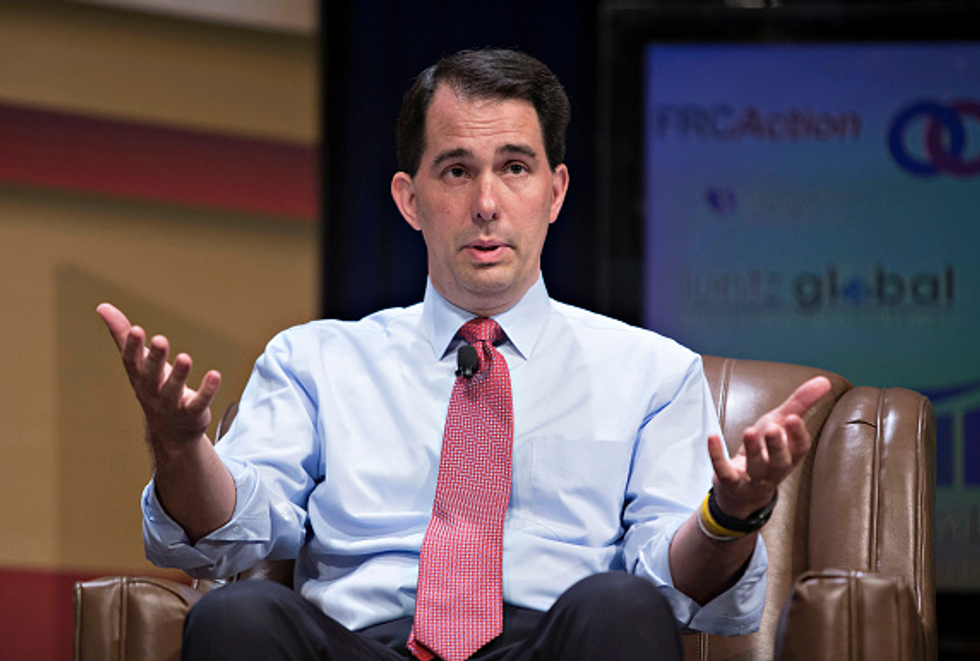 Scott Walker, governor of Wisconsin and Republican U.S. 2016 presidential candidate, speaks during The Family Leadership Summit in Ames, Iowa, U.S., on Saturday, July 18, 2015. The sponsor, The FAMiLY LEADER, is a 'pro-family, pro-marriage, pro-life organization which champions the principle that God is the ultimate leader of the family.' (Daniel Acker/Bloomberg via Getty Images)
Two other declared GOP presidential candidates, Louisiana Gov. Bobby Jindal and former Texas Gov. Rick Perry, have signed similar bills into law. New Jersey Gov. Chris Christie, a declared candidate, and Ohio Gov. John Kasich, who is expected to enter the race, have both expressed support for bans in their state.
Because few abortions come this late, and many doctors saying that unborn babies are capable of feeling pain, the legislation has been popular across the political spectrum, Susan B. Anthony List President Marjorie Dannenfelser said in a statement. She also praised Walker for having defunded Planned Parenthood in the state.
"We thank him for following through on his commitment sign this human-centered legislation. His signature makes Wisconsin the 15th state to enact this popular, compassionate protection for babies capable of feeling pain," Dannenfelser said. "Americans are united in their desire to see the United States removed from the list of only seven nations to permit abortion after 20 weeks, more than halfway through pregnancy. The horrific video released last week exposing Planned Parenthood's willingness to further commodify the unborn children they destroy – including babies beyond five months gestation – underlines the urgent need to pass federal legislation."
Meanwhile, the National Abortion Rights Action League, or NARAL, posted a petition on its website, saying, "We have to make sure voters know about Walker's twisted vision for the country. It's time Scott Walker owns his record."
"We can't let Walker make restricting women's reproductive freedom a footnote to his presidential announcement," the organization said. "If we don't call Scott Walker out now, he won't stop trying to control women's destinies."