A viral video circulating on social media claims to show an alleged white Ku Klux Klan member beaten and chased in a busy street in South Carolina.
In the graphic video, several black people who are alleged to be members of the Bloods gang in the YouTube video's description, are seen chasing after a white man who is already on the ground in the middle of the road by the time the person filming arrives on scene. One of the black people has a stick that he appears to strike the man with before he gets up, stumbling while he runs away across the street.
The beating victim's identity as a "KKK member" doesn't appear to be confirmed.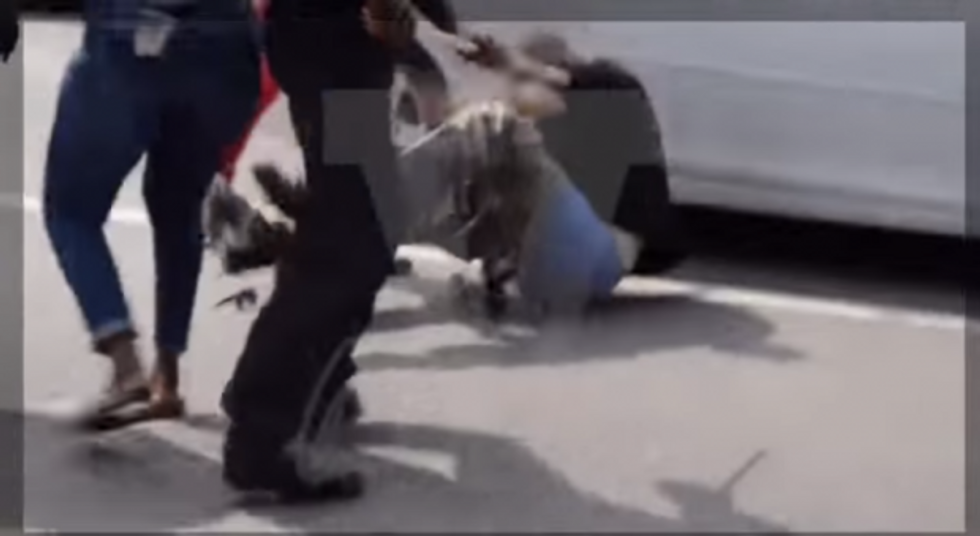 Image source: YouTube
Cars are seen driving away and the crowd of shouting black men, many shirtless, begins to scatter towards the end of the 28-second video when police sirens are heard. One black person can be seen running after the white man down the street, still swinging.
According to Breitbart, the video was posted on Youtube, Instagram and Twitter by a rapper named V. Aura.
The incident appears to take place in Columbia, South Carolina on Thursday during rallies at the South Carolina Statehouse as members of the KKK and a New Black Panthers group faced off — at one point throwing rocks at one another. The KKK was at the Statehouse to protest the removal of the Confederate flag from Capitol grounds after police say a 21-year-old white man fatally shot nine members of a historically black church in June.
Also during Thursday's rally, a different photo went viral — a photo depicting a black police officer helping an elderly man, reportedly a KKK member suffering from the southern heat.
"Our men and women in uniform are on the front lines every day helping people — regardless of the person's skin color, nationality, or beliefs," South Carolina Director of Public Safety Leroy Smith, the officer in the photo, said days later in a statement. "As law enforcement officers, service is at the heart of what we do. I believe this photo captures who we are in South Carolina and represents what law enforcement is all about. I am proud to serve this great State, and I hope this photo will be a catalyst for people to work to overcome some of the hatred and violence we have seen in our country in recent weeks."
Police say there were five arrests during the rallies on Thursday, with charges including breach of peace, disorderly conduct and simple assault. It is unclear if anyone featured in the YouTube video faced disciplinary action.
Watch the video below (Warning: strong content) and see some of the reaction on social media.
I caught em giving one of the KLu Klux Klan memebera the business after their racist rally they… https://t.co/SYuLSjaX7a

— #VIGILANCE (@vxaura) July 18, 2015
YOOOO LMFAO this is lowkey how gangs can be positive https://t.co/aTWh0DSw8U

— Jalil (@jalilandfriends) July 18, 2015
The #803 Lit today. Wish I would feel sorry for the KKK. You reap what you sow. http://t.co/LtNjI87Pds

— Charlamagne Tha God (@cthagod) July 19, 2015
Love this. https://t.co/g2DURhVEvb

— DANI XO (@dan1ellep) July 19, 2015
I really can't get enough of this. https://t.co/OVbFzQdYUY

— Charlie (@STLeftist) July 19, 2015
Gangs are now doing what they were originally created to do https://t.co/rFflbLXYev

— Faithful Green-T (@SkeeDoeJr) July 19, 2015
And yall said Gangs were pointless.... https://t.co/CeDQhZC0Ey

— #YoungFlamingo (@Sae_Young_0) July 19, 2015