Republican presidential candidate Rand Paul gave a conservative argument about property rights and keeping people off the government dole as he talked about criminal justice reform Wednesday.
Still, the Kentucky senator has departed from much of his party on the issue of restoring voting rights for felons.
"The biggest impediment to either employment or voting is a criminal record and until we address that, I don't think we are serious about voting rights or getting people back to work and minimizing how many people need to be on assistance," Paul told a bipartisan summit in Washington sponsored by the Coalition for Public Safety. "To help people work and help people vote, we've got to fix the over-criminalization system."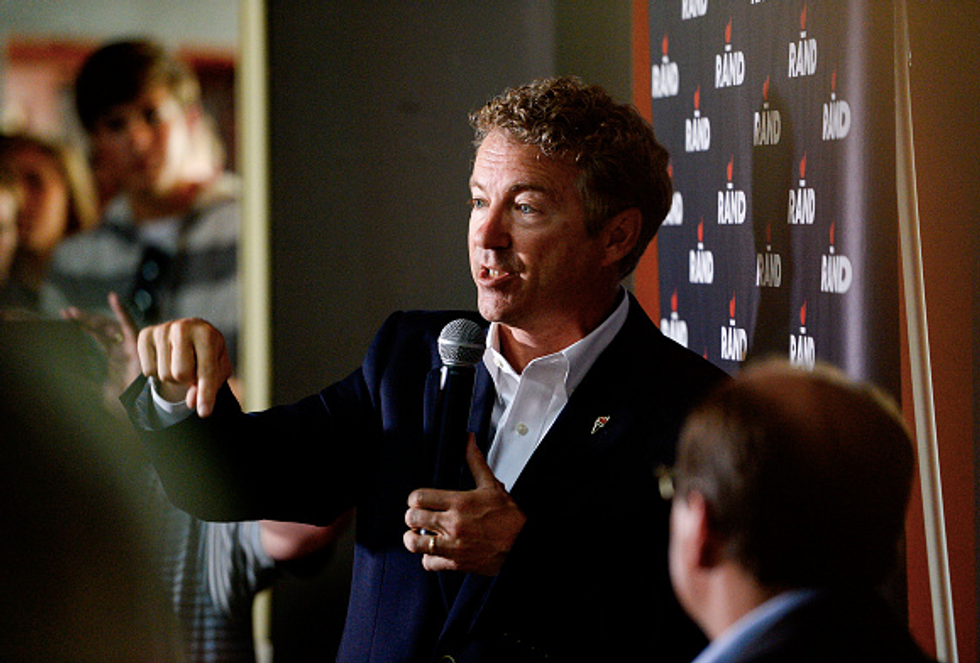 Republican presidential candidate and Sen. Rand Paul addresses his supporters during a campaign event, June 29, 2015 at Choppers Sports Bar & Grill. (John Leyba/The Denver Post via Getty Images)
Paul and Sen. Cory Booker (D-N.J.) are pushing a bill to restore voting rights for convicted felons, and in some cases expunge some non-violent records.
Paul is known for his libertarianism, but other presidential candidates from both parties have also called for reforms.
Paul cited the case of Kalief Browder, a teen who spent three years on Rikers Island without trial before committing suicide.
"If we are going to be a country that defends the Bill of Rights, we have to defend the Sixth Amendment, which means you get a right to a trial, and you get a right to a speedy trial," Paul said.
Talking about Bowder, Paul said, "His accusation was by someone never in the country legally, never testified, never had his day in court. He spent three years in jail, was beaten up by a gang, was beaten up by guards."
"We need to make sure everybody in our country has their day in court, gets a lawyer and gets a trial," Paul continued. "This is something so fundamental that it should be all parties involved."
Paul talked about a number of reforms, but said despite bipartisan support, the most likely changes to get through Congress now are civil asset forfeiture and police body cameras.
On the government's seizure of assets, Paul referenced a $1.5 million hotel that was seized, but also talked about the home of a poor grandmother that was taken because her grandson sold drugs from the house.
"Do you think it helps the family situation to take grandma's house?" Paul asked. "If someone owns a house and a teenager is selling drugs out of it, it is exactly the wrong thing to do."
"We have to change the law that says you will never have your property taken unless you are convicted of a crime," Paul said to applause.