NASA announced exciting news Thursday that it found an Earth-like planet orbiting a sun-like star in a "habitable zone," which has researchers calling it the "closest yet" to being Earth's twin.
Kepler-452b, discovered by NASA's Kepler exoplanet explorer, is located about 1,400 light-years away though, so "pack your bags because it's a long trip," John Jenkins, Kepler data analysis lead at NASA's Ames Research Center, joked during a news conference of the planet that he called Earth's "older, bigger cousin."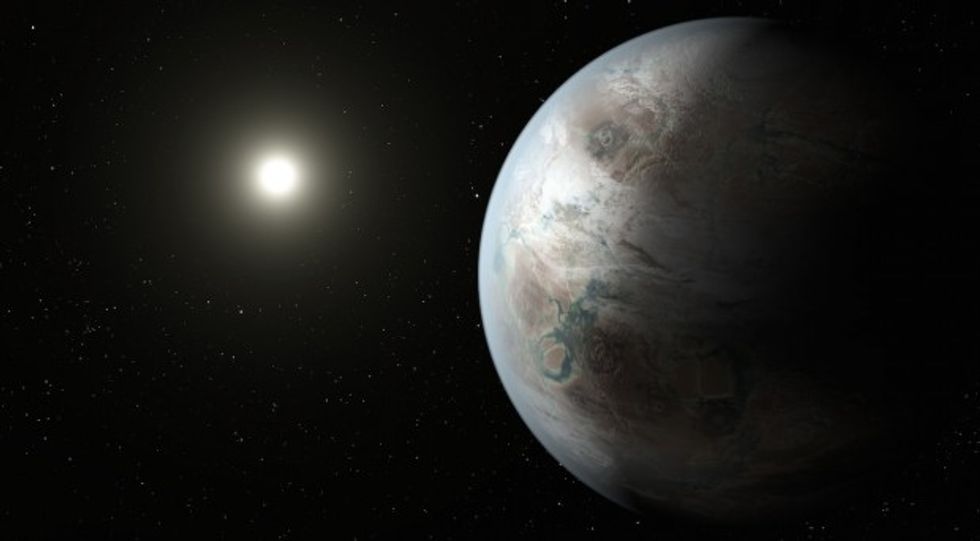 An artist's concept of the possible appearance of the planet Kepler-452b. (Image
Credits: NASA/JPL-Caltech/T. Pyle)
According to NASA, Kepler-452b is 60 percent larger in diameter than Earth and is estimated to be 6 billion years old, 1.5 billion years older than our own sun. A year on this planet would last 385 days, only 5 percent longer than a year on Earth. Its mass and composition are not know, but the researchers said they would expect it to be rocky.
Due to its distance from its star, NASA scientists said that they would expect plants, like those on Earth, to photosynthesize in a similar manner.
"In my mind this is indeed the closest thing we have to another planet like the Earth, especially in terms of the distance we find it from its star," Jenkins said during the news conference. "In terms of what we all rely on on this Earth to survive ... all of those things are driven by plants and organisms that photosynthesize the light that comes our sun.
As far as scientists know, "it is the closest thing that we have" compared to Earth, Jenkins continued. "It's another place that somebody else might call home."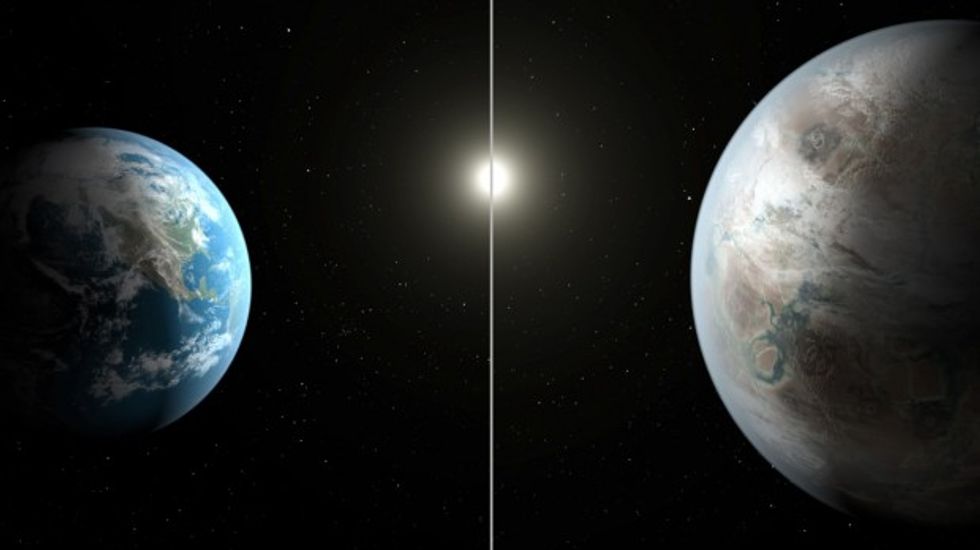 An artist's depiction of Earth compared to Kepler-452b (Image Credits: NASA/JPL-Caltech/T. Pyle)
"This exciting result brings us one step closer to finding an Earth 2.0," he added in a statement.
In terms of the possibility of sending a probe to such a planet to further analyze it and search for signs of life, a NASA scientist said at the conference that such a concept is at least many decades in the future. However, this scientist noted that telescope analysis could help characterize what these exoplanets planets are like in the nearer future.
In addition to Kepler-452b, NASA announced the discovery of 11 other new planets in what are considered habitable zones as well. The total number of confirmed planets is now 1,030. The data suggests there are 4,696 planet candidates.
The data revealing the new planets was collected by the original Kepler mission between 2009 to 2013.
Watch NASA's video about the new planetary discovery: