© 2023 Blaze Media LLC. All rights reserved.
Video: These Robbers Didn't Stand a Chance Against Store Owner — the Warning Posted Afterwards Shows Why
"IF THIS IS WHAT IT'S GONNA TAKE THEN LET IT BE, WE WILL PROTECT OUR BUSINESS AND EMPLOYEES AT ANY COST."
The owner of Bouchard's, a clothing and accessory store in Milwaukee, Wisconsin, was alone in his store late at night earlier this month when a vehicle suddenly smashed into the front of the business.
The owner assessed the situation and quickly realized the three men trying to break into his store were armed, according to the man's attorney, John Schiro. The would-be robbery victim retrieved his rifle from a back room and prepared for a confrontation.
After crashing into the front entrance, the suspects then tried to squeeze in through the damaged gate. Surveillance cameras captured the intense moment the man decided to open fire in order to defend his store and life.
"The persons who tried to break into his store that night not only intended to steal but I think they intended to kill him," Schiro told WISN-TV.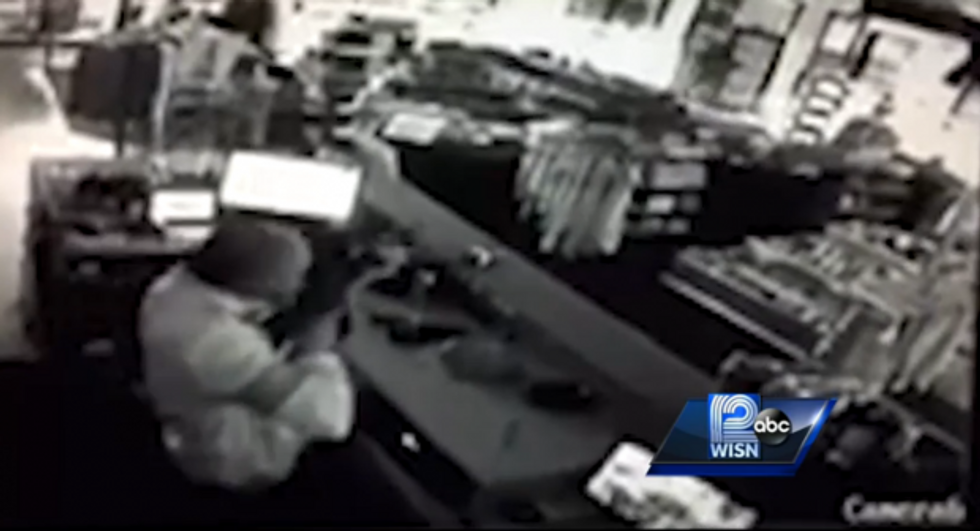 WISN-TV
One of the suspects, identified as 21-year-old Deishun Byrd-Mcway, 21, was reportedly shot several times and turned up at a nearby hospital. He has not been cooperative with police and faces charges for the burglary attempt.
An employee of was Bouchard's shot during another break-in attempt last fall, according to WISN-TV.
In a recent Instagram post, Bouchard's sent a clear and defiant message on how criminals will be treated by the store:
JUST TO SET THE RECORD STRAIGHT, WE GO TO WORK TO MAKE OUR LIVING AND FEED OUR FAMILIES NOT TO HAVE SHOOTOUTS...... DON'T COME TO OUR ESTABLISHMENT WITH GUNS OR TRY BREAKING IN OUR STORES AND EXPECT LESS THAN US DEFENDING OUR SELVES AND IF THIS IS WHAT IT'S GONNA TAKE THEN LET IT BE, WE WILL PROTECT OUR BUSINESS AND EMPLOYEES AT ANY COST. 
This video also shows the perfect example of dumb criminals. these are the steps:

1- Steal a van.

2- Crash the stolen van into a store and make all of that loud noise when it's quiet at night. 


3- Don't expect anyone to be monitoring or securing they're small business.


4- GET SHOT.


5- GET ARRESTED.

6- Leave with nothing.

At the end of the day it's just some clothes it's not worth anyone's life. 
#Bouchards #BouchardsMilwaukee#WeAreReady #WeStayReady#DontMessWithUs#ClothingStoreNotBaghdad#DontEvenTryUs


WE LOVE MILWAUKEE, WE HAVE BEEN IN THE MARKET SINCE 1988 AND WE WILL ALWAYS BE AROUND.
More from WISN-TV:
---
Want to leave a tip?
We answer to you. Help keep our content free of advertisers and big tech censorship by leaving a tip today.
more stories
Sign up for the Blaze newsletter
By signing up, you agree to our
Privacy Policy
and
Terms of Use
, and agree to receive content that may sometimes include advertisements. You may opt out at any time.