Senator Ted Cruz (R-Texas) confronted Secretary of State John Kerry and Secretary of Energy Ernest Moniz during a Wednesday Senate committee hearing on the Iran nuclear deal, resulting in some tense moments.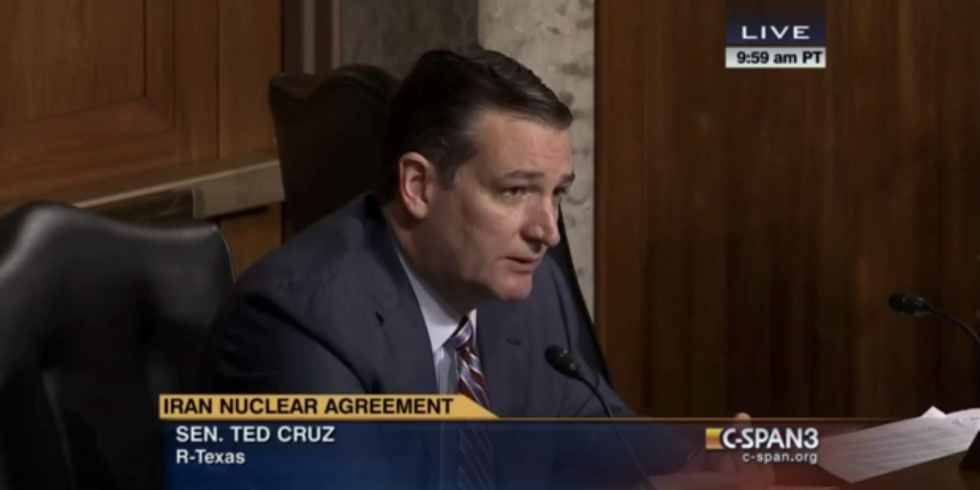 Cruz claimed Kerry said "we should apologize" to the service members killed by Iranian commander Qassim Suleimani, a key figure discussed during the Iran deal, based on his assertion that sanctions against the commander would be lifted under the Iran nuclear deal.
The secretary of state noted the U.S. itself would never lift sanctions against Suleimani -- and then accused Cruz of distorting his words. However, under the Iran nuclear deal, United Nations and European Union sanctions against Soleimani and the Qods Force will eventually be lifted.
"Senator, I never said the word 'apology.' I never mentioned apologizing. I said we should thank them from extraordinary service...Please, don't distort my words," Kerry said.
"Secretary Kerry, it is duly noted that you do not apologize to the families of the service members that were murdered by the Iranian military," Cruz replied. "Do you apologize or not? I don't want to put words in your mouth -- so which one is it?"
"That's not what I said, senator," Kerry added. "I thank them for their extraordinary service and I would remind them that the United States of America will never take the sanctions off Qassim Suleimani."
But tensions swelled even more when Cruz pressed Moniz on the possible threat of Iran using an electromagnetic pulse to attack the United States. Moniz grew visibly frustrated after Cruz quoted him, making it appear as if he wasn't aware of EMPs.
"That is incorrect," Moniz shot back, later adding, "Of course I know about the issue. I happen to know something about nuclear weapons. I know about EMPs."
Watch the exchange below:
---