After Brandon Kelley said he and his family fell victim to road rage on a Texas freeway Wednesday, something with potentially much farther-reaching consequences occurred after 911 was called.
As it happens, Kelly crossed through several jurisdictions during the alleged incident, and KTVT-TV reported that dispatchers didn't know how to send help to them.
"That's not a suitable explanation," Kelly told the station, "especially in a situation like this when people are in fear for their lives."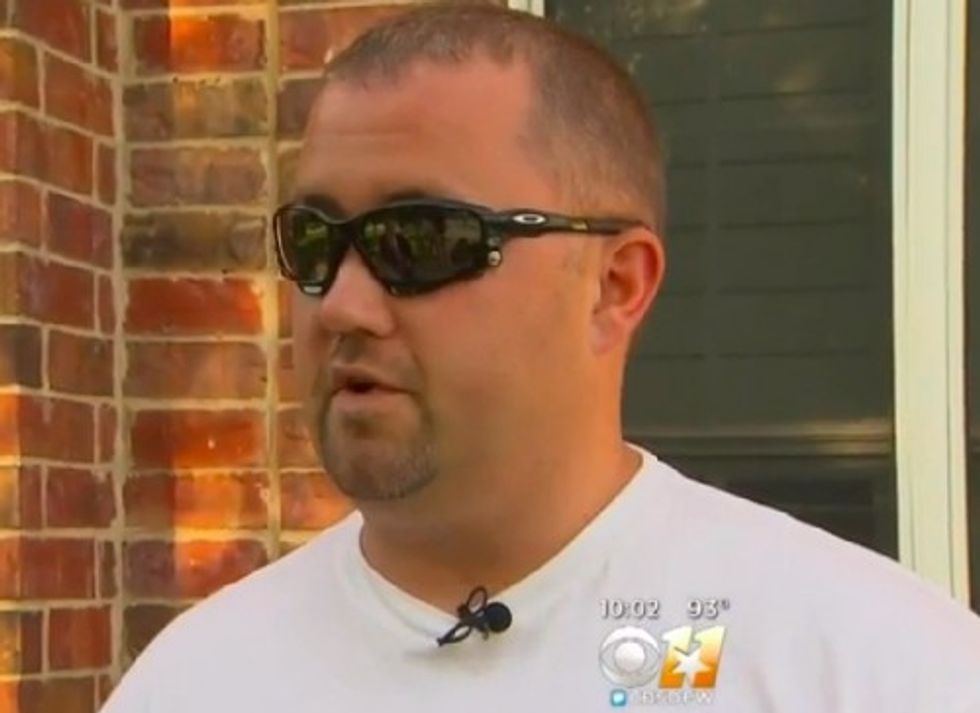 Brandon Kelly (Image source: KTVT-TV)
Kelly said two pickup-truck drivers repeatedly tried to run him off the road beginning in Fort Worth and ending in Northlake in Denton County, KTVT reported.
Here's cellphone video from inside Kelly's vehicle showing part of what happened after he said he accidentally changed lanes. (Content warning: One instance of profanity):
We were driving and went to change lanes at the same time as this truck by accident and I guess made these guys mad. The black truck got in front of us and slammed his brakes then the brown got beside us so we couldn't switch lanes! We were terrified didn't know what to do, we just slowed down but they just kept on trying to wreck us. They had no license plates on 35w going north. After the incident they exited 114 and went east trying to find us. At 12:30pm. Watch out for them if you are in DFW. Two old 90s model fords a black pulling a trailer and a brown one. Slammed their brakes and swerved towards us and ran off the road. Then the tried to sideswipe us multiple times! Because the had no license plates the cops can't do anything about it. We will file a police report anyway. Pass this on, share it and be safe. We are thankful we got away even though they tried to follow us. These are criminals and it sucks that they are going to get away with trying to kill my whole family with their trucks. This was the most terrifying thing I've ever been through and let me tell you it was all in a couple minutes! Thank God we lost them and got away in my little Hyundai.

Posted by Bess Aine Kelley on Wednesday, July 29, 2015
KTVT obtained a recording of the 911 call, during which a Denton County dispatcher tried to give information to a Fort Worth dispatcher:
Denton Dispatch: "... apparently this all occurred in Fort Worth so our Northlake officer is requesting that a Fort Worth officer be en route."

Fort Worth Dispatch: "Yeah, they're going to have to come into Fort Worth. We can't send an officer into Northlake."

Fort Worth Dispatch: "If you could just have the officer tell her to just come into Fort Worth, anywhere in Fort Worth, then we can send an officer to her"

Denton Dispatch: "Okay, can I not give you her information and you guys can contact her and work out a location?"

Fort Worth Dispatch: "I mean your officer is there on the scene with here, it would just be easier if … tell her she can call us."
While a Denton police officer eventually met the family at a gas station, Kelly called the apparent confusion among dispatchers "absolutely unbelievable."
"It kinda sounds like to me one department was wanting to work more than the other," he added.
This story has been updated.
—
Follow Dave Urbanski (@DaveVUrbanski) on Twitter