David Daleiden, the man behind the undercover Planned Parenthood videos and project lead at the Center for Medical Progress, revealed on CNN Friday morning that an unreleased video has one biotech company "very scared."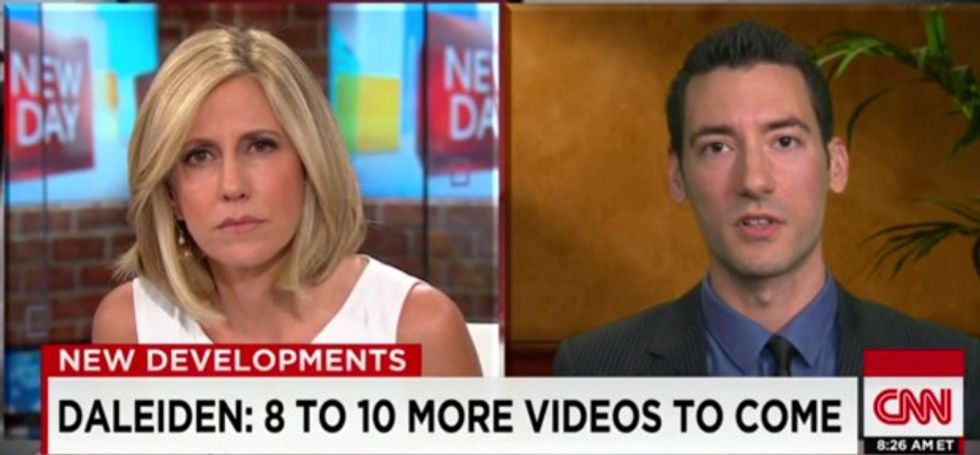 CNN
Daleiden said the group met with "top leadership" at StemExpress, a biotech company that supposedly partners with Planned Parenthood on the harvesting of fetal tissue. Further, he claimed the officials made a shocking admission.
"In a meeting with their top leadership, they admitted that they sometimes get fully intact fetuses shipped to their laboratory from the abortion clinics they work with, and that could be prima facie evidence of born alive infants," Daleiden said. "And so that's why they're trying to suppress that videotape and they're very scared of it."
David Daleiden, the man behind the #PlannedParenthood videos, speaks out on @NewDay http://t.co/KasGX8GJu3 http://t.co/COc0AQx8eQ

— CNN Politics (@CNNPolitics) July 31, 2015
Daleiden said there are eight to 10 videos that have yet to be released. He also asserted that the Center for Medical Process has followed all applicable laws throughout the course of its investigation and is prepared to fight for its First Amendment rights following an effort to suppress the videos.
Following publication of this article, StemExpress provided TheBlaze with the following statement regarding the allegations:
Cancer, diabetes, Alzheimer's Disease -- StemExpress is proud of the work we do to accelerate the prevention and cure of these and other deadly and life-altering diseases.

We coordinate with clinics and hospitals to obtain human tissue and blood -- specimens that wouldbe otherwise be disposed of -- and provide them to biotechnology and academic institutions performing research to find a cure. The nation's and the world's greatest research facilities need a reliable source of healthy human-derived blood, tissue and cellular specimens to perform their studies. As a point of clarification, StemExpress has never requested nor received an intact fetus.

Ninety percent of our work is with healthy living donors whose blood and bone marrow are collected with the highest ethical standards and respect set within the industry.

StemExpress performs extensive work to test, isolate and purify the cells so that researchers can use them to help find cures and treatments for life's significant medical conditions. It is for this work that we are paid.

This is an opportunity for companies and researchers to educate globally on the work that is being done. In this instance the most important thing we will do going forward is to continue the dialogue about practices for the collection of rare and important materials, stem cell research and regenerative medicine so that we can improve the quality of life of so many people stricken with disease.
(H/T: RedState)
---