If you're driving through Marietta, Georgia, and encounter men who appear to be conducting a road survey, all might not be what it seems.
The guy wearing a yellow vest and hardhat might have a bulletproof vest and a badge underneath. The Marietta Police Department has some officers posing as construction workers or road surveyors to catch people who are texting while driving or using their phones in any other distracting manner.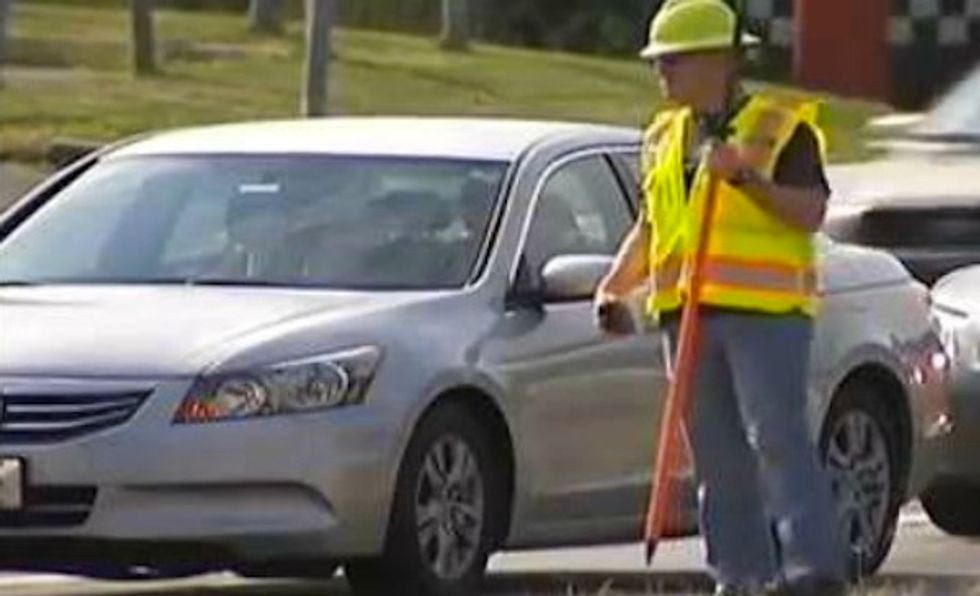 Image source: WSB-TV
"What we've done here is we're able to put officers in the roads so we're able to get close enough almost inside their cars so we can look down and see exactly what they're doing on their phones," Officer Nick Serkedakis told WSB-TV.
"It doesn't matter if you're stopped at a light, if you're on a public thoroughfare and facing the phone we're going to have a conversation with you," Serkedakis added to the news station.
That conversation could possibly come with a $150 fine and one point on your license as well.
Al Morrison, who was one of the many pulled over by the undercover officer this week, told WSB that he didn't necessarily agree with the law that makes looking at one's phone at a stop light a punishable offense.
"If you're driving and texting and driving and trying to read [that's a problem], but if you're situated and stopped just trying to confirm an address, I don't think that's a problem," he said.
Serkedakis called distracted driving the "DUI of the future."
"Impairment is still a problem, but this distracted driving is killing as many people as drunk drivers," he told WSB.
Watch WSB's report:
In one recent case out of Oklahoma, for example, a cyclist riding across the country on a mission to raise money for affordable housing was hit and killed by a woman who admitted to troopers that she was looking at her phone at the time.
The Atlanta Constitution Journal reported that in this latest undercover operation resulted in 90 citations.
Will Mullis like Morrison told the newspaper he uses an app for directions and doesn't think people should get fined for that.
"This isn't about your safety. It's about revenue," told ACJ. "It's absurd to think I'd get a ticket for checking directions."
(H/T: Gizmodo)