With two new police body camera videos being released, showing the moments after the fatal shooting of a Cincinnati man last week, two cops from the University of Cincinnati police force were put on paid administrative leave.
One of the latest videos in the case of 43-year-old Samuel DuBose — a man shot and killed on July 19 by Officer Ray Tensing after what started as a traffic stop for a missing front license plate — shows Officer Phillip Kidd running to the scene and pulling out his weapon as he approached the black sedan, its front end damaged near a telephone pole.
Officers identified and called in to dispatchers that a man, DuBose, had a gunshot wound to the head.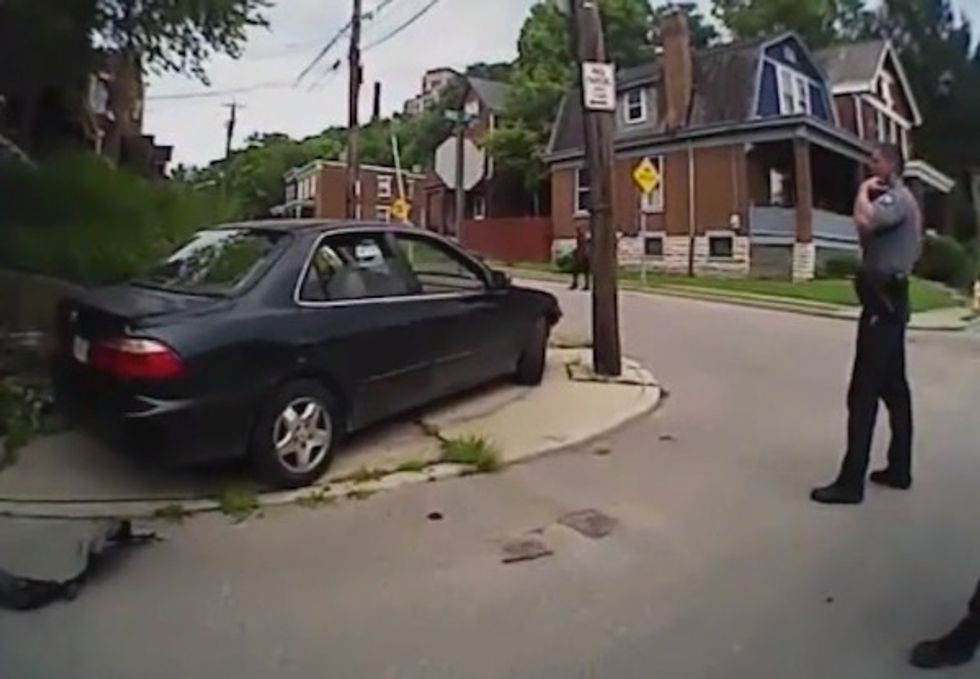 Image source: AP video screenshot
"We need a medic. We're going to need multiple officers here," Kidd said, later telling Tensing that he saw him being dragged by the car and asking if he was OK.
A little more than four minutes into the video, Cincinnati city police arrived, after which Kidd told him his bodycam was on and said "don't say anything."
Later, Kidd told this city officer that he witnessed the incident.
"You saw him being dragged?" the officer asked Kidd.
"Yes," he said.
WXIX-TV noted that 13 minutes into the video Kidd turned his bodycam off for a time.
"We've been told that when police officers turn their bodycams off, they have to provide an explanation as to why," the news station reported. "We're still waiting for that explanation."
Watch Kidd's bodycam video:
And in other footage, officer David Lindenschmidt, who is in training, can be heard telling another officer that Tensing "went down, got tangled in the car and drew his gun and fired." In Lindenschmidt's video, Tensing can be seen on the ground and then getting up. But there is no indication on the video of how he ended up on the ground.
Here's Lindenschmidt's footage:
Previous video from Tensing's bodycam showed DuBose say "I didn't do nothing" as he failed to produce his driver's license for Tensing after the officer requested it several times.
Tensing, who Thursday pleaded not guilty to murder charges and posted an allowed 10 percent of his $1 million bail, then told DuBose to "go ahead and take your seat belt off" and reached for the door handle. The situation escalated from there, Tensing's bodycam going shaky as he yelled "Stop! Stop!" Then he fired a shot.
Tensing said he was dragged by DuBose and "feared for his life," his attorney Stewart Mathews said, which is why he shot him. Prosecutor Joe Deters scoffed at Tensing's claim that he was dragged by DuBose's car.
Tensing was fired from his post after his indictment, and university spokeswoman Michele Ralston confirmed Thursday that officers Kidd and Lindenschmidt were placed on paid leave during the investigation.
DuBose's death comes after months of national debate about police use of force against African-Americans, especially when the force resulted in death. The DuBose was black; Tensing is white. But authorities have not focused on race as a factor in the slaying.
—
The Associated Press contributed to this report.