Dan Price got a lot of kudos a few months back after establishing minimum $70,000 salaries for all employees at his credit card processing company, Gravity Payments, in Seattle.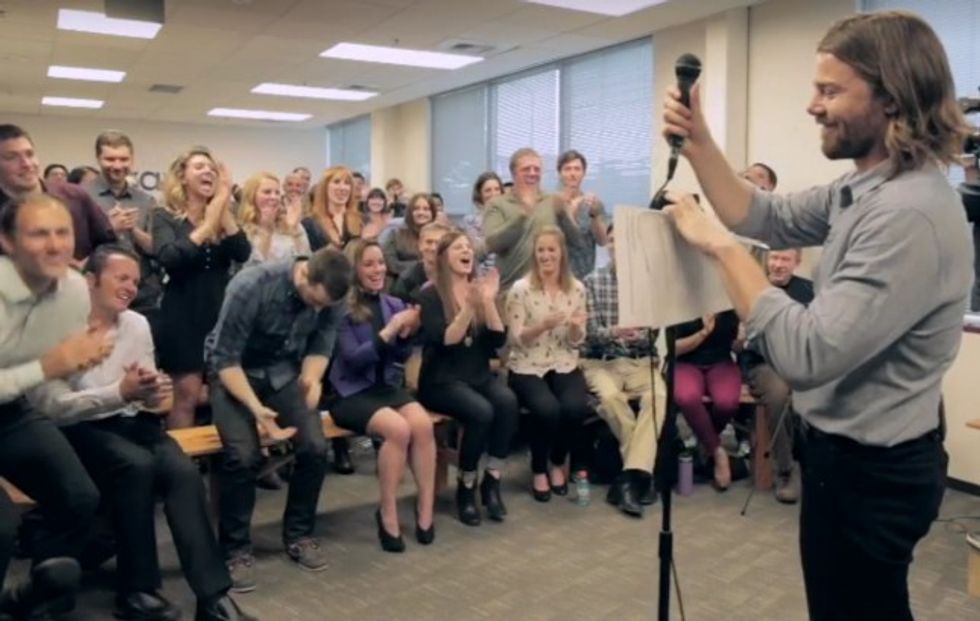 Dan Price, after the big announcement in April. (Image source: New York Times screenshot)
"Income inequality has been racing in the wrong direction," he told the New York Times. "I want to fight for the idea that if someone is intelligent, hard-working and does a good job, then they are entitled to live a middle-class lifestyle."
But it appears Price's fight hasn't been a cakewalk.
Apart from the hit his own salary took — $1 million down to $70k — Price began renting out his house to help with his diminished income. He also had to hire a dozen new employees at much higher wages to handle new clients intrigued by his stance. And then some older clients backed out believing fee spikes were around the corner, while others walked away because they took Price's announcement as political.
More from the Times:
Two of Mr. Price's most valued employees quit, spurred in part by their view that it was unfair to double the pay of some new hires while the longest-serving staff members got small or no raises. Some friends and associates in Seattle's close-knit entrepreneurial network were also piqued that Mr. Price's action made them look stingy in front of their own employees.

Then potentially the worst blow of all: Less than two weeks after the announcement, Mr. Price's older brother and Gravity co-founder, Lucas Price, citing longstanding differences, filed a lawsuit that potentially threatened the company's very existence. With legal bills quickly mounting and most of his own paycheck and last year's $2.2 million in profits plowed into the salary increases, Dan Price said, "We don't have a margin of error to pay those legal fees."
Brian Canlis, co-owner of his family-named restaurant, is a Gravity Payments client and isn't exactly on board with Price's new minimum $70,000 salary, which "makes it harder for the rest of us," he told the Times.
Gravity's Leah Brajcich told the paper some customers claimed Price harbors communist and socialist agendas and was endangering other businesses whose employees would feel entitled to a much higher minimum wage.
"What's their incentive to hustle if you pay them so much?" Brajcich told the Times customers asked her, though adding that most were impressed by the dedication of Gravity workers.
More from the Times:
As for other business leaders in Mr. Price's social circle, they were split on whether he was a brilliant strategist or simply nuts. As much as they respected him, they were also disturbed. "I worry how that's going to impact other businesses," said Steve Duffield, the chief executive of the DACO Corporation, who met Mr. Price through the Entrepreneurs' Organization in Seattle. "We can't afford to do that. For most businesses, employees are the biggest expense and they need to manage those costs in order to survive."

Roger Reynolds, a co-owner of a wealth management company, said his discussion of the pay plan with Mr. Price got heated. "My wife and I got so frustrated with him at a cocktail party, we literally left," said Mr. Reynolds, who complained that Mr. Price unfairly accused him of measuring his self-worth solely in terms of money and trying to hold somebody else down. Everyone may have equal rights, but not equal talent or motivation, Mr. Reynolds said. "I think he's trying to bring in some political and aspirational beliefs into the compensation structure of the workplace."
Maisey McMaster has been working for Gravity for five years and in that time became financial manager, helping Price calculate the new minimum salary for employees — but now she's seeing something else going on.
While a good number of people at the company benefitted from the higher wage, others were left feeling unrewarded.
"He gave raises to people who have the least skills and are the least equipped to do the job, and the ones who were taking on the most didn't get much of a bump," she said.
More from the Times:
The new pay scale also helped push Grant Moran, 29, Gravity's web developer, to leave. "I had a lot of mixed emotions," he said. His own salary was bumped up to $50,000 from $41,000 (the first stage of the raise), but the policy was nevertheless disconcerting. "Now the people who were just clocking in and out were making the same as me," he complained. "It shackles high performers to less motivated team members."

Mr. Moran also fretted that the extra money could over time become too enticing to give up, keeping him from his primary goal of further developing his web skills and moving to a digital company.

And the attention was vexing. "I was kind of uncomfortable and didn't like having my wage advertised so publicly and so blatantly," he said, echoing a sentiment of several Gravity staff members. "It changed perspectives and expectations of you, whether it's the amount you tip on a cup of coffee that day or family and friends now calling you for a loan."

Several employees who stayed, while exhilarated by the raises, say they now feel a lot of pressure. "Am I doing my job well enough to deserve this?" said Stephanie Brooks, 23, who joined Gravity as an administrative assistant two months before the wage increase. "I didn't earn it."
Read the entire New York Times article here.
(H/T: Young Conservatives)
This story has been updated.
—
Follow Dave Urbanski (@DaveVUrbanski) on Twitter