Speaking to reporters after Officer Sean Bolton was fatally shot during an apparent traffic stop Saturday night, Memphis Police Director Toney Armstrong had a message for the community.
"As a community we say so often as a theme — black lives matter. And at the end of the day, we have to ask ourselves, do all lives matter?  Regardless of race, creed, color, economic status, what profession that person holds," Armstrong said. "All lives matter. And this is just a reminder of how dangerous this job is."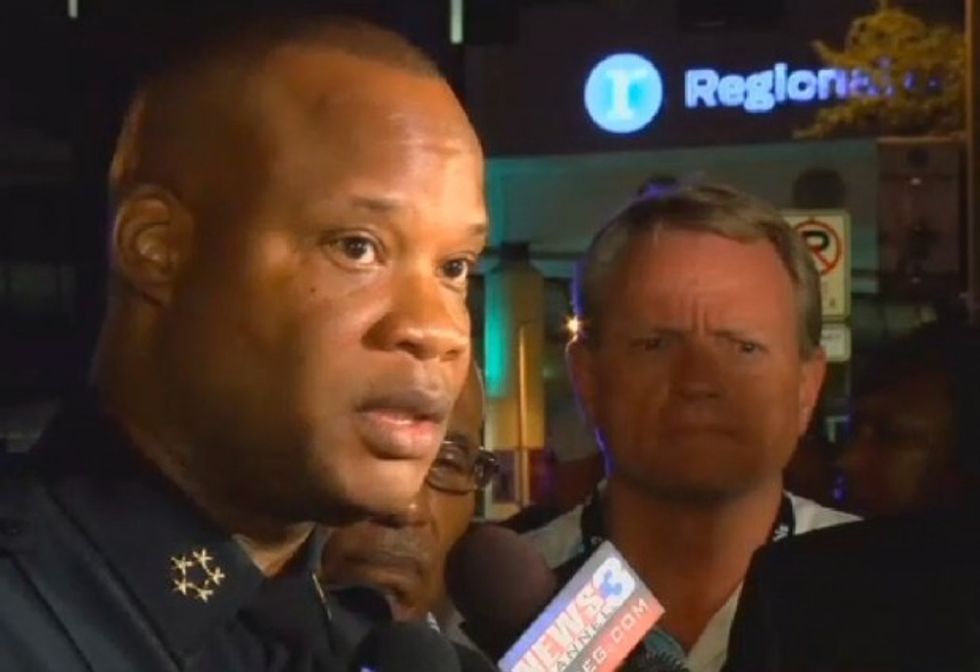 Image source: WMC-TV
"One life is too many, but how do you put a value on somebody's life? How do you say one life is more important than another," Armstrong said later during the press conference. "So, again, what we need more than anything right now is just your prayers again for this MPD family as well as this officer's family."
Police say the white 33-year-old officer was shot multiple times during an apparent traffic stop and had been with the department since 2010. Armstrong said they received a call to report the shooting from a citizen who used a police radio.
Bolton's death is the third police officer death in four years with Armstrong at the helm of the police force, he said during the press conference. In December 2012, Officer Martoiya Lang was killed; Officer Timothy Warren's life was taken in January 2011.
"We've been here before, sadly to say," Armstrong said. "We've been here before."
After Lang's death, Armstrong had some strong words to say as well.
"So often we get side tracked with some of the other things that go on, we have an officer who goes out and does something inappropriate and it gets all the media attention," he said in 2012. "But at the end of the day, we have officers like this officer who leaves her small kids at home, come put it all on the line."
Police have not released a description of the gunman — or gunmen — responsible for Bolton's death, but the suspect is apparently still at large.
Watching Armstrong's remarks below.