NEW YORK (TheBlaze/AP) — Stand-up comedian and actress Amy Schumer is teaming up with her cousin, New York Sen. Charles Schumer, to call for tighter gun control.
She joined the senator Monday as he unveiled a three-part plan that would make it harder for violent criminals and the mentally ill to obtain guns, growing visibly emotional as she described the recent shooting that killed two women and injured nine others during a screening of her movie "Trainwreck" in Louisiana.
"We're here today to say enough is enough to mass shootings in our schools, our college campuses, our military bases and even in our movie theaters," Amy Schumer said, her cousin standing beside her. "These shootings have got to stop. I don't know how else to say it."
"Maybe the worst part about all this is, there is a common-sense way to stop mass shootings. There are many ways," she added.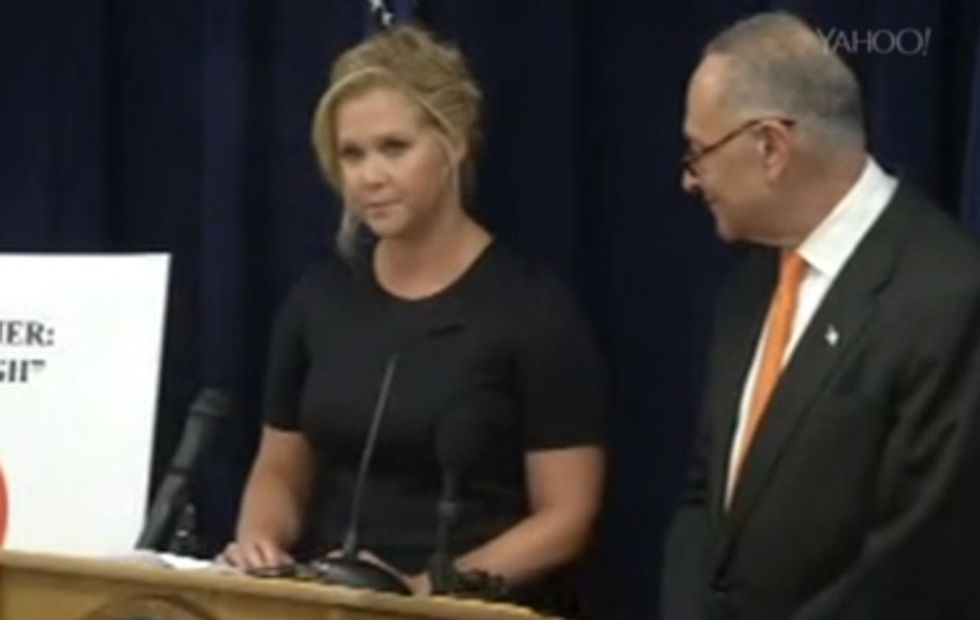 Actress and comedian Amy Schumer addresses gun control measures during a press conference on August 3, 2015. (Photo: Yahoo News)
Schumer said the man who perpetrated the horrific attack, identified by police as "drifter" John Russel Houser, should never have "been able to put his hands on a gun in the first place."
"I'm not sure why this man chose my movie to end these two beautiful lives and injure nine others, but it was very personal for me," she said, refusing to speak the suspect's name. "Unless something is done, and done soon, dangerous people will continue to get their hands on guns. We know what can happen when they do."
She voiced support for her cousin's proposal, saying "the time is now for the American people to rally for these changes."
Senator Schumer's legislation would create monetary rewards for states that submit all necessary records into the background check system and penalize states that do not. He also will call on Congress to preserve mental health funding and substance abuse programs.
"The critics scoff and say, 'Well there's no way to stop crazy people from doing crazy things.' But they're wrong," Amy Schumer stated. "There is a way to stop them. Preventing dangerous people from getting guns is very possible. We have common sense solutions."
Yahoo News has video of Amy Schumer's remarks: