From his bespectacled, freckled face all the way down to his black cleats kicking up Kansas dirt, 9-year-old "superfan" Kaiser Carlile boasted only one status this summer, hustling to grab baseball bats for the Bee Jays' squad in Liberal.
"He was a part of the team," the organization's president Nathan McCaffrey said.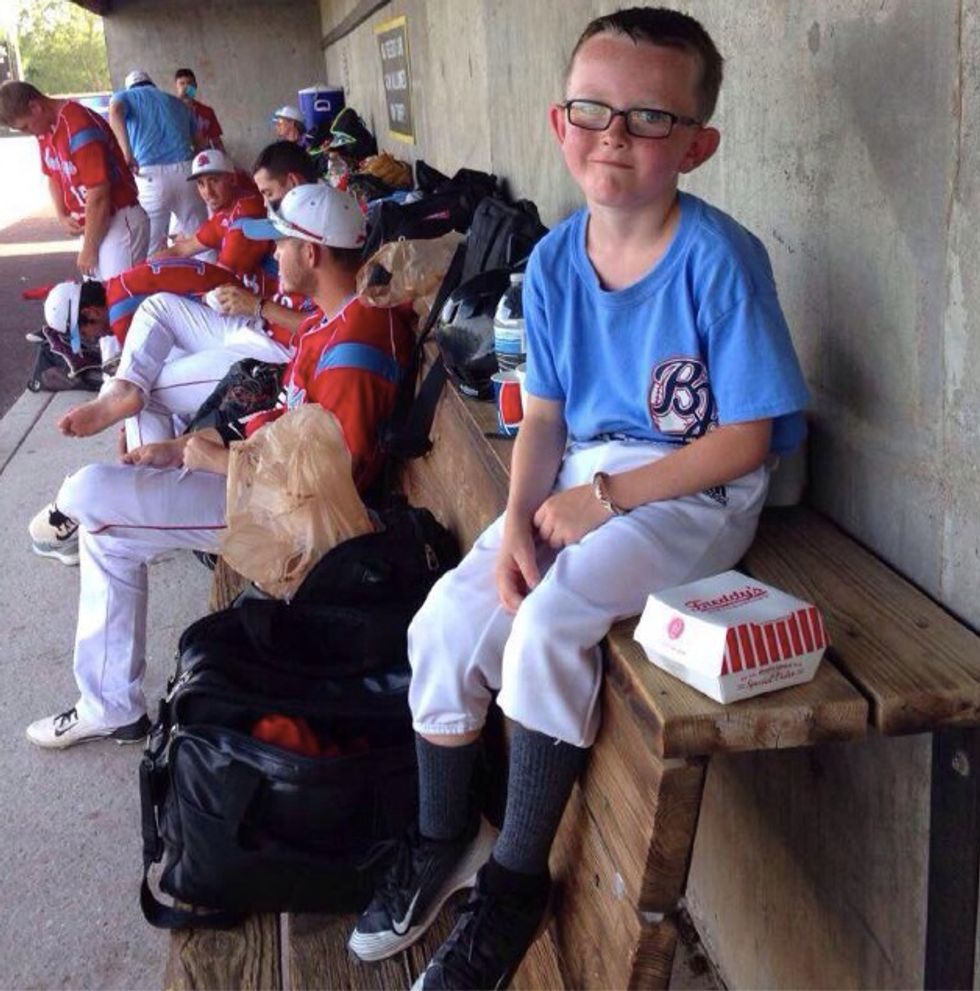 Kaiser Carlile (Image source: Facebook)
The sole batboy for the Bee Jays — a summer team of college players in the National Baseball Congress — Carlile on Saturday was doing what he's done every inning this season: running toward home plate to retrieve a bat.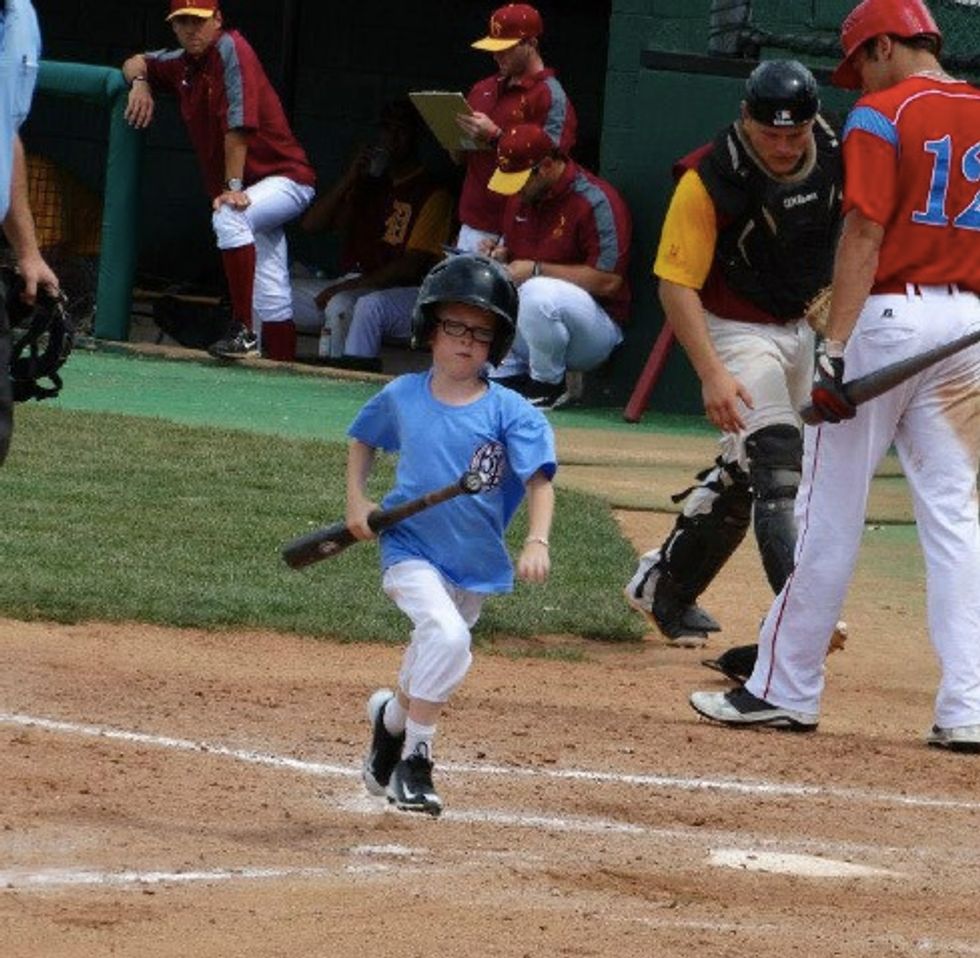 Image source: Facebook
But as Kaiser was en route, a Bee Jays' player — who has not been named — accidentally hit Carlile in the head while taking a practice swing near the on-deck circle.
McCaffrey said he heard the bat hit Carlile, who was wearing the required helmet. After the impact, Kaiser managed a few more steps — but then he collapsed.
"Just to see him fall, that's what crushes you," McCaffrey told told CNN.
The team rushed to Carlile, as did home plate umpire Mark Goldfeder — a 25-year veteran paramedic — who treated Kaiser until emergency personnel arrived, the Wichita Eagle reported
Bee Jays general manager Mike Carlile — whose cousin is Kaiser's parent — said he came running down the field after he heard the bat hit the helmet and was thankful for Goldfeder's presence.
"The guy definitely knew what he was doing," Carlile told the Eagle, adding that it "was a godsend that we had him behind the plate today."
Things were looking serious, so players from both teams gathered in small circles to pray for Kaiser before an ambulance took him in critical condition to a hospital and into intensive care.
Carlile told the Eagle he didn't want to continue the game at that point.
"I was ready to throw in the towel ..." he said. "We had a meeting and the kids have been around that young man all summer long and they said no way they were giving up. It was their decision to play."
In an emotional 13-inning contest, Liberal defeated San Diego 13-5 to advance in the NBC World Series tournament in Wichita.
But minds and hearts stayed on Kaiser.
A GoFundMe site was set up to help the family with medical expenses. Kaiser's initials — "KC" — adorned the scoreboard at Lawrence-Dumont Stadium, as well on fans' shirts, hats and wrist bands. The players, of course, had "KC" on their hats.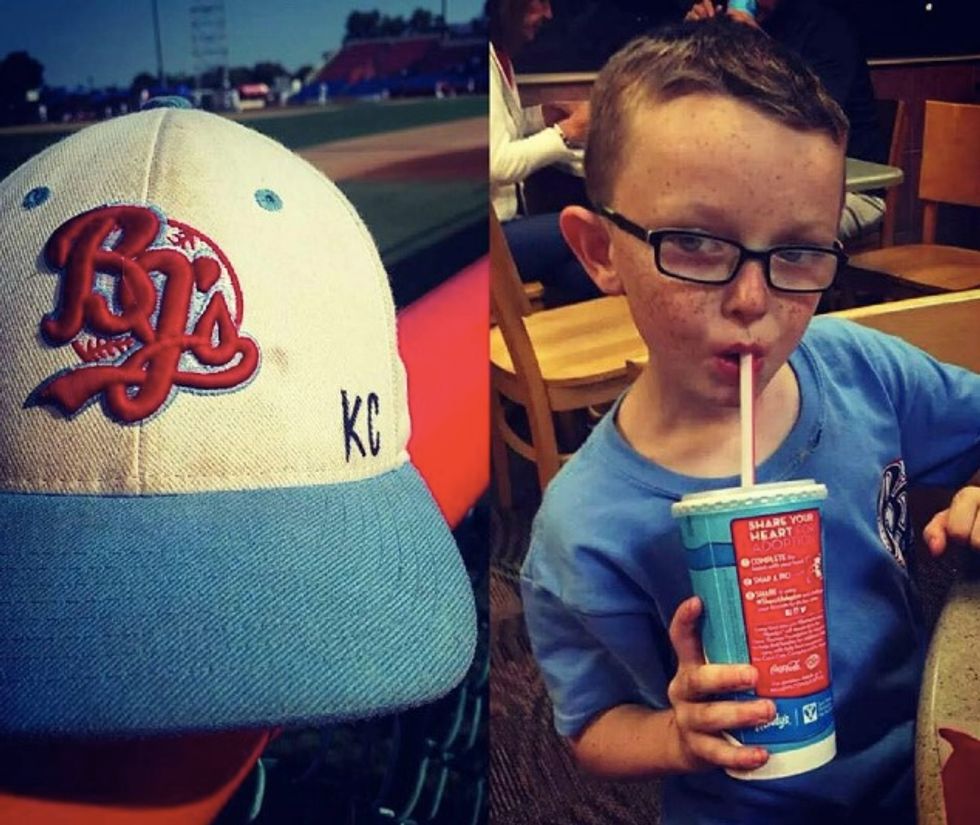 Image source: Facebook
By Sunday Kaiser's accident had gained national attention, and more people than ever were hoping and praying he'd make it through this crisis.
But after midnight on Monday, a somber message was posted on the Bee Jay's Facebook page: "With the permission of the family, and with much sorrow and a very broken heart, I regretfully inform everyone that Kaiser Carlile passed away earlier this evening. Please keep his family and our team in your thoughts and prayers."
Tributes and prayers and expressions of sorrow poured in:
"I was at the hospital when he was brought in. I've been there the past few days as my grandma is in the surgical ICU. I have watched for days as the family has gone through this pain and it breaks my heart every time I see them. I wish I could hug every single one of them. I'm so sorry for your loss."

"We are a huge baseball family from Hays and play the Bee Jays several times during the year. My dad is the Larks pitching coach, my brother played against Liberal for many years and my son is one of the batboys for the Larks at the NBC every year. This was way too close to home for us. My heart breaks for all involved. The Carlile family, the Liberal team, players, the entire organization and town....please hear the prayers from your baseball family in Hays. May God wrap you all in His undying love and give you all the strength needed during this trying time."

"Praying also for the poor guy who was swinging the bat. What a horrible thing to have to live with. Such a terrible accident. He needs people to love and support him now as well."

"Prayers from a former Kansan living in Norway."

"There is nothing equal to the pain of losing a child. I pray for his parents. No one should know this ache."

"There are no words, my son loved playing in Liberal and the Liberal community. There are no words."
The Liberal Bee Jays kneel in prayer after discovering the tragic news of Kaiser Carlile's passing after the game. pic.twitter.com/OEMrHXiQrU

— Taylor Eldridge (@teldridge24) August 3, 2015
He made an impact on every single person's lives, especially mine. He was an incredible kid. #havefun love you buddy pic.twitter.com/UkHwjlY8i9

— Gavin Wehby (@gwehby4) August 3, 2015
Brock Kappelmann, the Bee Jays radio play-by-play broadcaster, told Eagle columnist Bob Lutz that one of the season's highlights came at home, at Brent Gould Field, when public address announcer Guy Rice introduced Kaiser.
The ovation was more like a roar.
"The crowd would erupt," Kappelmann said of Carlile at the time. "They just love him. He's been a spark plug for our team. And one of the players described to me on the post-game Saturday, Kaiser is the life of the team. He's a fun-loving kid and every time we saw him he brought a smile to our faces."
A news report that aired just prior to Kaiser's death:
This story has been updated.
—
Follow Dave Urbanski (@DaveVUrbanski) on Twitter