Two black bean burgers and a chicken curry wrap that should have cost a Virginia family $26.47 (tax included) showed up as a $5,475 charge on their credit card.
A tip of about $5,448.69 was entered, but this wasn't because the Srivastava family was feeling exceedingly generous that day.
According to Lifetime Fitness in Reston where the Srivastavas enjoyed a healthy meal at the gym's cafe in April, the server had accidentally typed in his employee identification number into the tip line, WJLA-TV reported. Pallavi Srivastava didn't look closely at the bill when she signed it.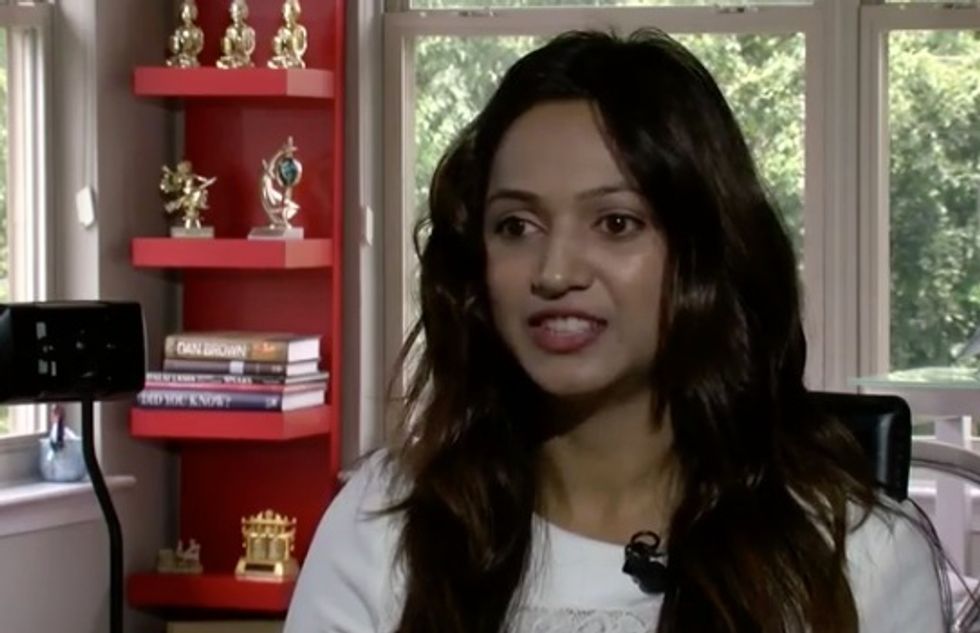 Pallavi Srivastava has been fighting to get a refund of several thousands dollars on a cafe bill that should have cost about $26. (Image source: WJLA-TV)
What could have been an easy correction was compounded by complications that now have the Srivastavas facing interest and late fees:
Lifetime promised to correct everything, but the next day they called back saying, "Sorry we gave you back too much money."

Lifetime asked if she would be comfortable giving them back the credit card so they could recharge the entire amount and then refund it again.

By that time she had interest and late fees and the deadline had passed to dispute the bill with their credit card company.
And then it got worse.
According to WJLA, the gym told Pallavi Srivastava they could no longer process the refund further because they had closed their financial books. The family was left to fight the charge with the corporate office and, frustrated, then turned to their local news station for help.
"Suddenly I get a call back from this lady, she's like, 'OK, we'll look into it,'" Srivastava said after WJLA started asking questions.
The gym's corporate office told the news station that it was working with the credit card company and a refund will be processed by the end of the week.
Watch WJLA's report:
—
Front page image via Shutterstock.