KUALA LUMPUR, Malaysia (AP) — Malaysia's prime minister says experts in France have determined that a barnacle-encrusted airplane wing fragment came from Malaysia Airlines Flight 370, which disappeared more than a year ago with 239 people aboard.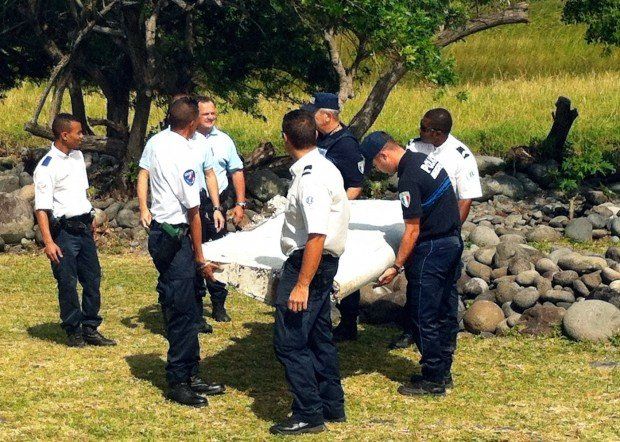 Police carry a piece of debris from an unidentified aircraft found in the coastal area of Saint-Andre de la Reunion, in the east of the French Indian Ocean island of La Reunion, on July 29, 2015. (YANNICK PITOU/AFP/Getty Images)
Prime Minister Najib Razak said at a news conference on Wednesday that "an international team of experts have conclusively confirmed that the aircraft debris found on Reunion Island is indeed MH370."
The wing fragment washed up on the Indian Ocean island of Reunion and was sent to France, where experts began examining it on Wednesday. Investigators will analyze the metal with high-powered microscopes to probe what caused the plane to go down.
The Boeing 777 disappeared after veering far off its planned northerly course from Kuala Lumpur in Malaysia to Beijing.