Republican presidential candidate Rand Paul divulged his strategy for the first GOP presidential debate on Thursday, saying he doesn't think "there's any reason to hold back and play nice."
"I don't mean that in a petty way, just take on someone to take on someone," Paul continued, speaking on Glenn Beck's radio program. "But I think it's crazy to sit back and say, 'Oh yeah, we'll just let this thing short itself out over nine months or so.' I think I need to stand up, say what I believe in and stand my ground. And the chips fall where they may."
"I think people do want people who will stand for what they believe in," Paul continued. "And that's been my history as far as standing against the president collecting our records, standing against the illegal drone strikes, et cetera. So I think you'll see me stand my ground tonight and hopefully find a way to present my message."
Beck's co-host Stu Burguiere asked if Paul has a strategy to "break through," noting that it can be difficult to get noticed when there are ten presidential candidates on stage.
"Yeah, I'm going to have fruit in my pockets," Paul responded with a laugh. "And if no one is listening to me, I'm thinking about throwing fruit."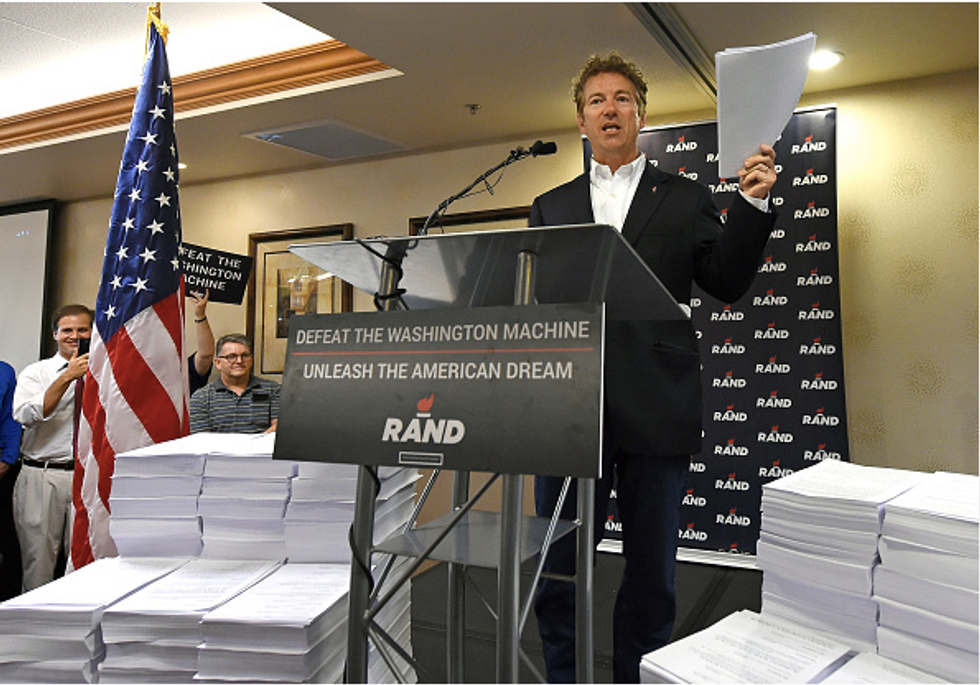 LAS VEGAS, NV - JUNE 29: Republican presidential candidate U.S. Sen. Rand Paul (R-KY) is flanked by more than 74,000 pieces of paper representing the size of the U.S. tax code as he speaks during a campaign stop at an Embassy Suites hotel on June 29, 2015 in Las Vegas, Nevada. Paul made stops in four cities in Nevada on Monday as he campaigns for the battleground state against 12 other Republican candidates in the 2016 presidential race. (Photo by Ethan Miller/Getty Images)
Returning to a more serious note, Paul acknowledged that "ten people is a lot" and he prefers a format with "a couple of people with longer answers in an interview style."
"But we're not going to have that luxury tonight," he concluded. "You have to make it through the end of February next year and the early primaries probably to get down to five or six candidates."
Paul said he's been preparing for the debates for months, and though he stays up to speed on foreign policy and the economy "every day," the most helpful thing he does is interact with voters.
"I actually talk to voters," he said. "We do something extraordinary in our town hall: we take questions from the audience, and we don't rope the reporters off like Hillary Clinton."
The full episode of The Glenn Beck Program, along with many other live-streaming shows and thousands of hours of on-demand content, is available on just about any digital device. Click here to watch every Glenn Beck episode from the past 30 days for just $1!