When 78-year-old Stephen Ashton heard his house alarm go off in the middle of the night this week, he got out of bed to investigate. Peeking out of his bedroom and down the stairs, he saw the beam of a flashlight.
"Stephen, get your gun," Elizabeth Ashton from Bremerton, Washington, reminded her husband before he went downstairs.
Sure enough.
Stephen Ashton told KOMO-TV he encountered the burglar, who turned the flashlight into his eyes to blind him temporarily.
"So I started yelling at the person to get out of the house. 'Get out of my house!'" the homeowner recounted to the news station.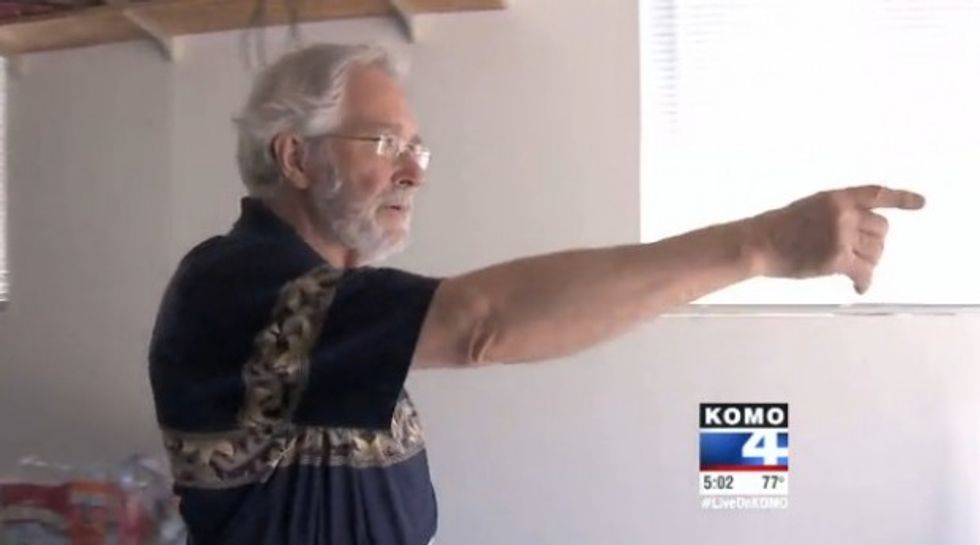 Stephen Ashton fired five shots at a burglar who made off with his car early Wednesday morning. (Image source: KOMO-TV)
Chasing the burglar into his garage, he told KOMO the suspect hopped into the couple's car. Pointing his gun, Stephen Ashton ordered the man out, but he backed up anyway.
Ashton fired five rounds, none of which hit the suspect who got away.
KOMO reported that police tracked Ashton's iPhone inside the car using GPS. When they located the stolen Prius, they used a spike strip to flatten the tires. Eventually, the suspect came to a stop and fled on foot.
The suspect has not been located, despite a K-9 search, but Ashton gave the news station this message: "Don't come back, because the next time he's going to be dead."
Elizabeth Ashton added that she hopes the incident "scared him straight."
Watch KOMO's report: