The newest poll showing the presidential favorites among Glenn Beck's audience was released on Wednesday, and even Beck was shocked by some of the results.
Beck said he was particularly surprised by how far Sen. Rand Paul of Kentucky has fallen, and how far New Jersey Gov. Chris Christie has gone up in the poll since last month. He speculated that the changing numbers were a result of their heated argument about domestic surveillance programs during the first presidential debate.
"Maybe the biggest thing in the debate was the real fireworks between Chris Christie and Rand Paul," Beck's co-host Stu Burguiere, who manages the poll, remarked. "The audience ruled on who won that debate. It was Chris Christie."
Burguiere said that since the last poll of Beck's audience was conducted, Rand Paul lost six points, putting him in sixth place, and Chris Christie gained nine points, putting him in 14th place.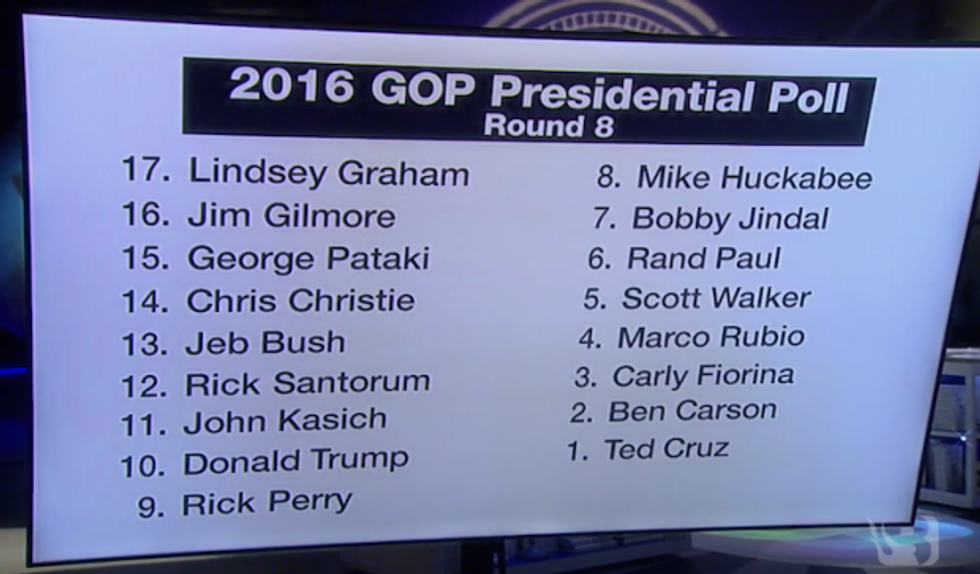 The complete poll results from the most recent survey of Glenn Beck's audience. (Image credit: TheBlaze TV)
"I cannot believe that," Beck said. "I thought [Paul] did well!"
"He did. But did Donald Trump define his night by saying, 'You're having a tough night tonight'?" Gray asked. "Did the American people let Donald Trump define Rand Paul for them?"
"That could be," Beck admitted. "I mean, Ronald Reagan did that to Jimmy Carter. ... I mean, Donald Trump did have a few Ronald Reaganisms during that debate."
"I'm not a fan of Donald Trump, especially with policy," Burguiere agreed. "But this is the thing he does well. You're going to get in an insult contest with Donald Trump, it won't go well."
The poll was posted on glennbeck.com on Aug. 6, and asked users to give the candidates a grade from "A" to "F." Beck is the first to admit that the poll is not highly scientific, but he believes it is a "pretty accurate" measure of the way his audience views the Republican presidential candidates.
The full episode of The Glenn Beck Program, along with many other live-streaming shows and thousands of hours of on-demand content, is available on just about any digital device. Click here to watch every Glenn Beck episode from the past 30 days for just $1!