Actress Kristen Stewart — she of the famous "Twilight" vampire flicks that were such a hit with teens starting way back in the previous decade — is still making movies.
And making a little extra noise.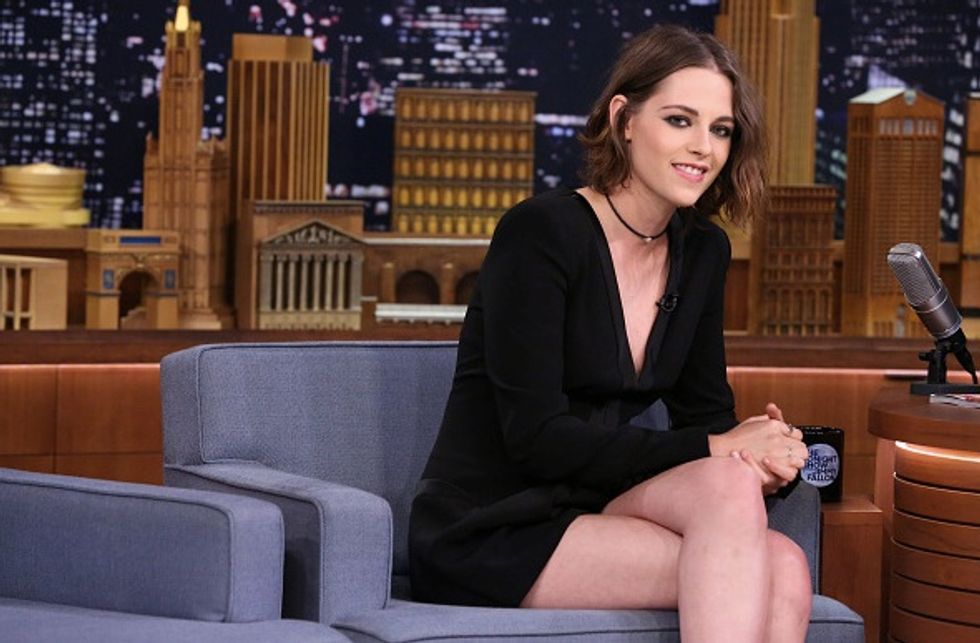 Actress Kristen Stewart on the set of "The Tonight Show with Jimmy Fallon," Aug. 11, 2015. (Image source: Douglas Gorenstein/NBC/NBCU Photo Bank via Getty Images)
The 25-year-old expressed some definite views on where she believes much of society will be a few years from now in regard to gender and sexuality.
In her interview for Nylon magazine's September issue, Stewart is characterized as a believer in "fluidity, the kind that prompted Miley Cyrus to say to Paper magazine recently that she's 'literally open to every single thing that is consenting.'"
With that Stewart said that "in three or four years, there are going to be a whole lot more people who don't think it's necessary to figure out if you're gay or straight. It's like, just do your thing."
As it happens, Stewart was reluctant to discuss her own sexuality with Nylon: "... I am an actress, man. I live in the f****** ambiguity of this life and I love it. I don't feel like it would be true for me to be like, 'I'm coming out!' No, I do a job. Until I decide that I'm starting a foundation or that I have some perspective or opinion that other people should be receiving…I don't. I'm just a kid making movies."
(H/T: Young Conservatives)
—
Follow Dave Urbanski (@DaveVUrbanski) on Twitter