The University of Alabama's Alpha Phi sorority is in the middle of a national controversy after the women's recruitment video went viral because of its reported lack of diversity and clothing.
The recruitment video, the original of which has been removed from YouTube and Alpha Phi's website but can still be found online, is around five-minutes long and features a group of mostly white women laughing and dancing in the sorority house, jumping in water and playing on the school's football field. There are no words to the video, only short clips set to the song "Strangers" by Seven Lions."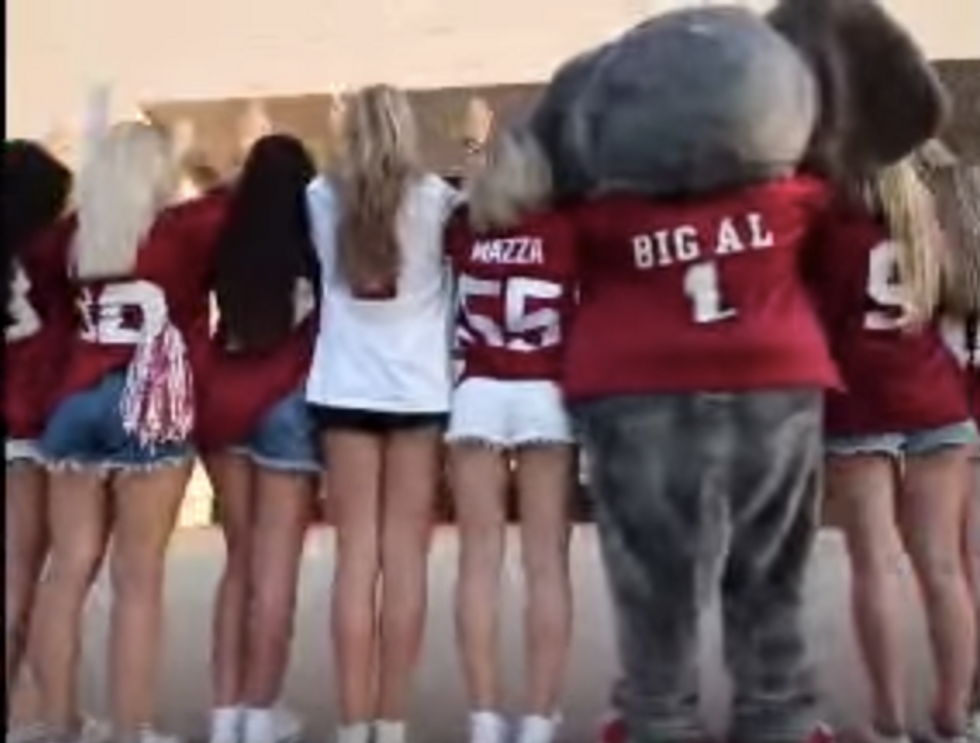 Image source: YouTube
Writer A.L. Bailey called out the video in an opinion piece for Al.com titled, "'Bama sorority video worse for women than Donald Trump."
"It's a parade of white girls and blonde hair dye, coordinated clothing, bikinis and daisy dukes, glitter and kisses, bouncing bodies, euphoric hand-holding and hugging, gratuitous booty shots, and matching aviator sunglasses," Bailey wrote. "It's all so racially and aesthetically homogeneous and forced, so hyper-feminine, so reductive and objectifying, so Stepford Wives: College Edition. It's all so ... unempowering."
"[T]hese young women, with all their flouncing and hair-flipping, are making it so terribly difficult for anyone to take them seriously, now or in the future," Bailey wrote. "The video lacks any mention of core ideals or service and philanthropy efforts. It lacks substance but boasts bodies. It's the kind of thing that subconsciously educates young men on how to perceive, and subsequently treat, women in their lives. It's the kind of thing I never want my young daughters to see or emulate."
And while others have been quick to condemn the video and the women's actions, not everyone found the recruitment tool to be offensive. Writers at Total Frat Move, a Greek life site, called the video a "nuke" and praised anyone who defended Alpha Phi.
"This video is not reflective of UA's expectations for student organizations to be responsible digital citizens," Deborah Lane, Associate Vice President for University Relations at Alabama, said in a statement after the video began to go viral. "It is important for student organizations to remember what is posted on social media makes a difference, today and tomorrow, on how they are viewed and perceived."
Alpha Phi's national headquarters did not respond to a request for comment from TheBlaze, and it appears Alabama's Alpha Phi's social media accounts, including Facebook, Instagram, Twitter and Tumblr, have been removed or are no longer working.
Over the weekend, 2,261 women joined Greek life at Alabama. A university spokeswoman told TheBlaze 214 of those women who accepted bids for one of the 16 Panhellenic sororities were minorities. Citing "safety" reasons, the university did not release a comprehensive list of the 2015 pledges.
Members of the University of Alabama's Greek life — the largest Greek life system in the country — are no strangers to controversy. Allegations of the school's fraternities and sororities years-long racist practices in who they extend bids to hit the school in 2013 and has continued since.
"Someone told my mom sororities don't really take black girls. Everyone from around here knows that, but being from out of state, you wouldn't really know," Halle Lindsay, a 20-year-old Alabama junior said in 2014. "It was really confusing, like, just because I'm black I can't be a part of this?"
According to Today.com, the original recruitment video had more than 500,000 views before it was removed. 
Alpha Phi International Women's Fraternity is the fourth-oldest in the country.
Watch the recruitment video below: