Update: A Hilton Worldwide spokesperson confirmed the decision to remove porn in a statement to TheBlaze:
We are making immediate changes to our global brand standards to eliminate adult video-on-demand entertainment in all our hotels worldwide. While the vast majority of our properties already do not offer this content today, this content will be phased out of all other hotels subject to the terms of their contracts. We believe in offering our guests a high degree of choice and control during their stays with us, including Wi-Fi on personal devices. However, we have listened carefully to our customers and have determined that adult video-on-demand entertainment is not in keeping with our company's vision and goals moving forward.
--
Hilton Hotels has reportedly decided to remove in-room, on-demand TV access to pornography at all of its properties across the globe — a decision that is being heralded by the National Center on Sexual Exploitation, an advocacy group that opposes smut.
Dawn Hawkins, executive director of the National Center on Sexual Exploitation, told TheBlaze that the move comes after thousands of supporters contacted Hilton through the organization's website since 2013 to state their opposition to the availability of hotel porn.
"Earlier this year, Hilton Worldwide reached out to us explaining that they were looking at making these changes and to set up a meeting to talk about these issues in person," Hawkins said. "At the meeting, we learned that Hilton Worldwide is committed to helping curb sexual exploitation and certainly open to changing policies they have that contribute to exploitation."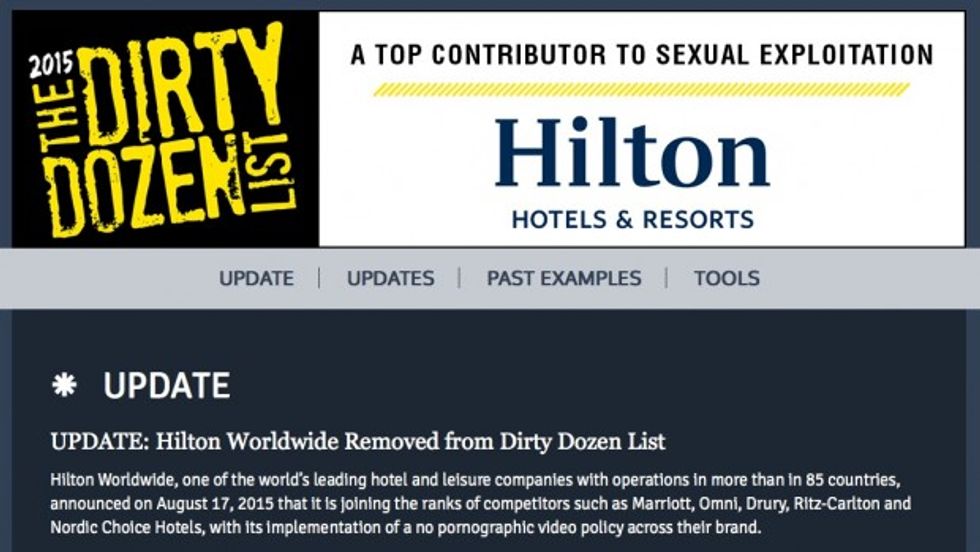 A screen shot from the "Dirty Dozen" website
Hawkins said that the company explained at the meeting that it can take quite some time to make such a sweeping removal at every property, though she expressed her surprise at the subsequent speed of implementation.
"We honestly expected this to take longer, even though they seemed favorable," she said. "We are grateful that they moved this policy through rather quickly as they announced to us [on Monday] that all Hilton Worldwide locations were notified [Monday] of this policy change."
The National Center on Sexual Exploitation recently teamed up with Victoria Hearst, granddaughter of famed newspaper tycoon William Randolph Hearst, and scored a separate victory against Cosmopolitan Magazine, convincing Rite Aid and Delhaize America store chains to put the magazine behind blinders in an effort to protect kids from sexually graphic content.
The latest move by Hilton Worldwide comes as Hawkins warns that "we are experiencing a public health crisis from pornography."
"Research and sadly real-life experiences show that adults and children are developing lifelong addictions and thanks to our pornified culture, sex trafficking, child exploitation and sexual violence are on the rise," she said. "We must not stand for corporate or government policies which contribute to and facilitate this exploitation."
Photo credit: Shutterstock
Hawkins expressed gratitude to Hilton Worldwide for its decision to "put dignity above profits," and expressed hopefulness that other companies will follow suit.
Under the new regulations, Hilton hotels reportedly will not be allowed to make new on-demand adult video agreements as of September 1 of this year and, as of July 1, 2016, all adult content must be officially discontinued at all properties worldwide.
The move comes after Hilton was added to the National Center on Sexual Exploitation's "Dirty Dozen List" in 2013, a website tracking project that recaps "twelve mainstream organizations contributing to sexual exploitation," according to a press release; Hilton has now been removed.
Other companies, organizations and agencies that remain on the list are: the Department of Justice, Facebook and Cosmo Magazine, among others.
--
Front page image via Shutterstock.com.